Stack & Still is quite simply pancake heaven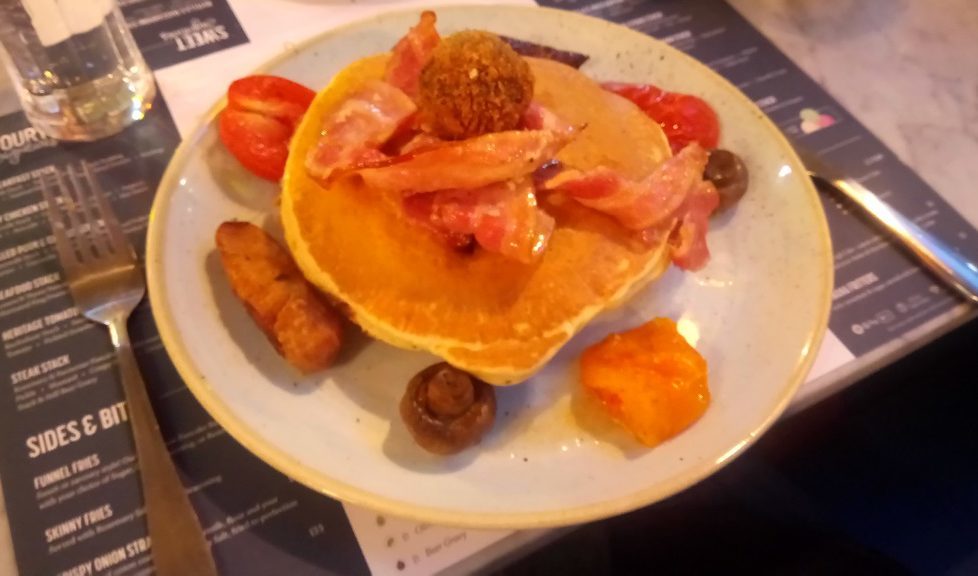 There's something to be said about pancakes.
For years, they were regarded as something you either have after your lunch, or, perhaps, with afternoon tea.
Now, pancakes are big business – and the UK's largest urban pancake house, Stack & Still, has just opened in Glasgow.
Don't think the pancake is just something sweet that you might have with, say, a bit of ice cream. Stack & Still has elevated the pancake to a completly new level, as both a savoury and sweet dish.
They've been popular in America and Canada, as a breakfast staple, and in more recent times have appeared in fast food restaurant breakfast menus this side of the Atlantic. With Stack & Still, the concept has become an artform.
The menu is sensational. There's set dishes to try on the menu, the Savoury Signatures, with the likes of a Spicy Chicken Stack, but my companion and I both opted for the Big Breakfast Stack, with three pancakes. We were delivered a feast for the eyes as well as the stomach, with buttermilk pancakes, smoked bacon, black pudding, sausage, sauteed mushrooms, home dried tomato and ketchup. Ketchup on a pancake? You'd be surprised…
The pancakes themselves were wonderful. Pleasant and puffy, in a way that reminded me of the ones my granny used to make. Not too sweet, but still enough of a taste to let you know there's a little bit of sugar there.
The extra ingredients are sourced from throughout Scotland, part of owner Paul Reynolds' commitment to support local suppliers. And wow. The black pudding and sausage left us wanting more. Much more. As an avid connoisseur of the tomato, these were outstandingly tasty. I was left wanting more.
On the side, we opted for funnel fries, made from pancake batter, and we chose the icing sugar dusting. Fabulous and original.
Our junior diner took advantage of Stack & Still's fantastic menu choice, to create your own pancake. Someone with superb mathematical skills has worked out that there are close to 10 million possible combinations to have. She went for the delicious marinated king prawns and tomato salsa.
For those looking for healthy/healthier options, there are five different types of pancakes on offer – buttermilk, buckwheat (effectively a wholemeal pancake), protein, gluten free (also vegan friendly) and sugar free.
For dessert, we decided to create our own dishes. The junior diner opted for a buttermilk pancake again, topped with raspberries, honeycomb, chocolate sauce and strawberry cheesecake ice cream. Only a few pieces of honeycomb remained – and she was in heaven. It's a great way to build a meal for even the most fussy of eaters – which she most definitely is!
My companion also went for buttermilk, with bananas, a dulce de leche sauce and salted caramel ice cream. Despite feeling a tad on the full side from our opening course, she managed to polish it off.
As for me, I kept it simple. I went for the protein pancake, which was fantastic. It had a slightly different taste, but my word, it was still as fluffy and filling as the traditional buttermilk. I added peanut butter cream, Oreos and coconut ice cream – a heavenly combination. It left a very pleasant aftertaste, especially the ice cream.
The Sweet Signature are great too – very tempting indeed, especially as, like the savoury choices, you can have them over three or five pancakes. With options like Salted Caramel and Banana Stack, or Peanut Butter and Blueberry Stack, you'll be in heaven.
A word too on the cocktails – there's an extensive selection, and my companion went for the Maple Martini, made with vodka, Vermouth, maple syrup and frozen grapes. It was sensational – every bit as unique as Stack & Still. A sweet flavour that let your mouth know it had been there, it was worth the journey into Glasgow on its own.
We dined on a Friday evening, and it was constantly busy. The atmosphere was great- a birthday party was taking place on the other side of the restaurant from us, and everyone was more than happy with their pancakes.
And a word about the staff. They are fantastic – we were served by the wonderful Allison, originally from Texas, and nothing was ever a problem to her. The general manager Mark was also on hand, and despite being meant to finish two hours earlier, had carried on to make sure everything was still in hand. He even popped over to say hello, and was superb with both staff and diners.
Stack & Still is a concept that deserves to do well. The options are virtually limitless, whether savour or sweet, and with established signatures, or build your own options, you can never run out of choices.
We heard before leaving that a festive menu is on the way – we'll be back for that.
Stack and Still, 100-108 West George Street, Glasgow, G2 1PJ
0141 471 0417