Enjoy a feast of Scotland at Cannonball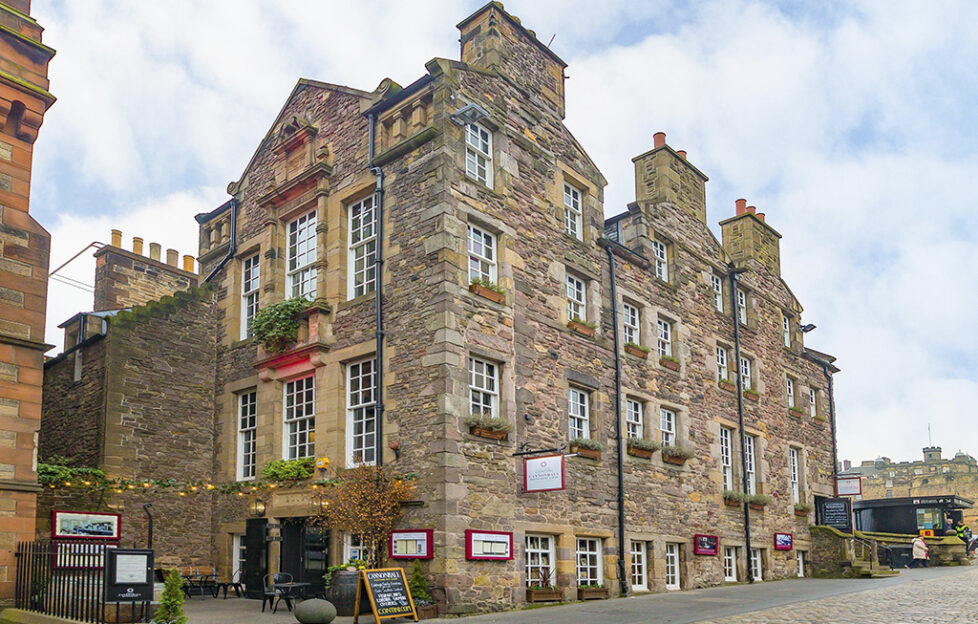 When the invitation to visit Contini Cannonball Restaurant to sample the new Feast of Scotland tasting menu came into the office there was a moment of tension.
I read the words Peterhead plaice, Shetland mussels, Highland red deer, North Sea monkfish and cheese and honey from the Borders and was sold. To be honest they had me at plaice (no offence to Peterhead). I knew I had to go, and so it would seem did my colleagues, who saw the look on my face and nobly stood aside.
As you probably know already, the Contini's have a reputation for creating some incredible food in the capital and Cannonball's setting at the top of the Royal Mile, overlooking the esplanade of Edinburgh Castle is second to none. They also own a kitchen garden just outside the city which provides fresh produce for their restaurants and features on the new menu, which will change monthly in order to showcase the best seasonal produce.
We're lucky enough to be shown to a window seat where we can watch the sun set behind the castle and the tourists, who are gradually returning to this fair city, wandering around in awe of the history that surrounds them here.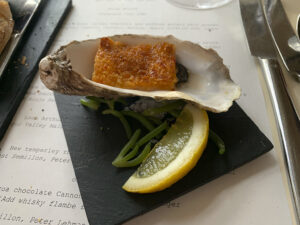 The tasting menu is six courses with an amuse bouche, ours was a Loch Fyne oyster served with a crispy lemon and chilli crumb. We enjoyed this tasty morsel with a chilled glass of Prosecco. There's also homemade bread with whipped butter and Isle of Skye sea salt. I challenge you not to gorge on this delightfully fluffy bread in order to leave space for the remaining five courses.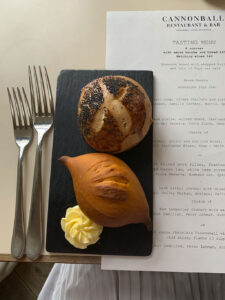 And I will say now that space is required. This tasting menu consists of good-sized helpings and there is absolutely zero chance of you needing to stop off for chips on the way home. We've all been there, you will find no judgement here.
Our starter is an East Lothian potato soup, crispy shallots and saffron potato skin powder. My Granny made the best tattie soup, thick and peppery and capable of warming parts that many other soups cannot reach. But this is its equal. And the crispy shallots add a sweet crunch that elevates this to a whole new level. This is hubby's dish of the evening and he's still talking about it days later.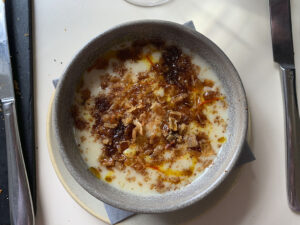 Next is the aforementioned Peterhead plaice with wilted chard, Shetland mussel and mace broth. The plaice is cooked to perfection. It's served up with a 2019 Pinot Grigio del Venezia, the minerality of this straw-coloured wine cuts perfectly through the saltiness of the plaice.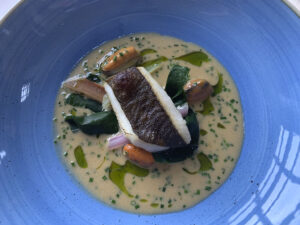 Then there's a choice to be made. If you're sticking with the sea you can plump for roast North Sea halibut with potato and scallion blini, capers and a parsley dressing or you can alight on dry land with Robertsons Ayrshire brined pork fillet, Phantassie spring greens, Ramsay's smoked bacon jam, white neep puree and crackling. I chose the latter, the pork fillet was impossibly tender, the greens were vibrant and the smoked bacon jam was rich and delicious. This dish was a winner for me on every level. Hubby's halibut was also a triumph; meaty and fresh with a delicious kick from the capers.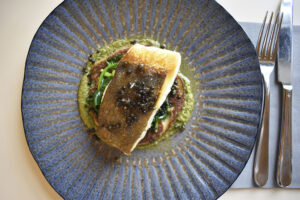 Heading to the south of Scotland we enjoy cheese from Loch Arthur creamery paired with a big bold Argentinian malbec. A match made in heaven.
Puds bring yet another choice and again we decide to try both options. Hubby can't go past anything chocolatey and orders the 70% cocoa chocolate cannonball with stem ginger. It's rich and spicy and if it wasn't for the fact that I was tucking into New Temperley rhubarb with warm rice pudding I'd have been impossible envious. But this is another dish that draws on childhood memories, firstly of of my mum's deliciously moreish rice pudding cooking away in the terrifying, rattling and whistling pressure cooker every Sunday and also of chomping on raw rhubarb, dipped in a china bowl of sugar by mucky fingers in my Granny's garden. This incarnation of an old favourite is equally creamy and delicious, with the sweetness and sharpness of rhubarb it is a great end to a great meal.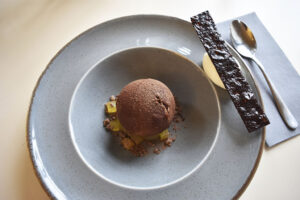 There's a vegetarian option that features adaptations on a couple of the dishes from the standard menu including a spiced cauliflower steak which sounded particularly appealing. A great excuse to return and give the flipside of the menu a whirl, and allow hubby another bowl of that memorable tattie soup.
The six-course Feast of Scotland tasting menu is priced at £65 per person and matching wines cost £40.
Contini Cannonball, Cannonball House, 356 Castlehill, Edinburgh EH1 2NE
For more information on Cannonball Restaurant and to make a booking, visit https://www.contini.com/cannonball or call Tel: 0131 225 1550