Veal Cheek Ravioli Treat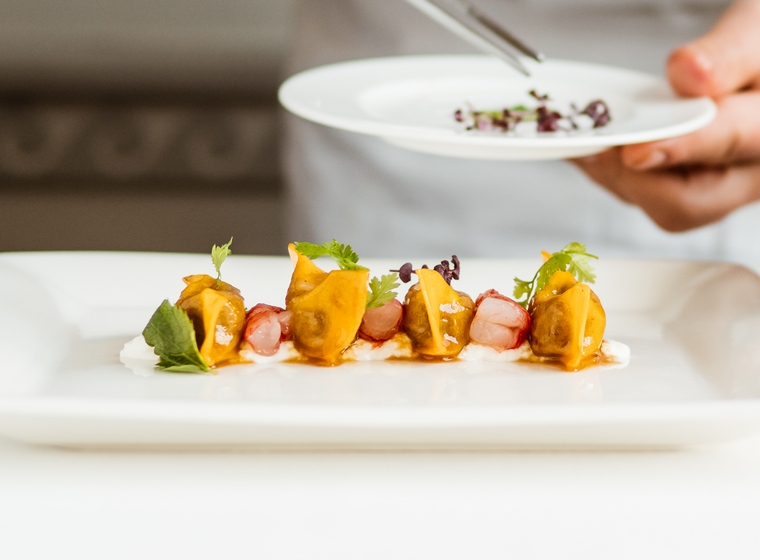 Veal Cheek, Burrata and Shrimp Ravioli (serves 4)
Regrinded semolina: 250g
Egg yolk: 165g
Carrots: 100g
Celery: 100g
Onion: 100g
Red wine: 1 litre
Veal cheek: 300g
Burrata: 250g
Salt and pepper
Shrimps: 16
Lemon zest
Olive oil
Herbs
Wash the vegetables and cut them into pieces.
Marinate the veal cheeks with red wine and add the vegetables. Marinate them overnight.
Fry the cheeks together with the vegetables. Add the rest of the marinade and braise it for at least 8 hours on low heat.
After braising, chop everything into small pieces. Add salt, pepper and parmesan cheese.
Mix egg yolk and semolina for the dough and knead it by hand until the dough is smooth.
Allow it to relax in the refrigerator for at least 3 hours.
After chilling, plop the tough onto a clean surface dusted with semolina flour. Roll out the dough to a 1mm thick patch.
Fill the dough with the veal cheek mass and form it to little ravioli. Cook the ravioli in boiling salted water for 5 minutes.
Cut the burrata into pieces and add salt and pepper.
Cut the shrimps into little pieces. Add some olive oil, pepper and lemon zest.
Place the burrata on a plate in a line. Put the ravioli and the shrimps on top. Sprinkle the ravioli with the rest of the cheek sauce.
Decorate the dish with different herbs.
Recipe © Carlton Hotel St. Moritz | https://carlton-stmoritz.ch/en/news/news-detail/id/38418/try-at-home
Travel to Switzerland with your taste buds and try out Carlton Hotel St. Moritz's Veal Cheek, Burrata and Shrimp Ravioli.
Impress your lockdown loved ones by replicating this recipe and creating your own memories at home.