Try this tasty fruity tart recipe at home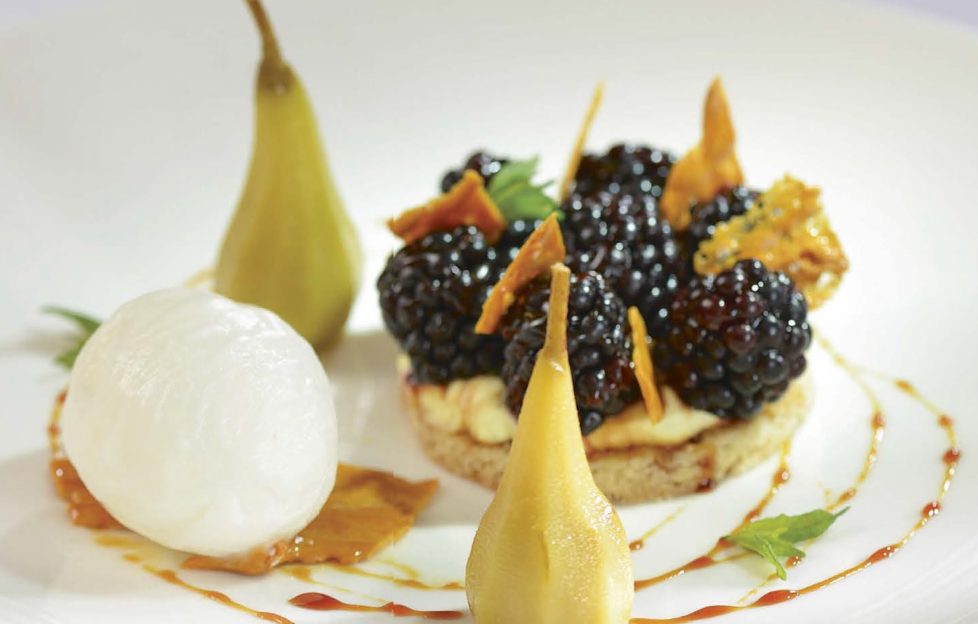 Spiced poached pear with a bramble tart and lemon sorbet
Poached pear - 4 pears
200g sugar
200ml water
1 star anise
1 cinnamon stick
1 vanilla pod
Bramble tart: 1 cooked sweet pastry case or 4 individual cases
6 egg yolks
1 tbsp caster sugar
1 pint of cream
1 vanilla pod, split and seeds gathered
1 punnet brambles
Lemon sorbet: 50g glucose syrup
212ml water
145g sugar
125ml white wine
2 leaves gelatine, soaked in cold water to soften
Poached pear: Boil together all ingredients except the pears. Peel the pears, then poach at a medium heat in the syrup until tender.
Bramble tart: Boil the cream with the vanilla seed and pod. Combine the egg yolks and sugar. Pour boiling cream over the egg mixture and combine thoroughly. Return the liquid to the heat and stirring continuously allow to cook for no longer than 30 seconds.
Do not allow the mixture to boil. Remove from heat and pass through a sieve.
Pour the mixture into the tart case and place in the fridge to cool. Prior to serving place the brambles neatly on top.
Lemon sorbet: In a saucepan, combine glucose syrup, water and sugar and place on a high heat and bring to the boil. Combine lemon juice and white wine in another pan. Remove the sugar mixture from the heat and whisk in the gelatine. Add the lemon and wine mixture and then pass through a sieve.
Place in an ice cream machine and churn until the texture is very light and it has turned white. Slice the tart and serve with a scoop of sorbet.
Recipe © Steve McCallum | https://kinlochhouse.com/
Kinloch House chef Steve McCallum delights in using the produce of Blairgowrie in Perthshire.
Born in Campbeltown and brought up and trained in Shropshire, Steve spent several years in London as second chef to Bryan Webb at Hilaire and a year working in Australian restaurants before returning to Scotland.
He was head chef at Cromlix House, now owned by Andy Murray, and spent five years at Airds Hotel in Port Appin, which was run by the Allen family who now own Kinloch House.
Steve has noticed how people's palates have changed, as has the preparation of the food: 'Wild produce has always been there but there's now a huge difference in how it's prepared, especially game and fish.
'We buy our langoustines and scallops live from Celtic Seafare in Ross-shire and they are always immaculate, while our pheasants come from the Cardney Estate just five miles along the road.
'We may not have the glitz of a city centre restaurant but Kinloch House is a great place to eat traditional game in a nice country house environment.'
(This recipe was originally published in 2016)