Try something different with a haggis burger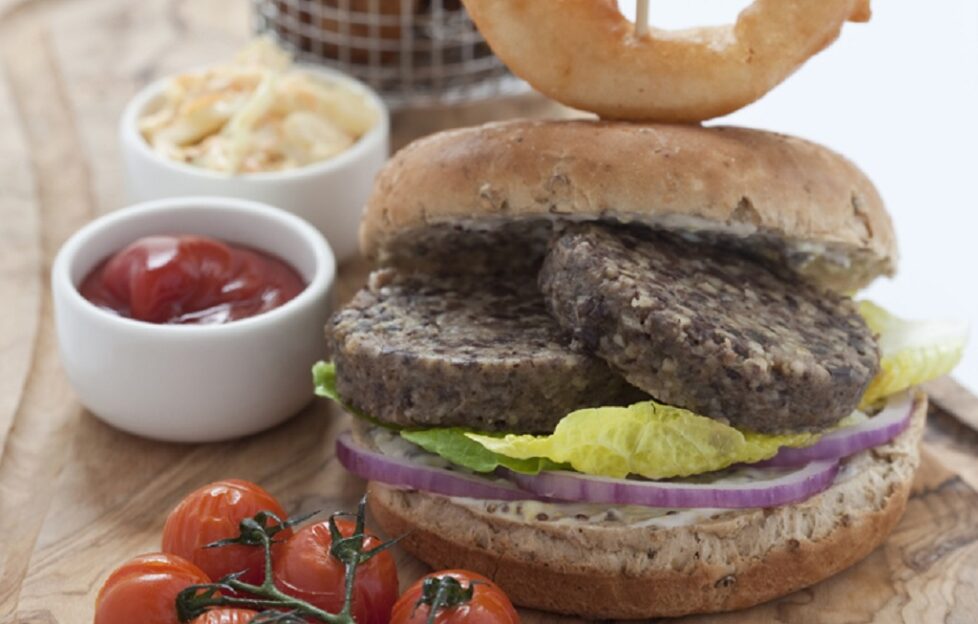 Haggis Burger with all the Trimmings (serves four)
4 x 130g packets of 'microwave in 60 seconds' classic haggis or 1 x 400g pack of classic haggis, sliced
4 granary bread rolls or similar
60g Arran mustard mayonnaise (45g mayonnaise, 15g Arran mustard, salt & pepper)
½ a red onion cut into thin rings
8 little gem lettuce leaves, washed and patted dry
4 portions of homemade fries or wedges
4 portions of coleslaw
4 mini pots of tomato ketchup
4 stems of cherry vine tomatoes roasted in the oven 180c for 5 minutes
4 large onion rings in tempura batter (optional)
Whilst the haggis heats in the microwave, butter the roll with mustard mayonnaise.
Place the red onions on the base rolls and top with the little gem lettuce
Once the haggis is cooked, place on the roll and top with the lid.
Garnish the plate with roasted cherry tomatoes, tomato ketchup, coleslaw and fries or wedges.
Spear the onion ring though the middle of the burger with a wooden skewer, then through the burger bun.
Recipe © Macsween | https://www.macsween.co.uk/
It's Scotland's national dish, and over the next few days, we're bringing you some recipes to try at home.
Courtesy of Macsween, we've got some ideas to mix things up and bring haggis into your dining, in some rather interesting ways.
Today, we're bringing you a haggis burger – yum!