This fish dish is the perfect winter warmer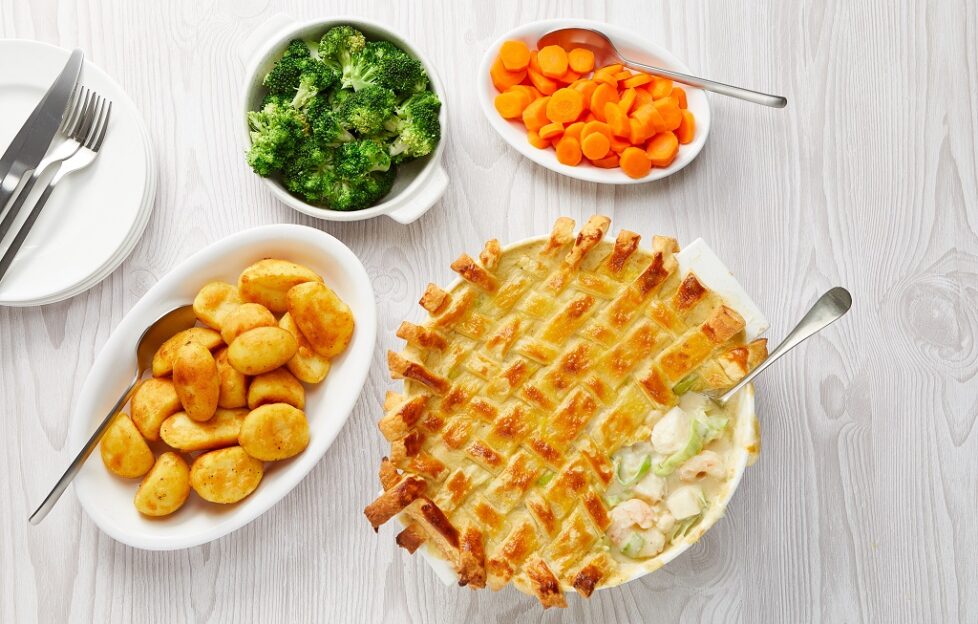 Lattice-topped fish and leek pie
250g smoked haddock, cut into large chunks
250g cod loin, cut into large chunks
300g peeled large prawns
1 pack chilled ready-rolled puff pastry
100g butter, plus extra for greasing
2 large leeks, cut into rings and rinsed
3 tbsp plain flour, plus extra for dusting
200ml semi-skimmed milk
400ml reduced-salt vegetable stock
Zest of 1 lemon
1 egg, beaten
Salt and black pepper, to season
Unroll the puff pastry onto a floured worktop. Cut into strips at least 8cm longer than your pie dish. Cover a large baking sheet with greaseproof paper (make sure it fits in your fridge!) and arrange evenly spaced strips of puff pastry next to each other. Next, carefully weave evenly spaced strips of puff pastry under and over the first layer at a 90° angle to create a lattice effect. Place in the fridge and chill for 1 hour until firm.
Preheat the oven to 220°C/fan 200°C/gas mark 7. Prepare your pie dish by rubbing the inside with a little butter. 
Gently melt half the butter in a large non-stick frying pan. Add the leeks and a pinch of salt and fry for around 8-10 minutes, until softened but not browned. Once cooked, place the leeks in the bottom of the pie dish.
Add the remaining butter and flour to a non-stick saucepan. Stir until combined then slowly add the milk, whisking constantly on a medium heat. 
Slowly add the stock and continue to whisk on the heat until you have a thick sauce consistency. 
Add the lemon zest then season with salt and pepper. Leave the sauce to cool for 15 minutes. 
Scatter the smoked haddock and cod over the leeks in the pie dish then top with the prawns. Pour over the sauce. Place the pie dish onto a baking sheet.
Carefully transfer the criss-crossed pastry latttice to the top of the pie dish, pressing down the sides. Brush the pastry with the egg wash.  
Bake for 30-35 minutes in the preheated oven until the pastry is golden and the fish is cooked through. Serve with your favourite sides
Recipe © Love Seafood | https://www.loveseafood.co.uk
Looking for a new fish dish to try this festive season? Look no further.
This lattice-topped fish and leek pie, doesn't only look great, it taste great too!
This winter warmer is a perfect Boxing Day option, high in protein, low in fat and once it's in the oven you can get back to entertaining – perfect to help you bring on better living.
Featuring smoked haddock, cod and prawns, it's also a perfect alternative to a Sunday roast and is sure to become a family favourite.
Love Seafood is focusing on how seafood can Bring on Better Living, showcasing how easy and tasty seafood is to cook at home. It's simple, budget-friendly and encourages consumers from across the UK to bring more balance into their diets with a high-protein seafood option.
Shop your local fishmonger for a great choice of sustainably sourced seafood and for more recipe inspiration, visit www.loveseafood.co.uk.