Tasty Bramley Apple and Beetroot Potato Cakes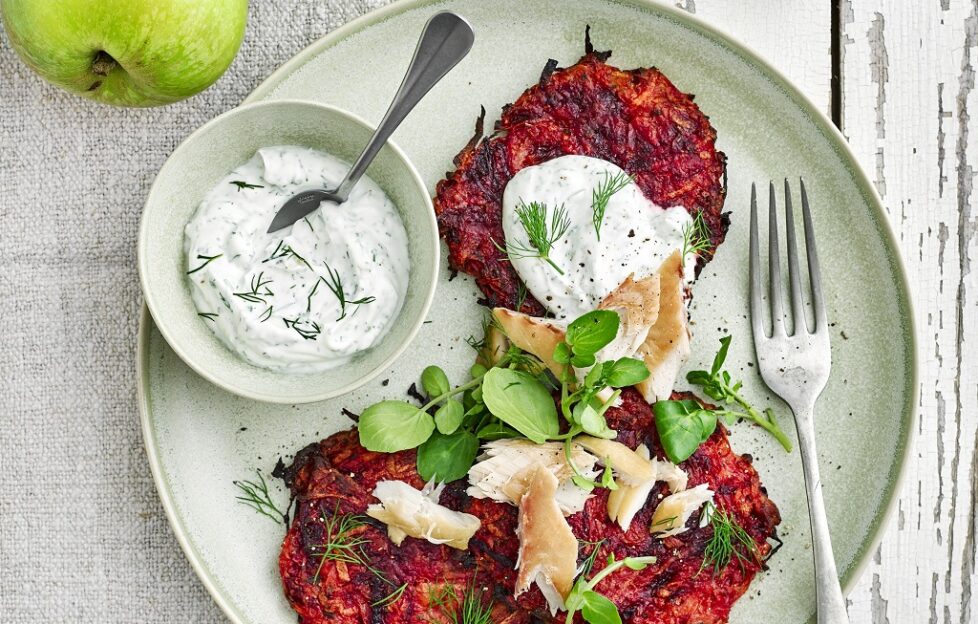 Bramley Apple and Beetroot Potato Cakes with Dill Yoghurt
For the potato cakes: 2 large potatoes, peeled
1 beetroot, peeled and coarsely grated
1 Bramley apple, peeled, cored and coarsely grated
40g parmesan, finely grated
2 tsp fresh thyme leaves
2 tsp onion granules
2 tsp onion granules
3 tbsp gluten-free flour (such as quinoa flour)
2 tbsp olive oil, plus extra for greasing
Salt and pepper
For the dill yoghurt: 170g Greek yoghurt or coconut yoghurt
½ clove garlic, crushed
Small bunch of dill, finely chopped
Salt and pepper
Squeeze of lemon juice to taste
Preheat the oven to 180°C
Cook the potatoes whole in a pan of boiling water for 10 minutes. Drain and leave to cool a little
Grate the potatoes into a mixing bowl and add the remaining potato cake ingredients, season with salt and pepper
Line two baking trays with parchment and drizzle each with a little oil. Make 12 small balls of the potato cake mixture, place in the oven and cook for 20-30 minutes. Half way through cooking time, squash each mound down into a flat disk and flip
Mix together the dill yoghurt ingredients and season to taste with salt and pepper and a little extra lemon juice if needed.
Freeze for a simple snack throughout the week, or serve with a poached egg or some flaked smoked mackerel for a delicious weekend brunch
Recipe © British Apples and Pears | https://www.britishapplesandpears.co.uk/recipes/
How often do we complain that we regularly eat the same things, over and over again?
With British fruit in season, and apples and pears dropping from the trees, it seems like the right time to celebrate and use them.
Courtesy of British Apples and Pears, here's a delicious recipe for Bramley Apple and Beetroot Potato Cakes with Dill Yoghurt.