Risotto with duck black pudding and a duck's egg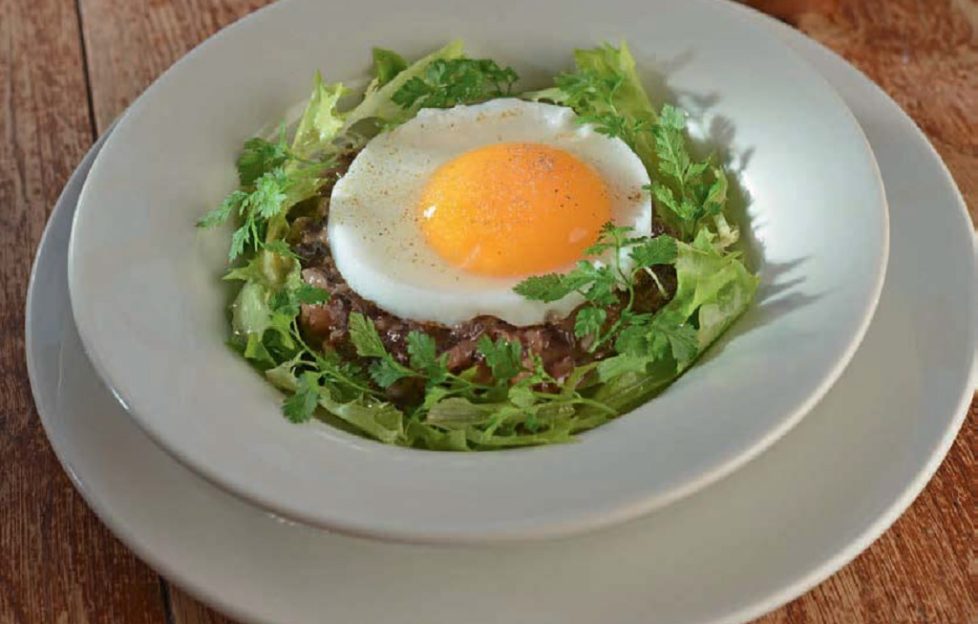 Risotto au boudin de canard frais, oeuf de cane à la poele (Serves four)
For the black pudding: 2 finely diced onions
120g boiled hard pig fat, finely diced
50g fresh duck blood
1 bay leaf
1 garlic clove
For the risotto: 200g to 300g Carnaroli rice
1 or 2 onions, very finely chopped
400ml chicken stock (warm)
150ml olive oil
150ml dry white wine
For the garnish: 4 duck eggs
Green salad
This can be an extremely easy recipe and is very enjoyable to make. The hardest part is getting hold of teh fresh blood and not over-cooking either the risotto or the black pudding. I buy a lot of poultry from Gartmorn Farm in Perthshire (www.gartmornfarm.co.uk). Roger and Sue, who run it, have always been brilliant at supplying different things to us. I often ask them to keep me all those little bits from different animals that no one else wants, and I have also managed to persuade them to collect duck blood for me.
With the black pudding, going slowly is essential. Start by sweating the diced onions in the goose fat or butter very, very slowly for about 20 minutes with the bay leaf and the garlic clove. Then add in the diced pork fat and continue sweating and stirring for at least an hour, again going very slowly. Once the fat and the onions are cooked, set aside until needed. Get rid of any excess fat, as well as the bay leaf and the garlic.
For the risotto, over a medium heat sweat the finely diced onions in the olive oil until golden and translucent. Add the rice and sweat again until the rice turns a golden colour. Pour over the white wine and reduce slowly until nearly dry. Pour in some of the warm stock, stirring all the time with a wooden spatula. Add more stock when the previous lot is absorbed, and keep doing so until the rice is cooked. Taste the risotto and adjust the seasoning, then set aside.
To make the black pudding, start by returning the pan with the onions and fat to the stove over a medium heat. Add the blood. As it cooks, stir it with a rubber spatula (just like cooking a crème anglaise). This will take about ten minutes. When the consistency is right and it is cooked (the black pudding should be hard but smooth), it is time to mix it with the rice, which will stop the cooking process. Taste, season and taste again.
Cook the eggs in a separate non-stick frying pan. To serve, divide the risotto between four warm plates and add a pan-fried duck egg on top of each, along with some green salad around it.
Recipe © Fred Berkmiller | https://www.lescargotbleu.co.uk/
Fred Berkmiller is bringing new and different recipes to Scottish Field this week.
Fred, who owns Edinburgh's L'Escargot Bleu and L'Escargot Blanc, is is firm believer in trying different meats and produce in his cooking.
The Frenchman today brings us a recipe for risotto with duck black pudding and an duck's egg on top.
(This recipe was originally published in 2015)