Have you tried pigeon? This is a great recipe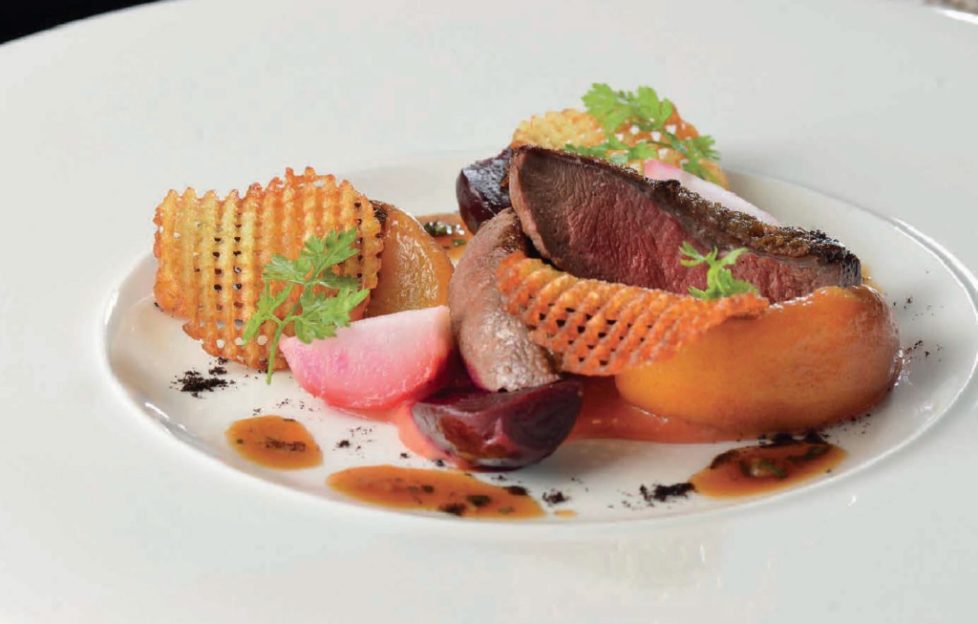 Pan-fried pigeon breast, spiced breadcrumbs, chargrilled peaches and plum jam
2 pigeon breasts per person
100ml milk
Garlic
2 sprigs of thyme
¼ peach
10 plums for jam (will make 5 portions)
20g butter
100ml plum alcohol or wine
1 packet of baby beetroots
200ml malted vinegar – reduced by half
3 peppercorns
1 large potato
300ml oil for frying
200g ginger brioche
50g brown sugar
Salt and pepper
Take the pigeon breasts and soak overnight in milk with a little garlic and thyme. Cut the peach into 8 equal pieces and chargrill (or pan fry) until soft. Remove the stones from the plums, cut into small pieces and cook with a little butter, brown sugar and the plum alcohol until soft and almost all the liquid is reduced, then purée in a food processor until smooth.
Roast the baby beetroots until soft and when still warm remove all the skin and cut into halves and place into a small amount of the vinegar. Peel the potato, finely slice into crisp shapes using a very sharp knife and deep fry at around 150oC until the crisps are fully cooked and a light golden brown colour. Season and place on a paper towel to drain off excess oil.
Remove the outside layer of the ginger brioche until all you have is the soft inner part of the bread. Cut into squares and dry out in a very low oven until crisp but not coloured. Blitz this into breadcrumbs in a food processor.
Heat up some butter in a non-stick pan and pan fry the breadcrumbs until they are a light brown colour, before placing on a towel to dry out.
Remove the pigeon from the milk and heat it in a pan, cooking on the skin side first for two minutes, then flip over for a further two minutes. Warm the peaches and plum jam and arrange on the plate, sprinkling some of the breadcrumbs on top of the pigeon breast to serve.
Recipe © Craig Hart
The Sheraton Edinburgh's executive chef earned his stripes in the best hotels, but no matter where he travels he always returns 'home'.
They say three's a charm and so it has proved for Craig Hart.
Because despite travelling the country for more than quarter of a century, building up experience in some of the best hotels and kitchens, it seems the Sheraton Edinburgh is always calling him home.
'I liked the idea of travelling, cooking and that every day is a new challenge,' says Craig, 'So at 15 I did two years at what was Lauder College in Dunfermline before a year's HNC in professional culinary arts at Telford College in Edinburgh. While at Telford I had to find a work placement in a rosetted establishment, so I started at Keavil House two days a week, and when I finished college they offered me a full-time job.'
After working at Keavil House for a year and a half, Craig moved on to what would be his first spell at the Sheraton. ' At that time the Sheraton was probably the best restaurant in Edinburgh and I absolutely loved it. But I was the little boy making the sandwiches when I first arrived. After about eight months I got into the fine dining team and I stayed for around 18 months.'
(This recipe was originally published in 2014)