Filolhu Ihi Riha – Maldivian grilled lobster and red snapper curry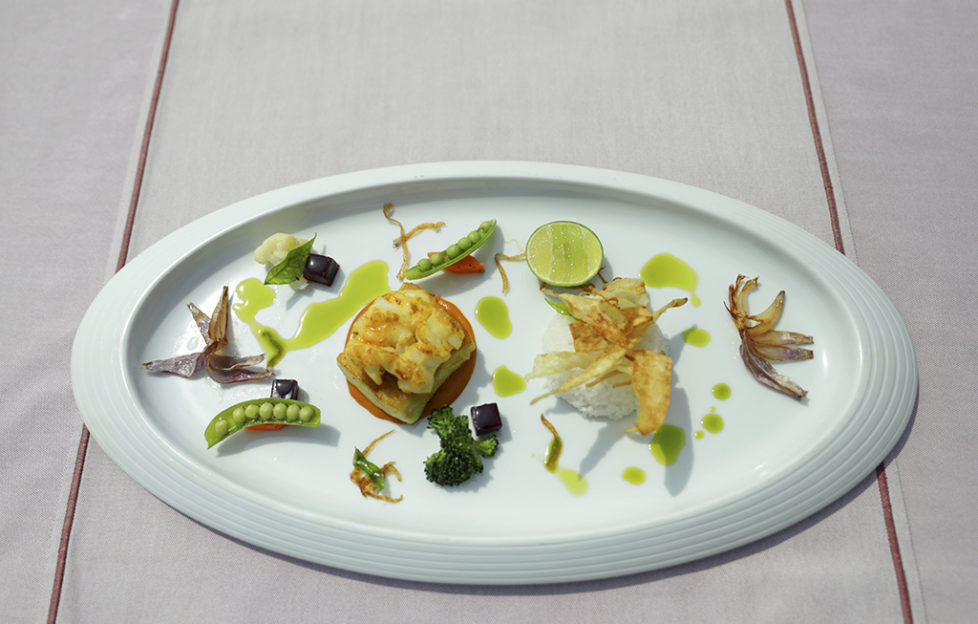 Filolhu Ihi Riha
For the fish:
Red snapper (or any meaty white fish): 200g
Fresh lobster: 0.5kg
Onions, medium sized and finely sliced: 2
Tomatoes: 2
Grated fresh coconut: 300g
Turmeric powder: ½ tsp
Cumin powder: ½ tsp
Salt: ½ tsp
Ginger garlic paste: 1 tsp
Curry leaves: 4
Lemon juice: 1 tsp
For the curry sauce:
Onions, finely sliced: 2
Curry leaves: 1g
Pandan leaves: 5g
Ginger and garlic paste: 1 tsp
Cardamom seeds: 3
Chilli powder: ½ tsp
Turmeric powder: ½ tsp
Cumin powder: ½ tsp
Coconut cream/milk: 200ml
Water: 300ml
Put the onions, lemon juice, tomatoes, ginger garlic paste, salt, curry leaves, cumin and turmeric powder into a blender and blend until the ingredients form a paste. Marinate the lobster with the paste, keep for at least one hour in a refrigerator.
Take a pan, add a dash of vegetable oil then grill the lobster and fish until it is golden brown and crispy.
Serve the grilled lobster and the fish on a thin bed of curry sauce with white rice or grilled vegetables.
Chef's tip: I recommend to serve the lobster and fish with cucumber raita as well as to add some preserved lemons and green chilli. As a garnish, fried onion and fried curry leaves are great.
For the curry sauce: Sautee the onions, garlic, ginger paste, curry leaves and pandan leaves in vegetable oil, add the chilli powder while stirring no more than 30 seconds. Lastly add the cumin and turmeric powder, add water and cook on low heat, stirring frequently.
When the paste starts boiling, add salt to taste as well as the cardamom and continue cooking on low heat, stirring occasionally. To finish, add the coconut cream and simmer to the preferred consistency, about 15 minutes.
Recipe © Ba'theli restaurant at Milaidhoo | http://www.milaidhoo.com/
Possibly one of the few fine-dining restaurants that encourage its diners to come barefoot, Ba'theli restaurant at Milaidhoo Island Maldives is the first modern Maldivian restaurant in the Maldives.
Reflecting its heritage, Ba'theli's architecture takes its name from the local word for a traditional wooden sailing boat and has been built in the shape of three boats that stand on stilts over the lagoon. Led by Maldivian chef Ahmed Sivath, Ba'theli's dishes are steeped in Maldivian tradition, with each dish inspired from the Maldivian Spice Route.
The story began over 5,000 years ago when The Maldives became a key port of call for traders sailing from Indonesia and India to Arabia with cargoes of cinnamon, cardamom, turmeric, cloves, ginger and pepper. The Maldivians bartered coconuts, sun-dried fish, cordage and sails woven from coconut fibre, and cowrie shells (which became currency) for spice, rice, ceramics and silks. Locally-made cargo boats, 'ba'theli', sailed throughout the archipelago with these goods, spreading knowledge about different lands, their customs and cuisine.
This story comes alive at Ba'theli restaurant at Milaidhoo, as their chefs serve gourmet dishes using local herbs and spices to enhance natural flavours. The menu features classic Maldivian dishes such as the signature Filolhu Ihi Riha (grilled white snapper fillets, with Maldivian lobster, tomato essence, coconut espuma).