Fantastic recipe to get you in the festive mood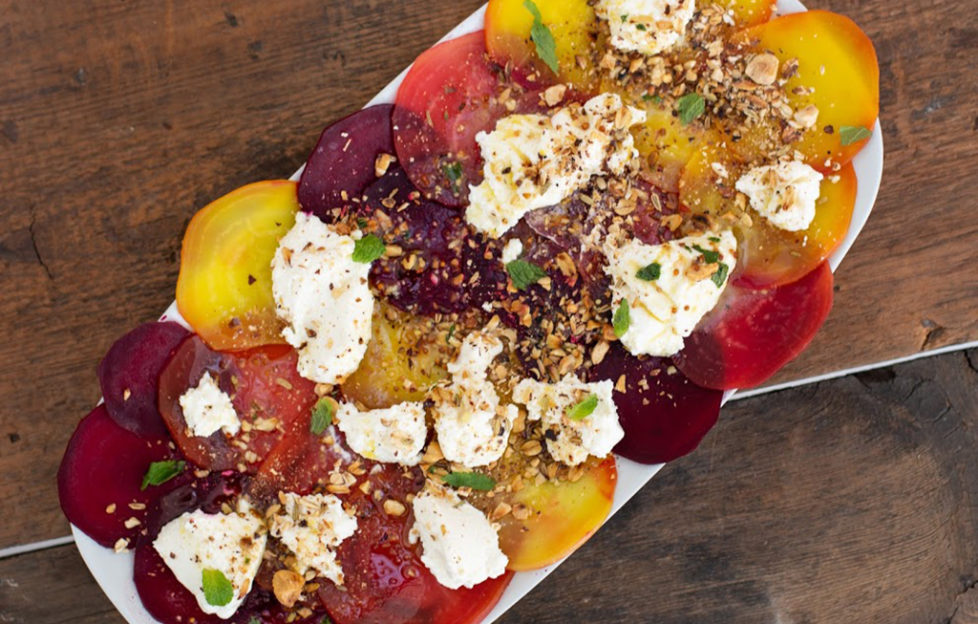 Whisky Roasted Beetroot carpaccio, crumbled Connage crowdie, toasted fennel hazelnut, oatmeal dukkah with orange mustard and mint dressing (Serves 4)
For the Beetroot Carpaccio - 4 medium sized washed beetroot (skin on) - golden, purple and candy cane are recommended as a mix of colours looks good when served
25ml BenRiach Curiositas
200g Crowdie cheese (alternatively you can use a combination of 100g soft feta and 50g sour cream mixed together)
For the Oatmeal Dukkah - 50g jumbo oats
50g hazelnuts
25g fennel seeds
5g of Red Chilli Flakes
5g Maldon Sea Salt
For the Orange, Mint Mustard Dressing - 2 Tablespoons Wholegrain mustard
1 Tablespoon of French Mustard
Zest of 1 Orange
3 tablespoons of Orange Juice
4 tablespoons of Olive Oil
2 Tablespoon of Lemon Juice
2 Tablespoons of Honey
Chopped Mint
Salt
Pepper
Heat the oven to 180C/350F
Firstly prepare two sheets of aluminium foil on top of each other, big enough to hold the 4 beetroot. Fold up the edges so that you can splash the whisky and place the washed beetroot inside then seal the foil making sealed beetroot and whisky parcel. Cook for 15-20 minutes or until the outer edge of the beetroot just starts to soften when pressed but the beetroot remains quite solid. Remove from the oven and let the steaming package rest for half an hour. Once cool the beetroot will keep for two days.
To make the dukkah, roast the hazelnuts in a 180C oven for 10 minutes checking from around the 8 minute mark. Remember they will keep browning and harden when you remove them from the oven so feel free to remove them when you think they're 80% there.
Whilst the hazelnuts are cooking toast the oats by dryfrying them in frying pan till they start to take on colour. When the oats are all starting to look toasted add the fennel seeds and chilli flakes for the last minute or two.
Add hazelnuts and oats into a blender with maldon salt and give it a very quick pulse.
For dressing, combine ingredients in a mixing bowl.
Peel the beetroot and with a sharp knife and slice into thin discs.
To serve, place disks onto platter, overlapping the discs.
Using a teaspoon, scatter the crowdie/feta over the beetroot.
Add the dukkah and drizzle dressing on top.
Christmas is coming – and we're all starting to think of what we'll eat this festive season.
This week, we present a series of recipes courtesy of BenRiach Whisky, which have been created by Ed Barnard from Right to Roam.
Chef Ed is based at Right to Roam, a culinary pop-up in Speyside and London exploring an affinity for food cooked on fire and in the outdoors using the best of local produce.
He said: 'To put it simply BenRiach is the opposite of boring.
'This adventurous Speyside distillery creatively explores the art of distillation and cask maturation and really pushing the boundaries of malt making. Their approach shaped this eclectic festive menu paired with BenRiach 10 Classic and BenRiach 10 Curiositas its peated partner.
'From whisky roasted beetroot carpaccio, venison apricot skewers, whisky barley risotto, whisky infused plank roast salmon to toasted oat panna cotta with raspberries, these dishes are perfect for those seeking eclectic inspiration for their festive menu.'