Don't duck out of trying this tasty recipe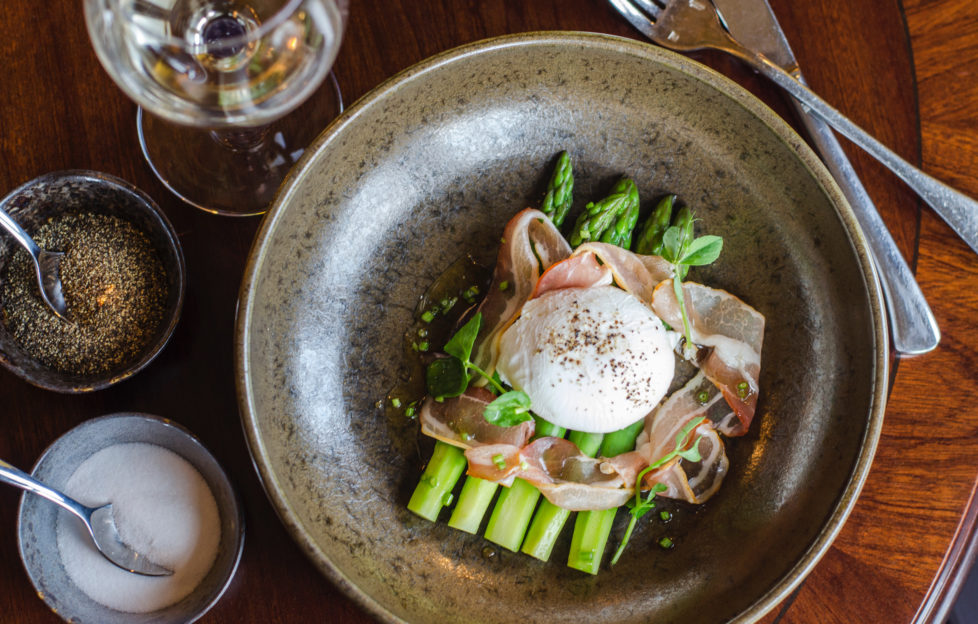 Poached Duck Egg, British Asparagus, Cured Ham & Mustard Dressing (serves 4)
4 duck eggs
2 tbsp of white wine vinegar
16 asparagus spears
Salt
Black pepper
25g of English mustard
50ml of Olive oil
10ml of white wine vinegar
1 ½ tbsp of honey
To Plate - 4 slices of Parma ham
1 tbsp of chives, finely chopped
Combine the mustard, olive oil, honey and vinegar and mix well to create the vinaigrette. Set aside.
Prepare the asparagus by removing the woody bases and peeling.
Bring two large pans of water to the boil and heavily season one of them with salt. Add 2 tbsp of vinegar to the other pan.
Crack the eggs into 4 individual cups and, using a whisk, stir the vinegar water vigorously to create a whirlpool. Working quickly, gently place the eggs one by one into the centre of the whirlpool and allow the water to simmer.
Poach the eggs for approximately 3 minutes until still runny inside. Lift from the water with a slotted spoon and keep warm.
In the last minute of egg poaching time, place the asparagus in the salted water and boil for one minute until tender. Remove, season with salt and pepper and keep warm.
On four warm serving plates divide the asparagus spears and place a slice of ham over them. Top with a warm egg and drizzle with the vinaigrette. Season the top of the eggs with salt and pepper and sprinkle with some chopped chives.
We all enjoy good food, and we've got a delicious recipe for you to try.
Courtesy of The Bonham hotel in Edinburgh, we have a tasty Poached Duck Egg, British Asparagus, Cured Ham and Mustard Dressing recipe, courtesy of their head chef Marco.
Set in a quiet leafy crescent in the exclusive West End of Edinburgh, only minutes from the main attractions, The Bonham provides guests with luxurious, fully refurbished rooms and suites. Many rooms offer stunning views either over Drumsheugh Gardens or looking North over the New Town towards the Firth of Forth and the Kingdom of Fife.
The Bonham offers comfortable, welcoming lounges where you can relax and have cocktails or afternoon tea. Their stylish, modern restaurant offers an eclectic menu of European inspired food and a Scottish twist, using the best of local suppliers and ingredients.
Click HERE to learn more about The Bonham.