An Auld Alliance of food for a delicious treat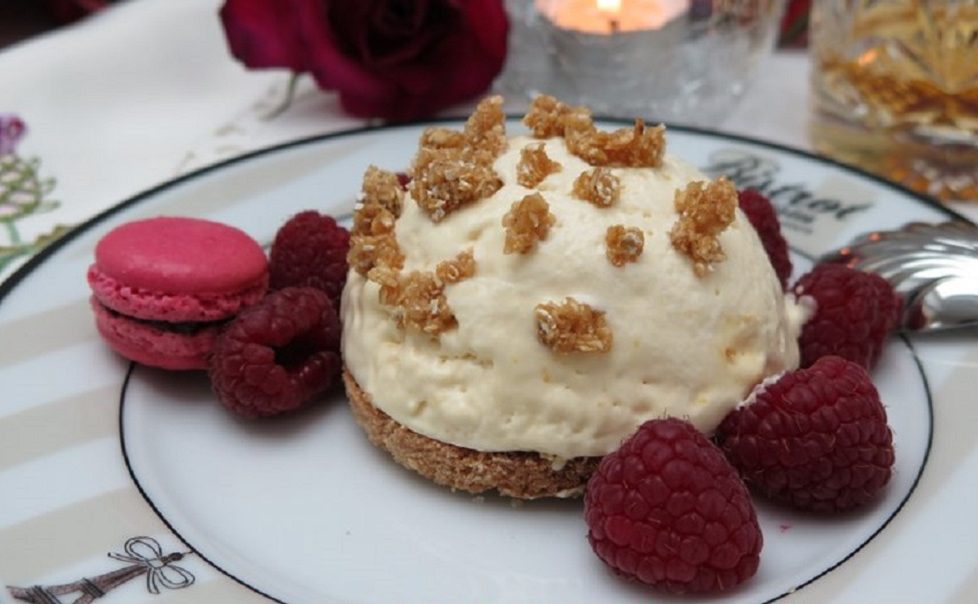 Cranachan Parfaits
4 egg yolks (organic)
4 tbsp runny honey (Heather honey, if possible)
1 tbsp Malt Whisky
350 gr (12oz) Whipping Cream (30%) Crème fleurette
Oat Praline Crumble
75 g (3oz) porridge oats
75 g (3oz) granulated sugar
10 g (0.5oz) unsalted butter
Shortbread - 200 g (7oz) unsalted butter (softened)
75 g (3oz) caster sugar
200 g (7oz) flour (all-purpose)
75 g (3oz) rice flour (or cornflour)
Pinch of salt
Fresh raspberries to serve
Cranachan Parfaits: Chill a large bowl in the fridge for the cream. Place the egg yolks in a large bowl, heat the honey without boiling it and pour it over the yolks and beat with electric beaters (or a stand mixer) for about 10 minutes until thick and moussy. Add the Whisky and beat again until well mixed.
In the chilled bowl, whisk the cream like a Crème Chantilly until soft peaks and the same consistency as the yolk-honey mixture. Gently fold the 2 mixtures together and spoon either into spherical silicone moulds (this used 10 spheres), greased muffin tins, or in a lined cake tin. Transfer to the freezer and leave overnight to set.
Oat Praline Crumble: In a saucepan, heat the sugar with a few drops of water. Just as it starts to change colour after about 5 minutes, stir using a wooden spoon until the sugar is completely dissolved and the caramel is medium golden. Add the butter and stir to mix well then pour in the oats. Stir until the oats are well covered then immediately transfer to a baking tray.
Once cool, break the praline into small pieces and reserve in a jam jar. (This can keep for about 10 days)
Shortbread: Preheat the oven to 180°C/160°C fan/360°F/Gas 4.
Cream the butter and sugar together in a large bowl until pale and creamy (either by hand or in a stand mixer). Gradually add the flour, rice flour and salt until the mixture comes together into a dough that's easy to work with.
Spread the mixture into a greased non-stick baking tin and thinly even it out using a palette knife. Alternatively roll the dough out with a rolling-pin until about 1cm thick and bake in the oven for about 25 minutes until golden brown.
When the mixture is still soft and warm, cut out disks with a cookie cutter (the same size as the moulds). Leave to cool on a wire tray.
To serve: When ready to serve, place the shortbread disk on each plate (spread each with raspberry jam if no fresh raspberries), turn out the frozen parfaits at the last minute and place on top. Sprinkle with the oat praline and, if using, serve with fresh raspberries.
Recipe © Jill Colonna | https://madaboutmacarons.com/cranachan-parfait-iced-scottish-dessert/
Scottish Field loves to bring you recipes every week – and today we bring you Cranachan Parfait from Scot Jill Colonna in Paris.
Last week we brought you recipes from Christina Conte, an ex-pat Scot living in Los Angeles.
And now we continue our international recipes, courtesy of Jill Colonna, another Scot, who now lives in France and runs the Mad About Macarons website.
She said: 'I'm Scottish, having lived in Edinburgh and Glasgow until I was 23 when I met a Frenchman at Strathclyde Business School (or our local pub in Candleriggs), and he whisked me to Paris – 27 years ago! For the past 15 years I have been living in the royal market town of Saint-Germain-en-Laye, just outside Paris. It's twinned with Ayr and has a wonderful Scottish-French history to it.
'As fate would have it, I was lucky to be published in 2010 by Waverley Books in Glasgow with my first book, Mad About Macarons and, since then, the name has stuck with my blog, even after my second cookbook, Teatime in Paris.
'I develop many recipes on le blog: they're either Scottish or French – or both. For example, the two latest posts was my revisited Cranachan dessert and Scottish Salmon served with a smoked tea beurre blanc, both inspired by the French yet using good Scottish ingredients.'
Jill begins her week of recipes with some tasty Cranachan Parfaits.
She explained: 'Cranachan is the name of a classic Scottish dessert. It's so easy to put together and is made with simple ingredients: cream, honey, oatmeal and Whisky and layered with fresh Scottish raspberries. Here I've revisited the Scottish dessert with a French twist by turning it into a Cranachan Parfait.
'The Cranachan parfaits are soft honeycomb ice creams (no-churn) with a touch of Malt Whisky, topped with an oat praline crumble and served on a disk of Scottish shortbread then topped with raspberries.
'The Scottish Cranachan dessert was originally served to celebrate the summer harvest festival. No matter how much people say their raspberries are better, there's nothing to beat fresh Scottish berries! Even the best French ones don't match up to them, in my humble opinion.'