A tasty treat with this Highland cannelloni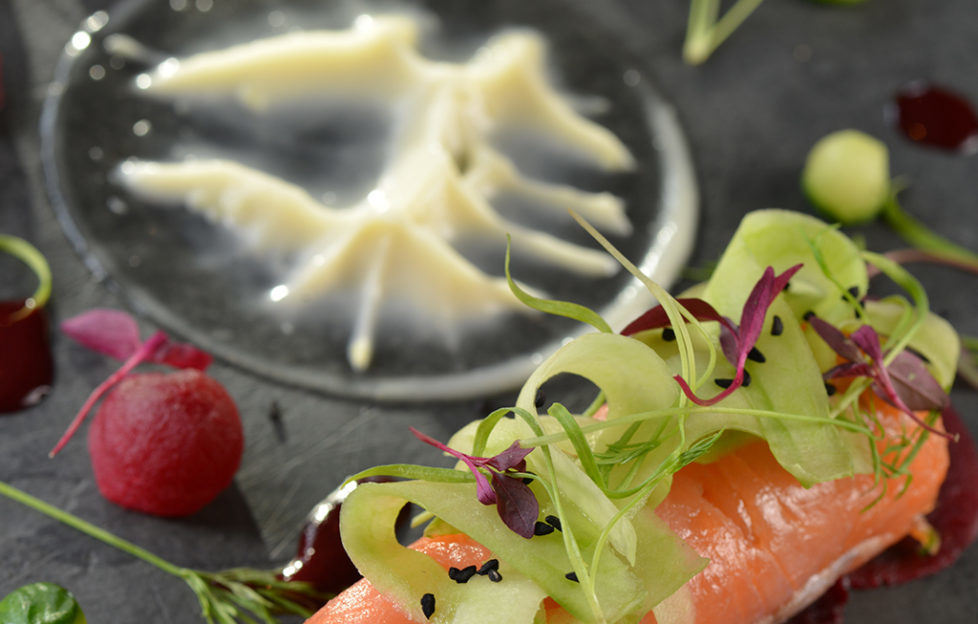 Highland cannelloni (serves four)
1 packet of smoked salmon
200g white crab meat
4 large beetroots
20g samphire
100g mayonnaise
5g wasabi
2g micro herbs
1 cucumber
2 spring onions
1/4 cup vinegar
1/4 cup brown sugar
2 shallots
A good pinch of ground coriander
A good pinch of ground cloves
Lay out two sheets of cling film on top of each other and place the smoked salmon, overlapping each piece. Remove any shell from the crab meat, season with salt & pepper, chop spring onions and add. Combine mayo and wasabi, add and mix enough to bind. Lay the crab mix on top of the salmon in a line and roll it up, twisting each end.
Cook beetroot until tender and peel skin while warm. Using a parisienne cutter scoop out beetroot balls, three scoops per portion, and with the trimmings make beetroot ketchup. Peel cucumber into thin strips. To serve, place a large dot of wasabi mayo in centre of plate. Arrange the beetroot balls and place the salmon and crab cannelloni to one side of the wasabi mayo. Arrange cucumber strips, samphire and micro herbs around the plate and drizzle with beetroot ketchup.
This recipe for Highland cannelloni comes from Andrew Cook, the head chef at The Lime Tree in Fort William.
He said: 'You could probably say I fell into this line of work. My parents were hotel managers with British Trust Hotels, so I've grown up in hotels.
'My dad is a trained chef as well, so he was my first head chef. My mum always said if I could do a service with him, I'd be able to do a service with any chef. It was a good grounding.'
Having worked at The Lime Tree previously, the chef left the three star family-run hotel restaurant for a stint at Kilcamb Lodge, the luxury country house hotel at Strontian in Argyll. He returned to The Lime Tree, when he took up the role of head chef.