A tasty gin and beetroot cured salmon recipe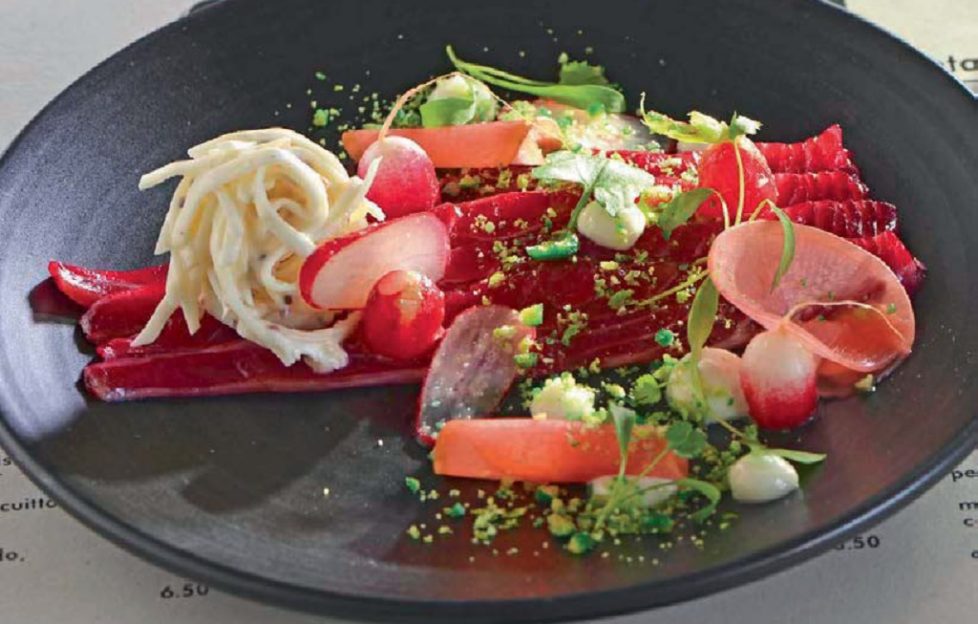 Gin and beetroot cured salmon, celeriac remoulade and wasabi
2 large fresh beetroots
1 orange – zest of
2 lemons
2 juniper berries – bashed
6 tablespoons rock salt
2 tablespoons demerara sugar
50ml of gin
800g side of salmon (boned and skinned)
100g of good quality mayonnaise
5g of wasabi paste
Salt
50g of wasabi peanuts
200g piece of celeriac
Arran grain mustard
50g of good quality crème fraiche
1 bunch of breakfast radish
Micro coriander
Vinaigrette
Firstly, make the cure for the salmon, this needs to be done at least 24hrs in advance. Peel the beetroots and chop into small pieces and place in a blender with the orange zest, lemon zest, juniper, rock salt, demerara sugar and gin. Blend these until you have a nice purple paste. Put the salmon on a tray and cover with the paste on both sides. Cling film the tray and refrigerate for 24 hours, ideally turning once or twice through the process.
To make the wasabi mayonnaise, gently whisk the wasabi paste with one tablespoon of the mayonnaise until evenly combined and then add in the rest of the mayonnaise and mix well, season with a pinch of table salt and put the mixture in a piping bag. Put the wasabi peanuts into a blender and pulse them until broken down (but not into powder).
Wash the radishes making sure to keep the nice green tops on them. Peel the celeriac and break down into four nice rectangular pieces, then cut these pieces into strips around 2mm thick (you can use a mandolin to do this if you like). Next, cut these thin strips into thin matchstick-style strips, again no more than 2mm in width.
Place in a bowl and bind with the crème fraiche, one tablespoon of Arran mustard, a good squeeze of lemon juice and a pinch of salt. Keep refrigerated until needed. When the salmon is ready to come out of the cure, rinse well under cold water and place on j-cloths to dry. Once dry, slice into 3mm slices.
To plate up, place 4-5 slices of the cured salmon on the centre of each plate, a spoonful of the celeriac remoulade to the side of the salmon, dress the radishes in a little vinaigrette, halve and scatter 4-5 pieces around the salmon.
Finish with a few dots of the wasabi mayonnaise, a tablespoon of the crushed wasabi peanuts and a few sprigs of micro coriander.
Recipe © Daniel Spurr | https://www.oxandfinch.com/
Glasgow restaurant Ox and Finch has made a name for itself serving up great plates inspired by world foods just made for sharing.
So you might be forgiven for thinking that meals in head chef Daniel Spurr's own kitchen might involve a riot of different dishes every time – but Daniel has a confession.
'To be honest, I don't cook much at home. I normally eat out on my days off. I'm just always interested in eating food from other places.'
Originally from Strathaven, Daniel's love of food started young. 'My Dad is very into food and I was taken to good restaurants from a young age,' he says. 'I started cooking when I was about 15.'
The 28-year-old admits he didn't take cooking that seriously until he was 20, but once he did, things moved quickly.
From studying and working part-time in a local restaurant, he went to seafood restaurant Rogano before going to be sous chef at Martin Wishart at Loch Lomond.
He joined the team at Ox and Finch in 2013, working with owner Jonathan MacDonald to plan the diverse, globally inspired menu, which features more than 30 dishes that are regularly updated.
(This recipe was originally published in 2016)