A sweet treat with Mont Blanc meringues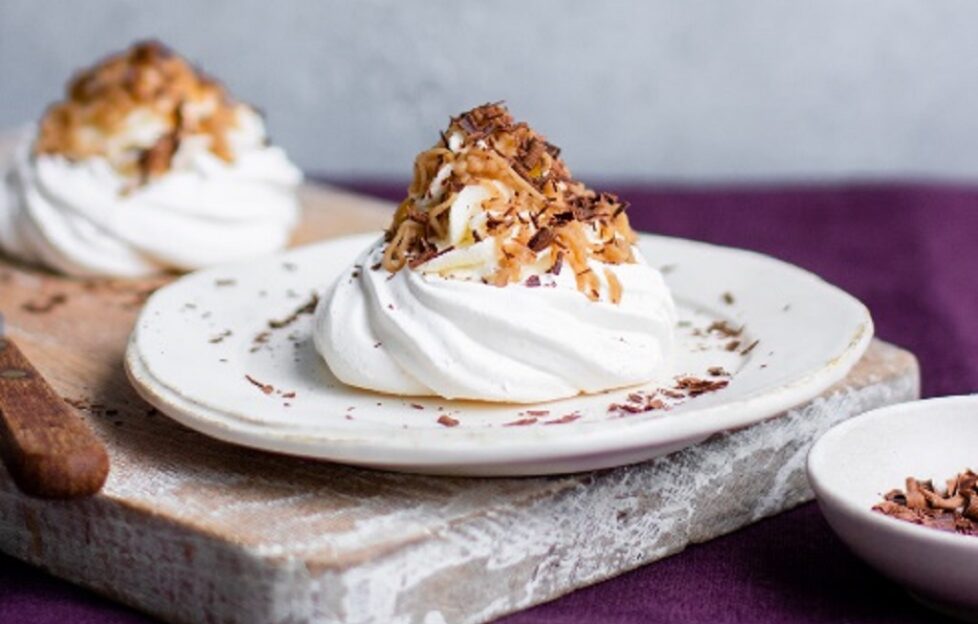 Mont Blanc meringues (Serves 12)
Liquid from a 400g tin of chickpeas (about 135ml)
175g caster sugar
1 tbsp cornflour
1 x 200g Pouch Merchant Gourmet Chestnut Puree
50ml maple syrup
150ml plant based cream
20g chocolate, peeled or cut into shavings
Icing sugar, to dust
Preheat the oven to 110C (90C fan) and line two baking sheets with greaseproof paper.
Put the chickpea liquid into a large mixing bowl. Using an electric whisk, beat the liquid on the lowest setting for 2 minutes, or until bubbly and starting to foam. Whisk on a medium speed for a minute, then increase to the highest speed and whisk until stiff peaks form (up to 10 minutes). Add the cornflour and whisk again. Once the mixture is stiff, add the sugar a tablespoon at a time until fully combined and the meringue is thick and glossy.
Form or pipe the mixture into 3-4inch wide meringues on the greaseproof paper, leaving a dip in the middle of each meringue. Place in the oven for 1 hour and 10 minutes, or until the meringues are crisp and cooked through. Set aside to cool.
In the meantime, push the chestnut puree through a sieve into a bowl and stir through the maple syrup until smooth. Using a clean electric whisk, whip the cream until stiff.
To assemble the meringues, put a spoonful of chestnut puree into the dip of each meringue. Place the cream into a piping bag and pipe on top to create a cone shape. Once piped, clean out the piping bag and fit a very small nozzle on the end. Fill with the remaining chestnut cream and pipe little squiggles over the top.
Dust with the icing sugar, then top with chocolate shavings to serve.
Recipe © Merchant Gourmet | https://www.merchant-gourmet.com/
Today's recipe of the day is a sweet treat that will appeal to vegans and carnivores alike – a tasty meringue.
Merchant Gourmet – the plant-based pulses and grains brand – has created a delicious spread of plant-based tasty recipes.
Today, we offer Mont Blanc meringues, with no eggs involved!