A nice and easy blueberry cheesecake recipe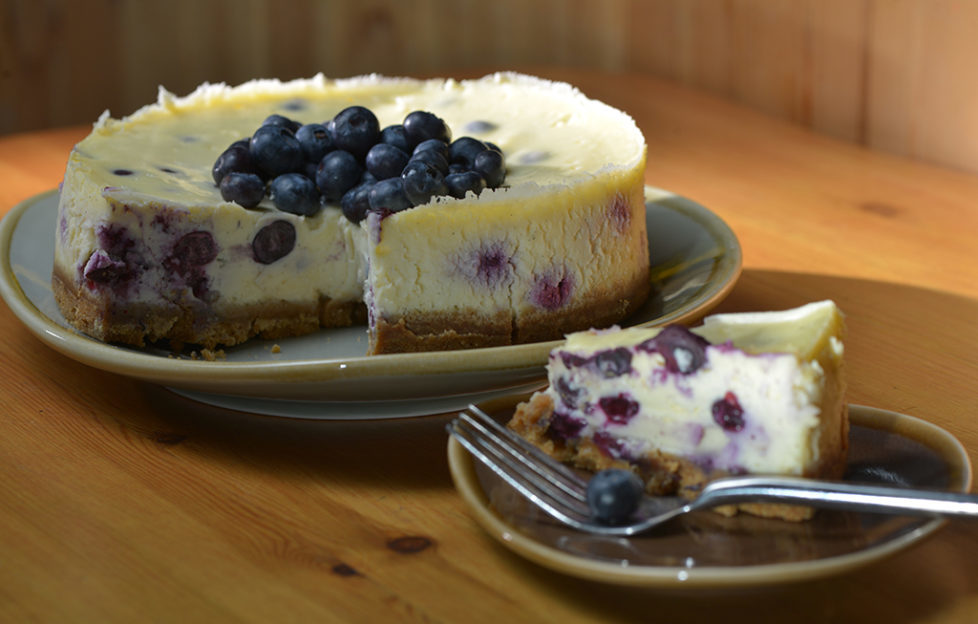 Kev's baked blueberry cheesecake (serves 8-10)
For the base: 300g digestive biscuits
100g unsalted butter, melted
For the cheesecake: 1 vanilla pod, scraped
150g caster sugar
40g cornflour
640g cream cheese
3 large eggs
280ml double cream
200g fresh blueberries
20cm spring form cake tin
Preheat your oven to 120°C (100°C fan). Grease your cake tin and line the base with greaseproof paper. Grind your digestives to a fine crumb in a food processor (or put them in a plastic bag and bash them with a rolling pin). Put the biscuit crumbs in a mixing bowl and pour over the melted butter.
Mix with your hand until the butter is thoroughly mixed in. Tip into the prepared tin and press it down to make a firm, even base. Pop the tin into the fridge to set while you get the rest of the filling sorted.
Place the vanilla pulp, caster sugar, cornflour, cream cheese and eggs into a large mixing bowl and beat until fully combined – easiest done with an electric mixer on a medium speed. When the mixture is smooth and has thickened, turn the mixer to a lower speed and slowly drizzle in the double cream. Beat until fully combined, then tip in the blueberries and gently stir them through.
Pour the mix over the base and put the tin on a baking tray. Bake in the oven for 1½ hours. Carefully take the cheesecake out of the oven – it will be very wobbly – and leave to cool. When it's cold, pop it in the fridge overnight to set. Serve with fresh blueberries or our blueberry compote.
The Mountain Cafe in Aviemore has an ethos that's very simple.
Kirsten Gilmour, chef and owner of the cafe, has been religious about buying the best produce available, from as many Scottish suppliers as she can and never buying in pre-prepared food.
All of the cafe's cakes and bread are homemade.
'I would describe my food as wholesome, healthy and sexy,' she says. 'I like mixing great Scottish ingredients with fresh herbs and exotic fruits. I call it Skiwi.
'The chicken pie recipe printed here is taken from my book, The Mountain Cafe Cookbook and really does come from my mum, I hated it as a kid. We had it so often because we lived on my grandparents' farm.
'A few years ago I challenged myself to pimp it up and make it taste good. My mum is disgusted with it, she thinks it's pretentious. But at least I can eat chicken pie again.'
Originally published in Scottish Field, June 2017 edition.
See more recipes from Scottish Field HERE.