A filling vegan moussaka to warm you up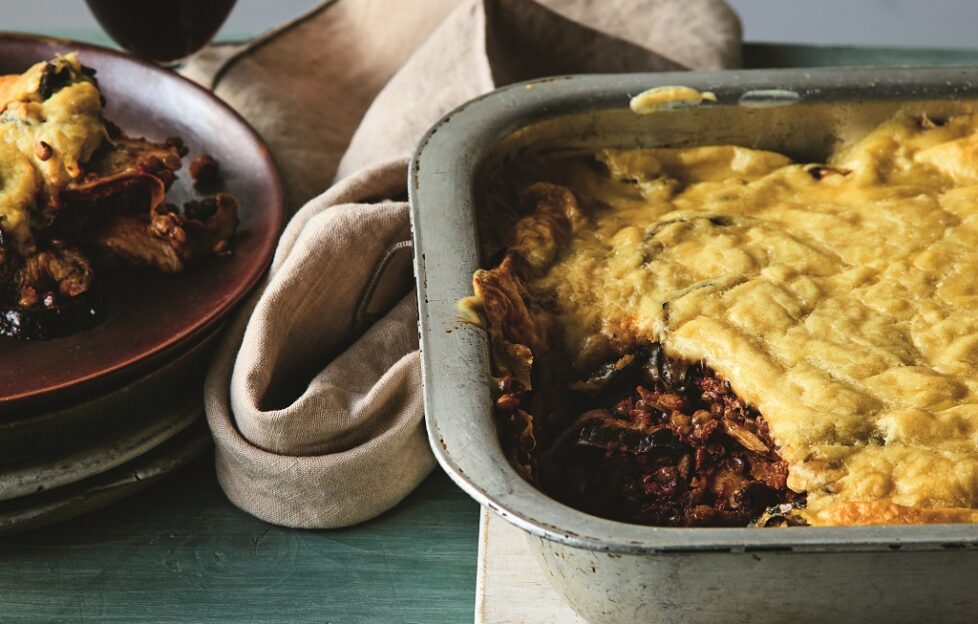 Ultimate Moussaka (Serves 2)
3 medium aubergines (about 900g)
3 large baking potatoes (about 1kg)
4 tbsp olive oil
salt and black pepper
For the ragu: 1 white onion
300g chestnut mushrooms
3 garlic cloves
2 tsp dried oregano
3 tbsp tomato puree
150g dried puy or brown lentils
2 x 400g tins chopped tomatoes
1 vegetable stock cube
For the bechamel: 90g hard dairy-free cheese
1½ tbsp cornflour
600ml dairy-free milk (oat, almond or soy)
90g dairy-free butter
90g plain flour
1 tsp ground nutmeg
salt and black pepper
To serve: salad
Preheat oven to 180°C and line three baking trays
Trim the aubergines. Slice the aubergine and potatoes into 5mm discs (no need to peel the potatoes!). Lay out over the lined trays. Drizzle with 3 tablespoons of the olive oil, season with salt and pepper and toss to coat. Cook in the hot oven for 25-30 minutes, until soft.
Meanwhile, make the ragu. Heat the remaining tablespoon of olive oil in the hot casserole. Peel and thinly slice the onion and mushrooms and add to the pan with a big pinch of salt. Fry for 7-10 minutes, stirring occasionally, until soft and starting to turn golden.
Peel and grate the garlic into the pan. Add the oregano and tomato puree, stirring to coat. Tip in the lentils and chopped tomatoes, then fill one of the cans with water and add it to the pan along with the stock cube.
Bring to the boil, then reduce the heat to a simmer and leave to bubble away for 40-50 minutes, stirring now and then, until the lentils are totally soft and you have a thick ragu, adding a little more water if it looks dry before the lentils are cooked.
To make the bechamel, grate the cheese and put it to one side. In a small bowl, whisk the cornflour with a tablespoon of the milk. Warm the small saucepan over a medium heat. Melt the dairy-free butter, then add the flour and cook, whisking constantly, for 3-4 minutes until the mixture looks dusty, then slowly add the rest of the milk, a little at a time, whisking again to create a smooth sauce.
Add the cornflour mixture to the pan, turn up the heat and whisk vigorously until the mixture is thick. Add the ground nutmeg and grated cheese and season generously. Whisk vigorously until the cheese has melted. Set aside.
Take the ragu off the heat and spoon three-quarters of the mixture into a heatproof bowl. Lay half the potato slices over the ragu in the pan and spoon over a quarter of the remaining ragu, spreading it to the sides. Cover with half the aubergine slices, then another layer of ragu and then the rest of the potato. Spoon over a final layer of ragu and the remaining aubergine slices.
Pour the bechamel over the top, spreading it to the edges with the back of a spoon. Return to the oven and bake for 25 minutes. Allow to sit for 10 minutes, then serve up with a big salad
Recipe © Bosh! | https://www.bosh.tv/
Today we present out final Veganuary recipe from BOSH!, with a filling moussaka.
This recipe is courtesy of four-time Sunday Times bestselling authors and co-creators of BOSH!, Henry Firth and Ian Theasby, who have sold more than one million copies of their plant-based cookbooks.
Since they launched the BOSH! platform over five years ago, they have excited more than half a billion people with their innovative, simple plant-based food creations, and they've garnered two billion views across their social platforms, as well as becoming the faces of ITV series Living on the Veg.
Their debut book, BOSH! was published back in 2018 and fast-became Sunday Times number one bestselling plant-based cookbook and the highest selling vegan cookbook of all time.
As well as their ever-growing popularity, their products are now stocked in all major UK supermarkets.
Their new book, BOSH! On A Budget is the ultimate money-saving, plant-based cookbook packed with over 80 incredible recipes that have already been enjoyed by so many during Veganuary.
Today, we present a recipe for the Ultimate Moussaka.
Ian and Henry said: 'A wonderful tomato, mushroom and lentil ragu layered up with slices of aubergine and potato, topped with a creamy bechamel and baked until golden and bubbling, this really is the ultimate moussaka! Serve it with a fresh green salad and the smile on your face will be difficult to shift.'