A famous Risotto alla Milanese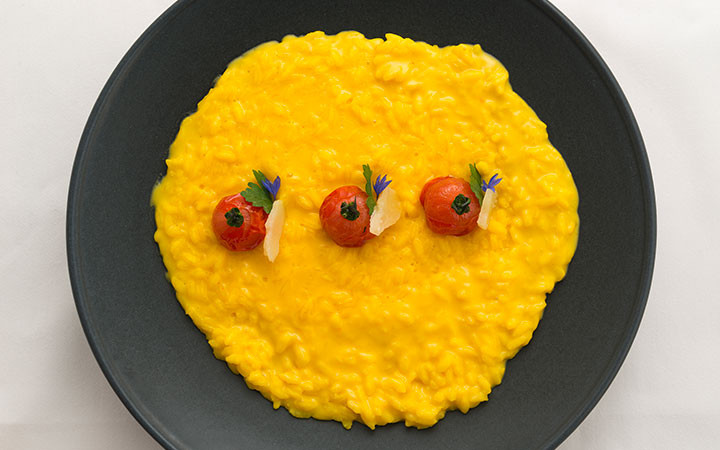 Risotto alla Milanese
Short-grain rice Carnaroli: 4 cups
Onion or leeks, finely diced: 2tbsp
Kosher salt adjust to taste: 1tsp
White pepper freshly ground, adjust to taste: 1/2tsp
White wine: 3tbsp
Saffron loosely packed: 1tbsp
Butter: 3tbsp
Parmesan cheese grated: 3tbsp
Fresh parsley, finely chopped: 1tbsp
Fresh rosemary, finely chopped: 1tbsp
Fresh lemon zest: 1tbsp
Finely dice onions. Measure other ingredients. Bring the stock to boiling. In the same pan, saute onions on medium heat, season with salt.
Add rice to the onions and cook briefly until rice grains are semi-transparent and hot to the touch. Do not let it caramelize. Add white wine, stir, and let the wine to evaporate.
Add the first portion (~2-3 cups) of simmering stock to cover the rice. Sprinkle with saffron. Set the timer for 18 minutes.
Cook, stirring over high heat until stock is partially absorbed, partially evaporated. Stir constantly and gently.
Repeat 2-3 more times with the rest of the stock. Stir constantly and gently.
Continue till the end of 18 minutes period. Turn off the heat. Adjust the taste.
Add butter and parmesan, stir, cover with a lid and let your risotto set for about 3-5 minutes before serving. It will absorb most of the liquid left after cooking.
Sprinkle parsley, rosemary and lemon zest on top as garnish and serve the risotto.
Recipe © Baglioni Hotel London | https://www.baglionihotels.com/baglioni-hotel-london/brunello-bar-restaurant-london/signature-recipes/
Everyone's family recipes sit close to the heart and over time, these signature dishes are lovingly passed down through the generations.
Baglioni Hotel London have shared their recipe for their famous Risotto alla Milanese at Brunello Bar & Restaurant for us to recreate in our own time.