A delicious sweet treat with chocolate pumpkin muffins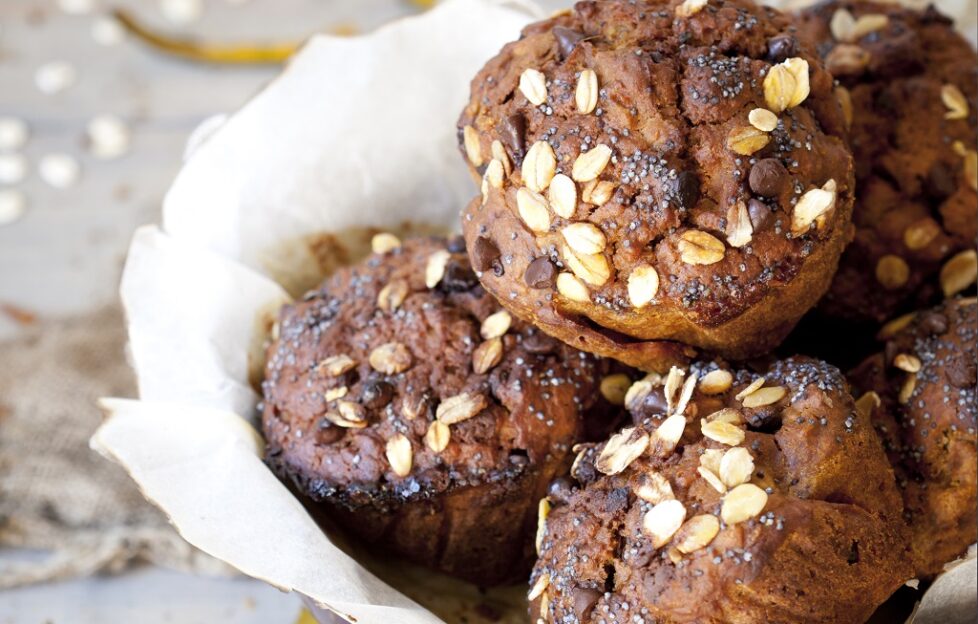 Pumpkin Chocolate Muffins
180g softly roasted pumpkin or squash (cooked flesh only)
2 ripe bananas (the browner the banana the sweeter for baking)
1 egg, lightly beaten
1 tsp vanilla extract
90ml melted coconut oil
90ml melted coconut oil
50g granulated sugar
4 birdseye chillies, whole and pierced
1 tsp mixed spice
2 tsp baking powder
1 tsp bicarbonate of soda
40g dark chocolate chips
40g raisins
Heat the oven to 200C / 190C fan / gas 6
Line a 12-cup muffin tin with muffin cases
To roast the pumpkin or squash cut them in half and remove the seeds. Place the two halves on a baking tray with the skin up, flesh down. Bake for appoximately 30-40 minutes until the flesh is soft. Use only the cooked soft flesh in this recipe, not the skin
Place the cooled roasted pumpkin and peeled bananas into a large bowl and mash well. Add the beaten egg, vanilla extract, oil, milk and sugar and mix all the wet ingredients together
In a separate bowl, mix the flour, mixed spice, baking powder and bicarbonate of soda
Pour the wet ingredients into the dry and blend together. The mix should have no flour showing but will be lumpy. In the final strokes add the raisins and chocolate chips
Spoon the mixture equally between the 12 muffin cases
Bake the muffins in the centre of the preheated oven for 20 – 25 minutes until the muffins are golden and risen. The muffins should spring back when you touch the tops
Leave the muffins to cool in the tin for a few minutes and then lift to cool further on a wire rack. Eat fresh on day – warm is best!
Recipe © Kilduff Farm | https://www.kilduff.co.uk/
Something many of us will have heard about, but never tried, is a muffin made with pumpkin.

Well, now's our chance to make them for ourselves!
This week, courtesy of our friends at Kilduff Farm, who have a huge pumpkin patch, we bring you some recipes to use up those pumpkins leftover from Halloween.
Kilduff Farm is located in East Lothian, in between Haddington and North Berwick and home to our guest today, Lucy Calder, as well as her husband Russell, and their three children, Maisie, Louisa and Charlie.
Established in 2018, The Patch at Kilduff is an exciting family experience in the heart of East Lothian.
An opportunity for children, young and old, to pick their own pumpkins right from the field. As a result of a desire to engage children with rural life and teach them where food comes from and how it is grown, they decided to develop The Patch and create a festival celebrating all thing pumpkin here at Kilduff Farm right in the heart of East Lothian.
Today's recipe is for a beef and pumpkin curry, a delicious Thai style curry combining beef and pumpkin, the perfect slow cooked autumn comfort food.
This recipe for Pumpkin Chocolate Muffins was created for Kilduff Farm by Sonia Lee, of LeeLifeNutition.
Sonia is a business mentor and accredited coach but also an enthusiastic cook, nutritionally conscious recipe writer and food photographer. She has a Diploma in Culinary Medicine and Applied Nutrition. As a mother of two she is passionate about nutritional content, wellbeing and the intelligent sourcing of ingredients in her cooking.