Why I'm so pleased the Simpsons broke their promise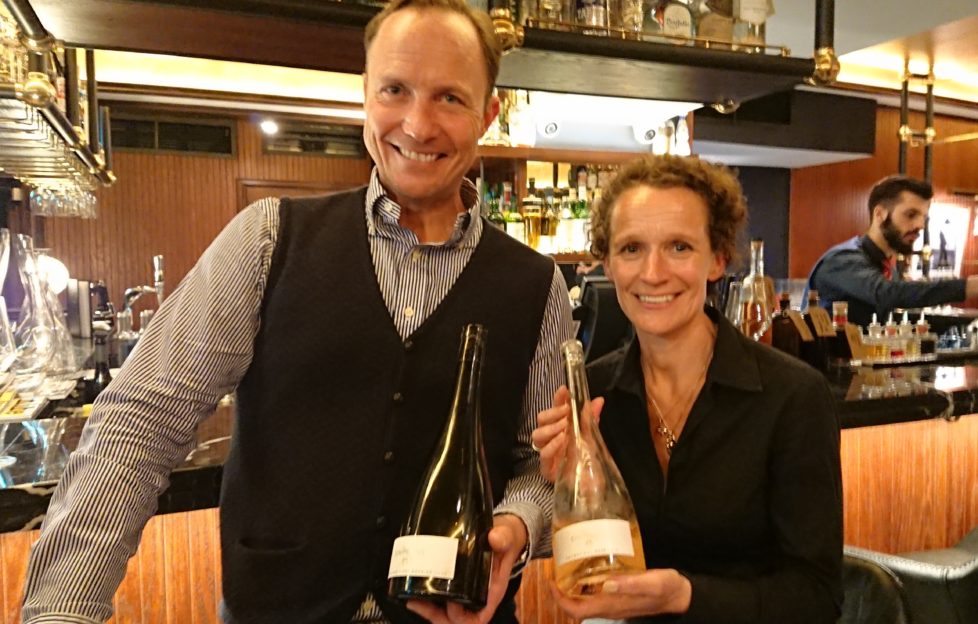 Peter Ranscombe toasts a Scottish and Northern Irish couple triumphing with their English wines.
"WE PROMISED we would never make an English still wine," laughed Charles Simpson as he addressed his guests in the basement at Trade Soho, the private members' club in London where he and his wife, Ruth, launched their range of four… English still wines.
When Ruth and Charles planted the first vines at their Simpsons wine estate near the village of Barham in Kent back in 2014, they opted for the classic combination of chardonnay, pinot meunier and pinot noir in order to focus solely on traditional method sparkling wines.
Still wines weren't part of the plan until a wet day two years ago in a marquee in a field in the nearby village of Chilham when Charles began pouring glasses of his 2016 Roman Road Chardonnay from a bottle he had hidden under the table.
The great and the good of the English wine industry had gathered under canvas for the launch of Domaine Evremond, a vineyard owned by Champagne house Taittinger and wine distributor Hatch Mansfield, and fellow sparkling wine producers from Kent were invited along to share their own bubbles.
Those first 680 bottles of chardonnay sold out and the feedback the Simpsons received was one of the stepping stones towards last month's launch of their still wine range with wholesaler and retailer Roberson.
And I for one am very pleased they broke their promise never to make English still wines – to think that these four wines come from such young vines is so exciting and I can't wait to see how the range develops in years to come as the plants age.
Breaking new ground
The Simpsons have followed Roman Road with their 2018 Gravel Castle Chardonnay (£17, Roberson), with flavours of apricot, lemon rind, red and green apples, and butter balancing its fresh acidity.
While it's balanced enough to be sipped on its own, the new chardonnay has all the freshness needed for food and wine matching too.
Innovation has always been part of Ruth and Charles' winemaking at their Domaine Sainte Rose estate in the Languedoc in the South of France and that spirit of experimentation continues in England.
Their 2018 Derringstone Pinot Meunier Blanc (£19, Roberson) is the first English still white wine to be created from the red pinot meunier grape and is made by keeping the skins – which contain the colour – away from the colourless grape juice.
The result is one of the most exciting English wines I've tasted, with a gorgeously rounded texture, combining fresh acidity with a touch of cream and flavours of savoury lemon rind and dried apricots.
Adding a splash of colour
I'm a sucker for a fancy label, but what's even more impressive is when packaging has a practical purpose, like the Vinolok glass closure used to seal both the Derringstone Pinot Meunier Blanc and the 2018 Railway Hill Pinot Noir Rosé (£15.99 reduced from £19, Roberson).
The Simpsons have used the closure to keep their top wines from the Languedoc fresh and it's exactly the type of high-end packaging that English wine producers should be considering to reflect the quality of the liquid in their bottles.
The Railway Hill rosé has a lovely roundness to its mouthfeel and a delicious combination of crunchy green apple with raspberry and strawberry.
It was the pinot meunier blanc that had me most excited in the run-up to Simpsons' tasting, but it was the 2018 Rabbit Hole Pinot Noir (£27, Roberson) that won my heart on the day, with its warm aromas of red plum, red cherry, ripe raspberry and spun sugar, leading into ripe tannins, fresh acidity and plenty more red fruit flavours on the palate, with a twist of subtle vanilla.
It reminded me of pinot noirs from New Zealand, with Charles later pointing out to me that he planted the same clone of the variety that's popular in Central Otago.
But don't forget the bubbles
One of the grumbles I often hear about English wines – especially from other writers – is their price.
But what does £27 get you in Burgundy these days? A very ordinary blend from a regional appellation perhaps? Same goes for £17 among white Burgundies.
And that's the level at which Simpsons is operating – international-level pinot noir and chardonnay that can give new world examples from South Africa and New Zealand a run for their money and knock spots off California at the same price point.
Among all my excitement about the still wines, it was also a treat to taste the 2016 Chalklands Classic Cuvee (£28, Roberson), Simpsons' sparkling blend of 60% pinot noir and 40% chardonnay, with a mix of sweeter raspberry jam and spun sugar notes alongside more savoury lemon rind and apricot, plus an impressively-long finish.
Given the ripeness of the 2018 still wines following last year's warm summer, I expect the dosage – the mix of sugar and juice added at the end of the production process to give the wine balance – will fall in the future from the nine grams per litre at present, adding to the excitement of things to come from Simpsons.