Salt, lemon and lime time at Edinburgh's Marriott Courtyard
PETER RANSCOMBE
IT'S a situation that will be familiar to so many travellers: you arrive at your hotel, dump your bags in your room and head straight to the bar to unwind.
Yet, when you cast your eye along the taps or pick up the drinks menu, your heart sinks as you realise it's the same choice of bland international brands as the last place you stayed.
Offering the right drinks is a balancing-act for chain hotels; many weary guest will simply want a pint of lager or stout and will go for the most-familiar brands – some will taste great time-after-time, but others owe their place on the bar more to marketing than merit. Getting the balance right between the big names and the more interesting drinks isn't easy.
It's a balance that the drinks team in the Lantern Room restaurant and bar at the new Marriott Courtyard hotel in Edinburgh seems to be getting right so far.
Alongside the ubiquitous Guinness, the taps on the bar include Alloa double-act Williams draught craft lager and Williams joker India pale ale (IPA), as well as Barney's red rye ale, brewed not too far away at Summerhall, the former Royal Dick Vet School building.
'Can I try a local beer?'
Nine of the 14 bottled beers on offer from the fridge are Scottish – including Barney's, BrewDog, Harviestoun, Innis & Gunn, Inveralmond, West and Williams Bros – with the other three spots reserved for a trio of overseas lagers. Even the alcoholic ginger beer and the non-alcoholic beer on the menu are both Scottish.
It's impressive. For years, and across various publications, I've joined the ranks of writers clamouring for bars, pubs, hotels and restaurants in Scotland to serve Scottish drinks – when American tourists perch on a bar stool and ask to try a "local" beer then there's clearly demand and a sales opportunity.
And, if I'm totally honest, with a huge international brand name like Marriott above the door, the Courtyard wasn't the first place I would have thought to look for Scottish products. It's a massive international company – with its brands stretching from Ritz-Carlton and Sheraton through to Aloft and Moxy – but it works with individual hotel owners and franchisees, so there's the opportunity to differentiate the drinks.
"Marriott has minimum standards, not maximum standards – so we have to have a food and beverage offering available at certain times – but out-with that, we have room to play with," explains Michael Nawrot, operations manager at the hotel, which opened in February. The 240-bedroom unit is spread across three Georgian townhouses, one of which was home to lighthouse builder Robert Stevenson, the grandfather of Treasure Island author Robert Louis Stevenson.
"We wanted at least a couple of our signature cocktails or serves to relate back to the history of the building," adds Nawrot. "The history we have in this building with the Stevenson family and the lighthouse link – which you see all around you – actually gave us quite a platform to do something different."
Marguerita Time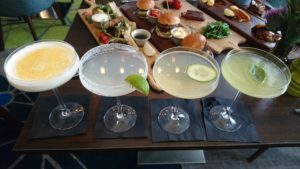 The hotel's best-selling cocktail – shifting more than double the number of its nearest rival some weekends – is the Bellrock (£10), consisting of Hendrick's gin, apple juice, lemon, sugar and Botega Prosecco sparkling wine, and named after the Bell Rock, one of Stevenson's most famous lighthouses, sitting at the mouth of the Firth of Tay. The texture is really interesting, with the bubbles from the Italian fizz giving it a much lighter feeling in the mouth.
Another cocktail honouring the family is the 1850 (£7.50), named for the year in which Robert died and Robert Louis was born. It's made using Bombay Sapphire gin, lemoncello, fresh lime juice, basil and a twist of pepper. The savoury element from the basil and the pepper really appealed to me, while the fresh lime juice stopped the lemoncello from becoming too cloying and provided balance.
As well as creating cocktails, the drinks team has also put its own mark on some of the classics. Its Margarita (£9) features Don Julio Blanco tequila, Cointreau, fresh lime and a homemade rosemary syrup, with rosemary and lime salt around the rim.
Again, the savoury taste of the rosemary really lifted the cocktail for me, while I also enjoyed the warming orange note from the Cointreau. Whisper it, but I often find Margaritas fairly bland, so this was an interesting departure.
Visually, the most impressive cocktail was the Orange and Vanilla Brûlée (£7.50), made with Courvoisier VS cognac, Errázuriz Late Harvest Sauvignon Blanc dessert wine, vanilla syrup and cream. Regular readers of Wine to Dine – the food and wine matching column in the main printed Scottish Field magazine – will know I love this wine, so it was fascinating to see it used in a cocktail.
It looked like a crème brûlée, smelt like a crème brûlée and – aye, you guessed it – tasted like a crème brûlée, with the acidity of the Sauvignon Blanc helping to cut through the cream. A great alternative to a dessert.
Tone as well as pairings
The other consideration for Nowrat and his team when putting together the drinks menu was the food that's served in the Lantern Room, which includes a "prix fixe" menu – that features all the compressions, crumbs, emulsions, tuilles and veloutes you could ever want – and some great-looking and great-tasting sharing platters on the day and evening menus.
"You've got to look a little bit beyond pairing," he says. "We've got wines on the menu that we can pair with any of the dishes.
"You also have to think of the tone of the place. If I put a great cocktail list in, but we served pizza and carbonara and steak pie then they wouldn't work together.
"There's a lot of 'social eating' involved – so sharing platters and small bites – and then an intentionally-broad main menu. In terms of drinks leading into food, I think there's a synergy, it all works together.
"The tone of the drinks list matches the tone of the food menu. For the dishes we've got, that's what the people who come for these dishes want to drink – they drink interesting cocktails, they don't come in here and have four pints of lager."
A word on whisky
One area in which hotels – whether they're big chains or small family-run establishments – have no excuse for not promoting Scottish drinks is whisky. But, with more than 100 distilleries and thousands of bottlings, where do you start when you're building a whisky list?
"When I took over at the Caley Bar, we had 120 whiskies, which was too many," remembers Nowrat. "Here, we sat down and identified – both commercially and product-wise – a small range of 20 whiskies that worked.
"We touch on everything you'd want in a whisky and it's so much better for the team to be able to explain to customers, because we lay them out by region, so we can walk a short distance along that top shelf and talk someone through all the whiskies we serve, which regions they come from and why you'd want a whisky from that region.
"Scotch whisky doesn't have to be complicated – it just has to be right. It has to be small, select and comprehensive and I think in 20 bottles we've got that.
"We may increase it, but where we sit now, we have some great whiskies. For example, we've made some small tweaks – instead of having the standard 10-year-old Ardbeg, we've got the Ardbeg Uigeadail."