Jamie McCulloch: Scottish passion with Swiss precision
Peter Ranscombe meets Scottish winemaker Jamie McCulloch, whose handcrafted wines from Switzerland are finding fans on Edinburgh's food scene.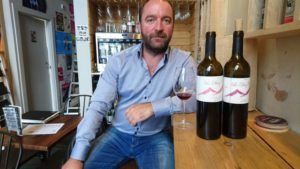 IT'S always fascinating to meet Scottish winemakers. It's possible to count the number of vineyards in our nation on one hand and so it's interesting to explore the reasons why fellow Scots turn to making wine.
For Jamie McCulloch, originally from Hillfoots near Tillicoutry and now making wines in Switzerland, the motivation came after working in the hospitality industry in Edinburgh and visiting wineries around the Margaret River in Australia. Perhaps it wouldn't be too wide of the mark to suggest that studying geography at university also laid some of the groundwork for earning a living from the land.
McCulloch studied "viticulture" – growing grapes – and "oenology" – wine making – in Switzerland and began making wine in 2007. He's had his own eponymous company since 2010, having previously worked at larger wineries in his adopted country.
His wines are on sale in the UK through Dunfermline-based merchant L'Art du Vin and are served at restaurants in Edinburgh including Castle Terrace, The Kitchin and Scran & Scally. The latest eatery to list McCulloch's wines is Le Roi Fou, a Swiss restaurant on Forth Street.
His 2016 Les Deux Cimes Fendant du Valais (£20) has a deliciously-light feeling in the mouth because McCulloch has retained a tiny amount of the gas produced during the fermentation process, when yeast turns the sugars in the grape juice into alcohol. It's not enough gas to create the spritz found in Portugal's Vihno Verde, but it is enough to give the wine a lift and works well alongside the ripe pear and red apples flavours.
Mention the name "Switzerland" and most people's minds will immediately turn to the snow-capped mountains of winter. Yet, like its fellow Central European countries, Switzerland has a continental climate, which means it's warm enough in the summer to ripen red grapes as well as white.
McCulloch's 2015 Gamay (£21.75) is a case in point – it's a variety that's most closely associated with Beaujolais in France. His interpretation has plenty of fruity blackcurrant, blueberry and raspberry aromas on the nose, with well-balanced acidity and tannins on the palate.
"It's a great lunchtime wine, when you want something lighter but don't fancy a white wine," explains McCulloch, who makes a range of 13 or 14 different wine styles each year. His total production is about 20,000 bottles, with about 15% being exported.
Only around 1% or 2% of Switzerland's wines are sold abroad, with homegrown bottles accounting for about 40% of domestic consumption, which makes it interesting to see the Scotsman's wines here on home soil. Back in Switzerland, much of his production is sold directly to private clients.
McCulloch is part of a cohort of younger winemakers in Switzerland who are making less-traditional wines to appeal to newer drinkers – his "Black Magic" Pinot Noir uses a percentage of dried grape skins in the style of Amarone, while its "White Magic" sibling is made using the Hermitage combination of grapes found in the Rhone Valley in France. He's even made a Swiss fortified red wine in the Port style, using Syrah and Diolinoir, a cross between Pinor Noir and Rouge de Diolly, which is usually used for blending.
My favourite among McCulloch's wines was his 2013 Pinot Noir (£26.25), aged for nine months in a mixture of new and old oak barrique barrels and made using grapes grown on chalky soils. The result is a wine with smoke and vanilla aromas on the nose, alongside red cherry, raspberry and strawberry aromas, with riper red fruit on the palate and a rounded mouthfeel.
For me, his Pinot Noir had more body and depth than similar wines from Alsace or the Loire Valley, perhaps a function of the warmer summer temperatures in Switzerland. The next time I reach for some Swiss cheese, one of McCulloch's wines won't be far away.
ENDS