Finding delights among Kayra's Turkish wines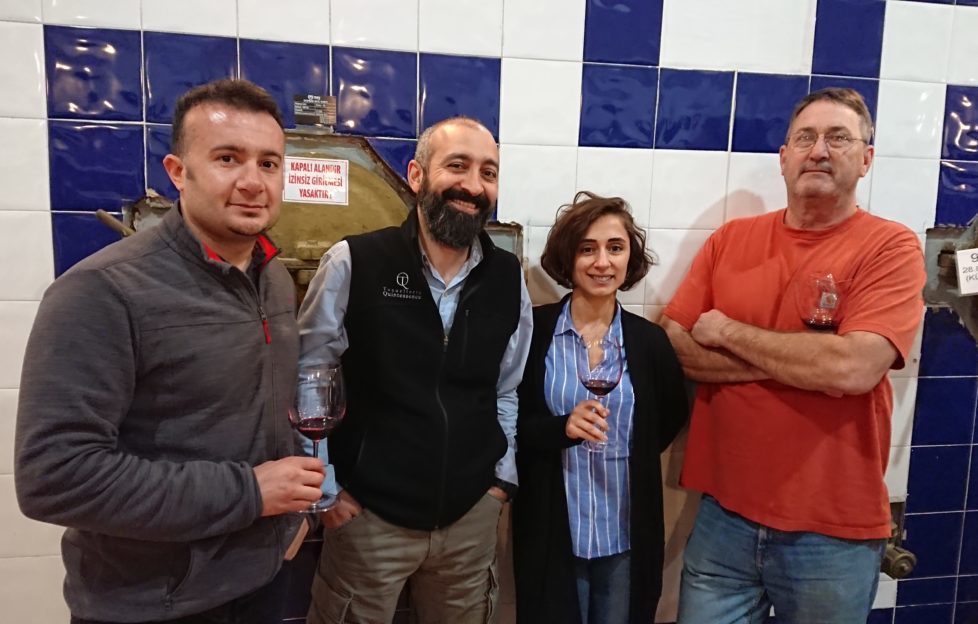 Peter Ranscombe travels to Turkey to explore modern examples from an ancient wine-producing country.
WALKING the streets of Istanbul, the shadow that Atatürk still casts over Turkey is inescapable.
Portraits of Mustafa Kemal Atatürk – who led the struggle for independence and became the "father of the republic" – hang from the walls of hotels, bazaars and even the multitude of ferries ploughing their way across the Bosporus.
With elections approaching in a matter of weeks, posters hanging around the city feature side-by-side images of Atatürk and current president Recep Tayyip Erdoğan – the narrative is plain to see for locals and visitors alike.
As well as founding modern day Turkey, Atatürk had a major influence over the country's wine industry.
In 1935, he launched a research project to study Turkey's grapes and regions, investigating which varieties were most suitable for which areas.
The result was a series of 28 small wineries built throughout the country, including one in the city of Elazig, in the Anatolia region, around five hours north of the Syrian border and with a winemaking tradition that dates back more than 7,000 years, allowing Turkey to lay claim to being the ancestral home of wine.
Seven of the wineries, including the one at Elazig, were bought by a group of Turkish investors when the government privatised its wine-producing monopoly to create the company now known as Kayra.
"It was a kind of museum when we came," remembers chief winemaker Murat Uner as we gather in a blue-and-white tiled room at the Elazig winery, the walls lined with hatches that open to reveal massive concrete tanks that date back to the site's construction in 1938.
"The wineries were built for mass production, not quality."
Californian sunshine
When it bought the seven wineries, the investment group hired Daniel O'Donnell – a Californian winemaking consultant who looks like a slimmer version of actor John Goodman – and gave him three months to work out if a viable business could be built.
"When I came here, it was the marketing team that was deciding when the wine would be bottled and sold," he explains.
"The winemakers didn't even taste the wine.
"My plan involved moving towards producing quality wines, so we threw away 16 million litres of wine when I arrived and got rid of the rest to Russia.
"They were having to leave 65 grams of residual sugar in each litre of wine to make it palatable – to Russians."
Moving away from producing such sweet and rough wines for undiscerning drinkers wasn't without its problems; grape suppliers to the state monopoly had been paid by the weight of their fruit and so O'Donnell introducing sorting table on which the grapes were laid out and any stones that had been put into the crates to increase their weight could be removed.
His reforms hit teething troubles and he laughs as he recounts a story of the local grape growers staging a protest and blockading the winery, while he was ushered away under armed guard.
Yet now Kayra has gone from losing $6m a year into being a key subsidiary of Mey Icki, the raki local spirit producer bought from private equity firm TGP in 2011 by Diageo, the world's largest spirits company and the maker of Scotch whisky brands including Bell's, J&B and Johnnie Walker.
'My brother from another mother'
O'Donnell may have brought standardised international techniques and disciplines with him to Turkey, but he was also keen to learn and listen to what the local staff had to say.
"I didn't want to just be a Napa Valley asshole," he laughs.
Part of that reliance on local talent has included building a winemaking team.
"Murat is like my brother from another mother," laughs O'Donnell later in the vineyard as he grabs Uner from behind in a massive bear hug.
In addition to chief Uner, winemaker Huseyin Adem runs the Elazig winery, while the Sarkoy winery in the Thrace province is run by winemaker Ozge Kaymaz, who has spent seasons at the Mudhouse winery in New Zealand and in Chile, as well as picking up a prize in California for the quality of her rosé.
Sampling the 2017 Kayra Beyaz Kalecik Karasi (£13.82, Great Wines Direct), it's easy to see why the winery has a reputation for its rosé, with this super-pale example offering lemon and raspberry aromas on the nose and then a Provence-like blast of fresh acidity to make its seven grams of residual sugar taste bone-dry, without falling into the trap of tasting metallic.
Kaymaz was responsible for my favourite wine of the trip, the 2017 Kayra Narince (£12.95, Eton Vintners), which is left in contact with its skins to give it some tannin and texture to complement its pear and floral aromas and apricot and lemon rind flavours, reminding me of a white Rhone blend like the types I tried in Crozes-Hermitage last year.
Grab the narince while you can though – 90% of Kayra's crop of the grape has been hit by frost damage this year, which is expected to lead to a smaller 2018 vintage.
Trial and error
That focus on local grape varieties such as kalecik karasi and narince extends into Kayra's high-end wines too.
O'Donnell has a 20-acre experimental vineyard at Alpagut, a short drive from Elazig, in which bogazkere and okuzgozu grapes are grown.
"This isn't a classic wine-growing region," explains O'Donnell. "They don't have that history.
"Convention is like Escher," he adds, referring to the paintings of stairs appearing to lead in contradictory directions.
"You have to throw out any ideas you have about winemaking convention and look at things in a Turkish context."
Back in O'Donnell's native Napa Valley, winemakers are a collaborative bunch, often visiting neighbours to ask questions about how to tackle problems.
Turkish wineries don't welcome visitors and so – with no textbooks to follow either – the Californian and his team have had to conduct their own research in the vineyard, using trial and error to figure out which techniques will produce the highest-quality grapes.
A decade of research
The results include the Versus bottlings of okuzgozu harvested from the Alpagut vineyard, which sits on its own, surrounding by farmland.
O'Donnell chose the site for his experiments because he can use standard training and pruning techniques in a "neutral" location, allowing the resulting wine to focus on the grape variety's characteristics.
A mini-vertical tasting of three vintages of okuzgozu from the vineyard was fascinating, highlighting the differences from year-to-year depending on the weather, with the 2014 Kayra Versus Alpagut Okuzgozu (£25.96, Corking Wines) offering sweet red cherry, raspberry and red plum aromas that led into fresher blackcurrant and redcurrant flavours – an ideal mix of fruity and firm because, after all, "The Turks love their tannins," as O'Donnell observes.
He contrasted the Versus with the okuzgozu from the Vintage range, which is produced in a vineyard that's an "ideal place for growing rocks and goats" thanks to its mountainous location and thin soils – while the Versus focuses on the variety, the Vintage demonstrates the effect a specific vineyard can have on the resulting wine.
Sadly, the wines used in the Vintage mini-vertical aren't on sale in the UK yet, but – for the record – the 2010 Kayra Vintage Okuzgozu really stood out for me thanks to its sweet red cherry, cinnamon and caramel nose and its sweet and lush black cherry and blackberry flavours.
"The wines have aged and developed, but the winemaking team has aged and developed too," concludes O'Donnell as he considers the evolution of the wines on show.
Just like on my recent trip to Romania, it was Kayra's focus on producing high-quality wines from local grape varieties that produced the most intriguing results.