Michelin Star celebrity chef to serve up Royal Deeside dinner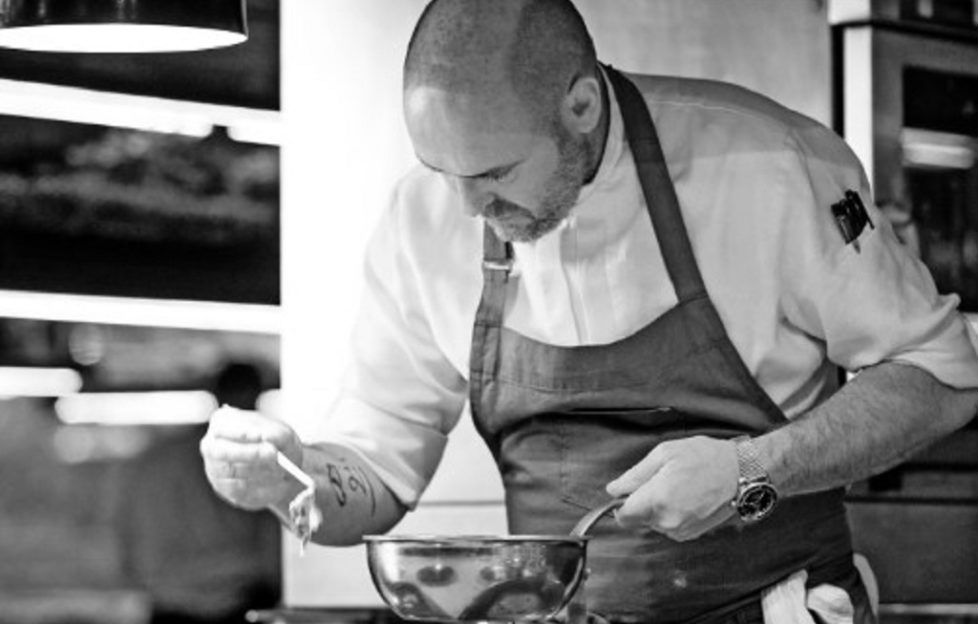 Celebrity chef Aiden Byrne will support The Prince's Foundation by serving up a special six-course tasting menu to a select number of guests at Rothesay Rooms in Ballater.
Liverpool-born Byrne, star of television's The Great British Menu and the youngest winner of the coveted Michelin Star, has used his cooking prowess to generate an estimated £300,000 for another of The Prince of Wales's charities, The Prince's Trust, and will now lend his skills to benefit His Royal Highness's Foundation, which runs the Ballater restaurant as well as the nearby tearoom and bistro The Carriage.
Aiden, whose career highlight came with the Michelin award while in charge of the kitchen at Adlard's in Norwich, and sous-chef John Bentley will prepare a host of dishes, such as a carrot and nasturtium salad and pig's head croquette with smoked apple purée, alongside Rothesay Rooms executive chef Ross Cochrane and his team.
In keeping with The Prince's Foundation's sustainable approach, ingredients will be sourced locally, including nasturtium leaves from Artisan Grower in Insch and the croquette meat from Balnault Farm in Crathie.
Aiden said: 'I'm looking forward to coming to Ballater with John to prepare some strong powerful dishes alongside Ross and his team. With the six courses, I want to take the diners on a bit of a journey through dishes that I've developed over a number of years. We try to stay true to a classical flavour combination, flavours that have been around forever. They're tried and tested, but we play with the cooking techniques and textures.
'John and I will come out and talk about each individual course as it is served, spending time with the guests. We cook from the heart and we don't focus on food trends and fads, instead aiming to extract big, bold flavours from the ingredients available to us.'
Aiden's only previous experience of working in Scotland came in a recent two-year stint as food ambassador for Old Pulteney Distillery in Wick, developing food pairings for the various expressions of Caithness whisky. He has considerably more experience, alongside the considerable task of running some of Manchester's top eateries, of cooking for groups of all sizes to raise money for charity.
He added: 'My team has skills and experience desired by people with disposable income and charitable objectives. It's nice to be in a position to offer our services in that way. Directly or indirectly, we have helped raise £300,000 for The Prince's Trust through various events, and we also do a lot of work with Hospitality Action, whose funds go directly to those who work in hospitality and have fallen on hard times.
'It's nice The Prince's Foundation does similar kind of work in offering training and employment to those aspiring to gain a career in hospitality.'
The Prince of Wales, through his Foundation, helped Ballater regain its footing following the damage to retail and tourism in the village by flooding and fire. Having already opened fine dining restaurant The Rothesay Rooms and the adjacent luxury gift retailer Highgrove Shop to drive tourism to the area after flooding in late-2015, The Prince then announced the opening of The Carriage as part of the redevelopment of the Old Royal Station destroyed by fire in May of that year.
At its peak during summer, around 1000 people dine at Rothesay Rooms each month. Diners at Aiden Byrne's guest chef event on March 19 will be helping fund education and training initiatives by The Prince's Foundation, which are delivered on Royal Deeside, at the charity's headquarters in Ayrshire, and throughout the world.
Ross Cochrane, the award-winning executive chef of Rothesay Rooms, said: 'Aiden agreeing to come up to Ballater and cook for us represents such a great opportunity for people in the area to experience a new type of dining experience.
'Not only are our 50 guests in for a treat, they'll be tucking into some amazing food in the knowledge that they're donating to a fantastic charity in The Prince's Foundation. Our kitchen team is really looking forward to working alongside Aiden, who has prepared a really innovative and original menu for the night.'
Aiden Byrne at Rothesay Rooms will take place on Thursday, 19 March, at 7pm. To book your tickets, priced £120 per person, email bookings@rothesay-rooms.co.uk