WINE TO DINE – AUGUST 2019 – TOMATO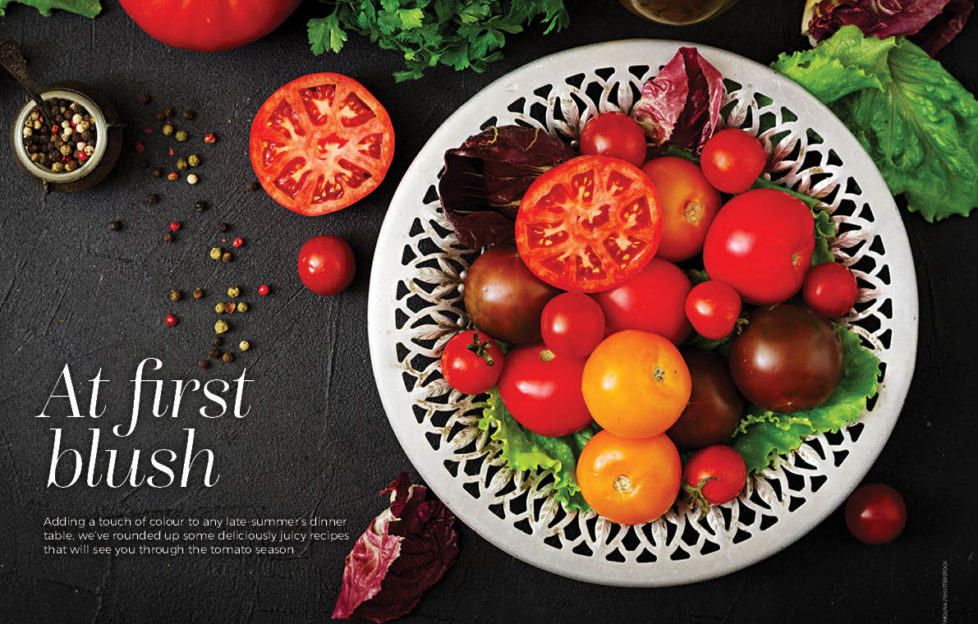 Scottish Field wine columnist and drinks blogger Peter Ranscombe plucks five bottles from the vine to pair with tomatoes.
ONE of the most exciting elements of featuring a "star ingredient" each month on the food pages of Scottish Field magazine is that some very humble cookery components get to shine in the spotlight – like the tomato.
I was really impressed with the variety of summery dishes selected by our chefs this month, all of which placed the tomato centre-stage.
Tomatoes open up a whole range of opportunities when it comes to food-and-wine matching – the fruit's naturally-high acidity means we're looking for similarly fresh wines.
Reds, whites, rosés and even some fortified wines like sherry are all fair game, and I hope that my selection this month will inspire you to explore your own combinations – please leave a comment on Instagram or Twitter about your own favourite pairings.
Stellar Organics Star Catcher Shiraz, 2018
Marks & Spencer
£7.50
If you're heading into smoky or barbecued territory with your tomato recipes then this Shiraz has the flavours to match. Hailing from the Western Cape in South Africa, Stellar's Shiraz smells of pizza sauce, smoky bacon, mushrooms and roast meat. Its taste shifts more towards those smoky barbecue flavours, with plenty of well-balanced tannin to accompany meat. It'll be top of my list to take to barbecues this summer if steaks, burgers or sausages are on the menu with lashings of smoky barbecue sauce. Sulphur dioxide is usually used as a preservative for wines, but none has been added to this bottle, making the aromas even more prominent.
Feudi di San Gregorio Albente Falanghina
All About Wine
£9.29
Italian whites such as Falanghina have the crispness to pair splendidly with a tomato salad. I love Feudi di San Gregorio's range and always look for it on restaurants' wine lists or bottle shops' shelves. Falanghina is a white grape grown in Campania in Italy and produces wines that are crisp, dry and bursting with citrus flavours. This example is packed with sweet lemon sherbet notes on the nose and then fresher lemon and red apple flavours on the palate. It's dry and has fresh acidity, but the crispness is balanced nicely by the concentrated fruit flavours. Delightful as a glass on its own, but bursting with the acidity to match tomatoes too.
Barbadillo Solear Manzanilla
Borders Wine
£12.99
High-acid soups like gazpacho need a high-acid wine like a Manzanilla or Fino sherry for balance. Fino and Manzanilla are the two driest types of sherry and are both made from the Palamino white grape, with Fino produced in the town of Jerez itself and Manzanilla in Sanlúcar de Barrameda, which is closer to the sea. Manzanilla sherries have a slight salty tang mixed in with their fresh green apple and lemon flavours, which I think works especially well with gazpacho soup and other tomato-based sauces. Barbadillo's Solear is a reliable brand and is aged for six years before going on sale; it's also marketed as an ideal match for fish and chips.
Château Minuty M de Minuty Rosé, 2018
Roberson
£16
Provence rosé is not only an ideal match for tomatoes but also for seafood such as scallops. Here we see the old adage of "What grows together, goes together" in action – the pale rosés of Provence are made to go with the southern French coast's seafood dishes and tomato-based sauces. Family-owned Chateau Minuty makes its M de Minuty from a blend of cinsault, grenache and syrah, which produces a wine that's bright with acidity, but nicely balanced by raspberry and lemon sherbet flavours. The 2018 special edition label was designed by British artist Ruby Taylor and has a distinctive Instagram-photo feeling about it.
GD Vajra Barbera d'Alba, 2017
The Wine Society
£17
A very grown-up way to enjoy tomato dishes, especially for deeper and richer concoctions. I'm in love with the freshness of this wine. It's all about the texture – the fresh acidity is balanced by ripe and concentrated black-fruit flavours, as well as 14-16 months ageing in a mixture of French and Slavonian oak. It's a wine I keep coming back to again and again for Italian dishes – another fine example of growing together and going together.