'The Italian Job' becomes the 'South African Job'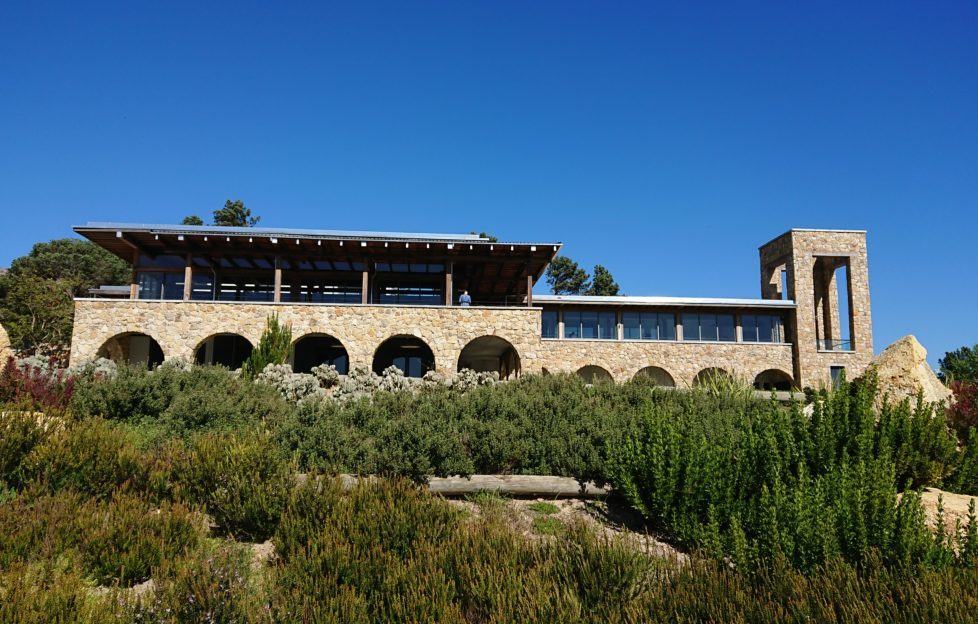 Peter Ranscombe examines how producers in South Africa are using Italian grape varieties to craft wines that have identities all of their own.
WITH its stone archways and wooden beams, the building that houses Idiom's wine tasting rooms and restaurant could pass as a modern Italian villa – if it wasn't in South Africa.
The stylish setting near Somerset West in the Stellenbosch region yesterday played host to the first major showcase of South African wines made using Italian varieties.
The Bottega family emigrated from Italy to the Cape in 1950 and set up their wine making business in 1998.
Although it has planted many of the classic South African varieties – including cabernet sauvignon, pinotage and shiraz – the family naturally has an affinity for the grapes of Italy, with its vineyards including rows of barbera, nebbiolo, sangiovese and even primitivo, which can also be labelled in the Cape as zinfandel.
Yet Roberto Bottega, son of founder Alberto, didn't limit himself to simply showing his own family's wines during the tasting, but instead invited a dozen other producers to come along to share their bottles too.
Roberto explained that Italian varieties only account for around 1% of all the grapes planted in his country – and that pinot grigio makes up 70% of that figure.
More and more producers are becoming interested in Italian varieties though because of their drought resistance, which is becoming a key factor in a grape-growing region ravaged by water shortages.
Indeed, Bosman Family Wines – which runs a major vine nursery as well as growing grapes and making wines – has imported a further 11 varieties from Italy and 12 from Spain, which will be available in three years after spending the required time in quarantine.
Wine from the coast
Roberto was keen for the assembled wine merchants and journalists to assess the South African bottles and compare them with reference wines from across Italy.
Sadly, the initial flight of three pinot grigios didn't get me excited, but my ears pricked up as a pair of vermentinos were poured.
Vermentino is a white grape used to make fresh white wines, which I find far more enticing than sauvignon blanc.
Its spiritual home is on the island of Sardinia, although it's also grown in Tuscany and along the south coast of France.
In 2016, Ayama became the first producer in South Africa to make vermentino, with its 2017 Ayama Vermentino (R220, ayamateca.co.za, circa £11*) spending around 12 months in large old oak barrels, which gave it a rounder texture in the mouth than many of its Sardinian counterparts.
It offered peach, butter and a bit of smoke on the nose, and then the more familiar lemon, red apple and pear flavours on the palate, with a touch of cream and butter – a slightly unusual style, but delicious nevertheless.
The 2017 Morgenster Vespri (R121, morgenster.co.za, c£6*) displayed more of the typical concentrated lemon and pair aromas and flavours to balance its crisp acidity.
Northern reds
Roberto rustled up six South African nebbiolos for the tastings and three really caught my eye, each for a different reason.
The 2016 Arcangeli Romulus Nebbiolo (R260, winecellar.co.za, c£13*) appealed to me because of its interesting mix of sweet strawberry jam and sour red cherry flavours, with its sweeter style balancing its acidity.
In contrast, the new 2013 Domaine Des Dieux Nebbiolo (coming soon) appealed to far more of the tasters gathered for the showcase thanks to its more savoury characteristics, and its firmer yet well-integrated tannins.
The 2015 Idiom 900 Series Nebbiolo (R450 for the 2011, bottegafamilywine.co.za, c£23*) walked the line between the sweet and savoury styles, combining floral aromas with flavours of sweeter raspberry jam and tarter redcurrant and cranberry, although I felt perhaps the tannins need a little longer to soften further for closer integration.
Combining the sweet with the savoury was also the order of the day for the 2014 Fairview Barbera (R111 for the 2015, Fairview.co.za, c£6*) as strawberry jam mingled with tarter blackcurrant and sour cherry.
Fairview's lighter style contrasted with the more serious character of the 2012 Idiom 900 Series Barbera (R450 for the 2011, bottegafamilywine.co.za, c£23*) with its wood smoke, caramel and spun sugar notes on the nose and its darker fruit flavours on the palate, ending in hints of roast meat and wrapped up in firmer acidity.
Sangiovese and friends
Heading into Chianti country brought five sangioveses and five blends to the fore, with a quartet of wines standing out for me,
Again, Domaine Des Dieux was very impressive, with its 2015 Domaine Des Dieux Sangiovese (R150, domainedesdieux.co.za, c£8*) sailing between sweet raspberry jam, spun sugar and red cherry on the nose and more savoury flavours on the palate, with the winery treating its sangiovese in a similar fashion to how it handles its pinot noir, creating a lighter style of wine.
The 2017 La Vierge Satyricon Sangiovese (R145 for the 2016, lavierge.co.za, c£8*) had much more structure, with crisp acidity and firm tannins, but balanced those elements with sweet red cherry, strawberry jam and spun sugar flavours.
An older incarnation of the wine consisted of a blend of sangiovese, nebbiolo and barbera, with some 2011 vintage bottles still on sale in the UK.
I was initially put off the 2015 Terra del Capo Sangiovese (R79, makro.co.za, c£4*) by a burnt rubber tinge among the roast meat and raspberry on the nose, but the palate was much frutier, with red cherry, raspberry jam and spun sugar.
Many of the other tasters enjoyed the "Super Tuscan"-style blends – notably the 2015 Morgenster Tosca, the 2016 Fairview Homtini and the 2014 Dalla Cia Teano – yet it was a slightly simpler and more straight-forward blend of sangiovese, barbera and nebbiolo in the 2014 Nederburg Ingenuity Italian Blend (£27.16 for the 2013, GP Brands) that proved more attractive to me, with rich dark chocolate and coffee aromas leading into seductive raspberry jam, red cherry and spun sugar flavours.
Southern sirens
Heading towards more southern Italian styles brought us to the 2015 Bosman Family Wines Nero d'Avola (£14, Woodwinters), the only one of its kind in South Africa, which came with the familiar dark chocolate, blackberry and black cherry notes on the nose, yet with a more savoury palate than most Italian neros, with blackcurrant and bitter chocolate.
Its acidity was also fresher, with soft tannins that would make it a worthy accompaniment to food too.
In a similar lush and rounded style, Idiom's own 2015 Idiom Zinfandel (£28 for the 2014, Amathus Drinks) was intriguingly complex, with a mix of minty and savoury flavours and plenty of structure.
Mint, red cherry, redcurrant and that familiar zinfandel roast meat note led into a mix of blackcurrant, redcurrant, and sour red cherry on the palate, making it more akin to the primitivos of southern Italy than the zinfandels of California.
Though they may be Italian varieties, the wines at the showcase had styles and characteristics that were all their own.
They may only be produced in small quantities at present and few may make their way to our shores but, in the hands of South Africa's skilled winemakers, they're well worth a try when they do appear.
*Further UK prices and stockists will follow as I find them.