Borja Perez: Putting Tenerife's wines on the map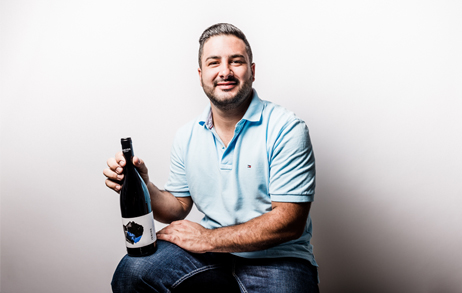 Winemaker Borja Perez demonstrates there's more to Tenerife's wines than forgetable holiday whites, writes Peter Ranscombe.
ANYONE who dismisses palomino as a "boring" white grape needs to taste the wines made by Borja Perez.
Famous for being the variety that's turned into sherry in Spain's Jerez region, palomino is known in the Canary Islands as listán blanco.
Flicking through textbooks, words like "blandy" and "flabby" are often used to describe table wines made from palomino.
Yet, on the north coast of the island of Tenerife, Perez is turning listán blanco into a textured and flavoursome white wine in the traditional oxidative style.
Palomino is susceptible to threats including mildew, and so tends to be grown in hot conditions.
Yet that heat can also rob it of its acidity, leading to those dull table wines.
Tenerife's secret is its mixture of cooling Atlantic winds along its north coast and altitude.
Teide – the highest mountain on the island and, indeed, the whole of Spain – soars above the vineyards in the island's northern reaches.
That combination of cool winds, fog, and height helps Perez's wines to retain freshness, which was on show during a wine tasting this afternoon in Edinburgh organised by Fìon, the new wine business set up last year by Vera Cebotari and Miguel Crunia.
Crunia explained that Perez will also add some of the stalks from the grapes into the fermentation, which helps to boost the freshness during hot years, such as 2017, which was on show today.
A land of fire and history
The other trick Tenerife has up its sleeve is its volcanic soils – as we saw with wines from neighbouring Lanzarote, a volcanic topsoil can force vines to grow deeper roots, making the plants stronger in the long run.
Bringing all those factors together made for a fascinating tasting at Radicibus, an Italian restaurant in Edinburgh's Stockbridge area.
After Cebotari set the scene with an introduction to the island, Crunia shared Perez's slightly unusual route into winemaking.
Although his family has farmed a small 1.5-hectare site for four generations, Perez didn't take over as winemaker until 2007, following a career as a rally car mechanic.
In 2011, Perez changed tack again, switching his methods from using conventional synthetic chemicals to organic farming.
That change in attitude was triggered by feedback from friends and clients, who said he wouldn't reach his full potential as a winemaker unless he reached for a higher level of quality.
Judging by the wines on show today, he's certainly hitting that mark.
His wines are in a more traditional oxidative style, with more concentrated flavours and more discernable textures than most of the fresh and fruity white wines for which Spain – and many Mediterranean countries – have become known.
In a world of homogenisation, Perez's wines stand out for all the right reasons, with his "Ignios" range featuring single vineyards, and his "Artifice" label celebrating the contributions of the – often elderly – farmers from whom he buys fruit.
Fìon is stocking Perez's Ignios Baboso and Ignios Marmajuelo as a duo set (£75) and can source his other bottles too as part of its fine wine services.
Tasting notes
Artifice Listán Blanco 2017
While it may be the introductory wine from Borja Perez, in many ways the listán blanco epitomises his style, with a rich, golden colour, plenty of earthy and oxidative aromas on the nose, and then a burst of fruiter flavours on the palate, stretching from peach and red apple, through jasmine tea and on to marmalade on the finish. Really textured, with lemon rind and dried red apple skins.
Artifice Vidueños 2017
A slightly lighter shade of gold than the listán blanco, but sharing some of the same herby and apricot aromas. Each of the grape varieties – albillo criollo, forastera gomera, gual, marmajuelo, and listán blanco – is turned separately into wine, before being blended. The result is full of really concentrated apricot and peach yoghurt flavours, with a slightly rounder texture than the straight listán blanco, and with a nutty note developing on the finish.
Ignios Marmajuelo 2017
Hailing from Perez's family vineyard at La Vizcondesa, marmajuelo is one of Tenerife's indigenous varieties. There's a muscat-like peach, grape, and floral mix on the nose, and then a big hit of peach yoghurt on the palate, which develops into salted almond. For me, it had the most apparent kick of fresh acidity, and was the most balanced of the three excellent whites.
Artifice Tinto 2017
Bringing together listán negro from nine vineyard plots produces a wine that has an almost pinot noir-like paleness in the glass, but with no compromise on the intensity of its aromas. Perez's use of wild rather than cultured yeasts is noticeable, with wet fur and damp leaf notes among the fruitier raspberry aromas. It's light and fruity on the palate, with more raspberry and red plum, plus an intriguing cured meat note too.
Artifice Listán Negro 2017
Listán negro remains the star of the show, but here it comes from a single 40-year-old vineyard at Buenavista Norte on the island's western side. On the nose, it has more intensity than the Artifice Tinto, with blackcurrant, bubblegum and herbier touches. On the palate, it's much closer to raspberry yoghurt, with some richer red cherry notes too. A rounder mouthfeel and brighter acidity further enhance the package.
Ignios Vinariego 2017
Another Tenerifian native variety, vinariego produced some warm fur notes on the nose, alongside blackberry, blackcurrant, and herby aromas. Its tannins had more grip but were still well-balanced by the fruit at this stage in its development. There's enough acidity there to see it age further, and there's a delicious intensity to its darker black plum and bramble flavours.
Ignios Baboso 2017
Back to the Perez family's La Vizcondesa for the final wine, which was full of dark fruit on the nose, and more apparent woodsmoke and cedar. Plenty of acidity for ageing, and slightly more polished tannins than in the vinariego. On the palate, much redder fruit came to the fore, centring around red plum and raspberry, with a crack of black pepper on the finish too. Again, it would reward ageing, but there's enough fruit there to enjoy the wine at the moment too.
Read more of Peter's wine, beer, and spirits reviews on his blog, The Grape & The Grain