A cosy city escape at The Bonham Hotel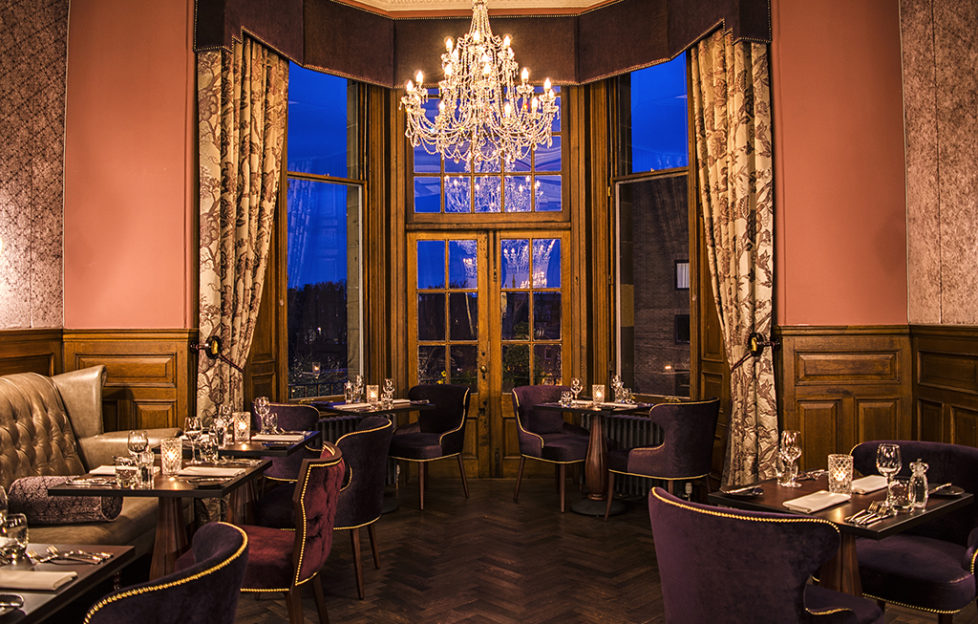 Sometimes you just can't beat a Friday night in. 
Spending an evening at the newly refurbished Bonham Hotel in Edinburgh's West End felt like the perfect antidote to the dark and drizzly weather. Technically we'd gone 'out' to reach the hotel but let's not start splitting hairs.
We arrived at The Bonham to a friendly face behind the check in desk and were able to leave our bags, coats, scarves (and all other items completely inappropriate for June) with reception who arranged for everything to be taken up to our room while we had dinner in the hotel's restaurant,  No.35 at The Bonham.
The welcoming restaurant staff seated us by a gorgeous bay window that allowed us to take in a lovely view of the New Town before my partner and I began to peruse the menu. Having both decided to eat super light lunches earlier that day, we were both ready to indulge in the restaurant's extensive and mouth watering menu.  Both of us being big bread fans, we decided to order the Bonham Bread board from the 'while you're deciding' section of the menu. There were a couple of variations on white bread served with cultured bone marrow butter, herb dip and the classic aged balsamic with olive oil. I would have welcomed a couple of chunks of brown bread but overall it was a lovely little nibble to stave off the worst of the hunger pangs.
We both chose seafood for our starters, myself opting for the seared Scottish langoustine tail with caramelised bacon, apple and vanilla puree and shaved Iberico ham. Beautifully presented, I couldn't wait to tuck in and felt the combination of the salty ham and sweet puree was a wonderful mix on the palate. The langoustine tail itself was gone too soon as it was small but succulent. While the caramelised bacon had a lovely flavour, it was a little tough to work a knife and fork through. For my partner, it was the Orkney scallops, with prawn and pork dumplings, dashi and sea vegetables. The scallops were big and juicy and the dish was made extra special with a dressing which when poured over the dumplings, made them fizz and crackle.
Deciding to move away from my typical preferences, the lamb loin was up next and was in fact a trio of lamb served in different ways. The belly stuffed potato was by far my favourite and was jam packed full of flavour, with the meat being juicy and tender. The loin was enjoyable but it took quite a bit of effort to chew my way through each mouthful. The braised shoulder and spring cabbage parcel was unfortunately not for me, it seemed to lack seasoning and didn't bring anything to the dish overall.  My partner chose the sirloin steak with hand cut chips and avocado chimichurri for his main and was pleased to see it had been cooked exactly how he'd requested – medium rare.  Unable to resist the thought of the white truffle and parmesan hand cut chips on offer, I had also ordered these to accompany my main. They were like tasty chunky jenga blocks and something I would happily eat by the bucket load given half the chance.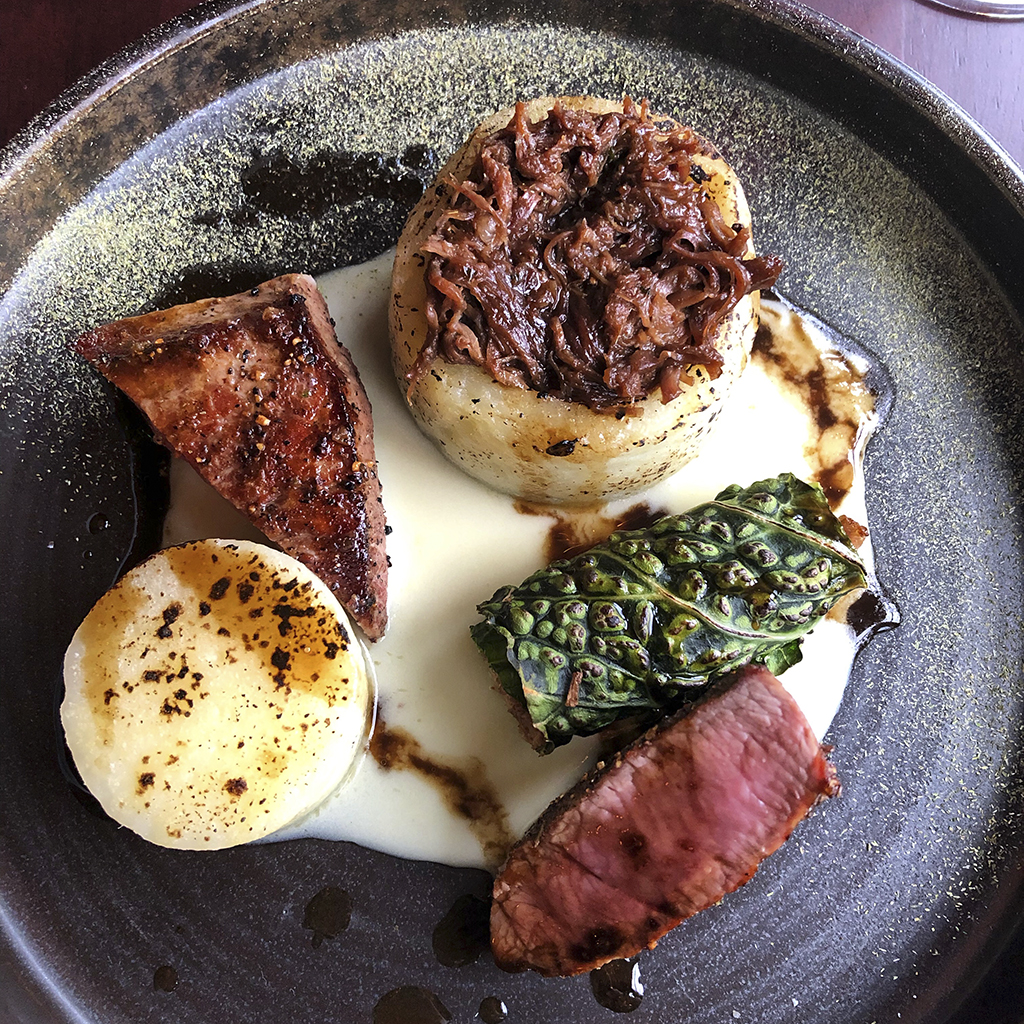 For a sweet end to our lovely meal, we had the limoncello tart with cucumber sorbet, mango lavender salsa and cucumber crisp and the chocolate and honeycomb cheesecake with honeycomb ice cream and chocolate shard physalis.  The tart offered a sharp citrus kick that felt refreshing after my heavy main  but the cheesecake managed to nab first place with its wonderfully creamy texture and chocolatey goodness that managed to avoid being sickly sweet.  The staff in the restaurant were all friendly and helpful which made our cosy Friday dinner all the more pleasant.
After dinner we found our room wasn't quite ready so were offered a complimentary drink to enjoy in the bar lounge. We sat close to the fire place and slowly sipped our prosecco and beer while feeling very content with our full bellys. The decor throughout the public areas was stunning and I fell in love with the deep turquoise chairs and sofas. There was a wonderful sense of calm as my partner and I shared a drink together, both admiring the romantic drama of the setting thanks to the deep colours, beautiful furnishings and fabulous chandeliers.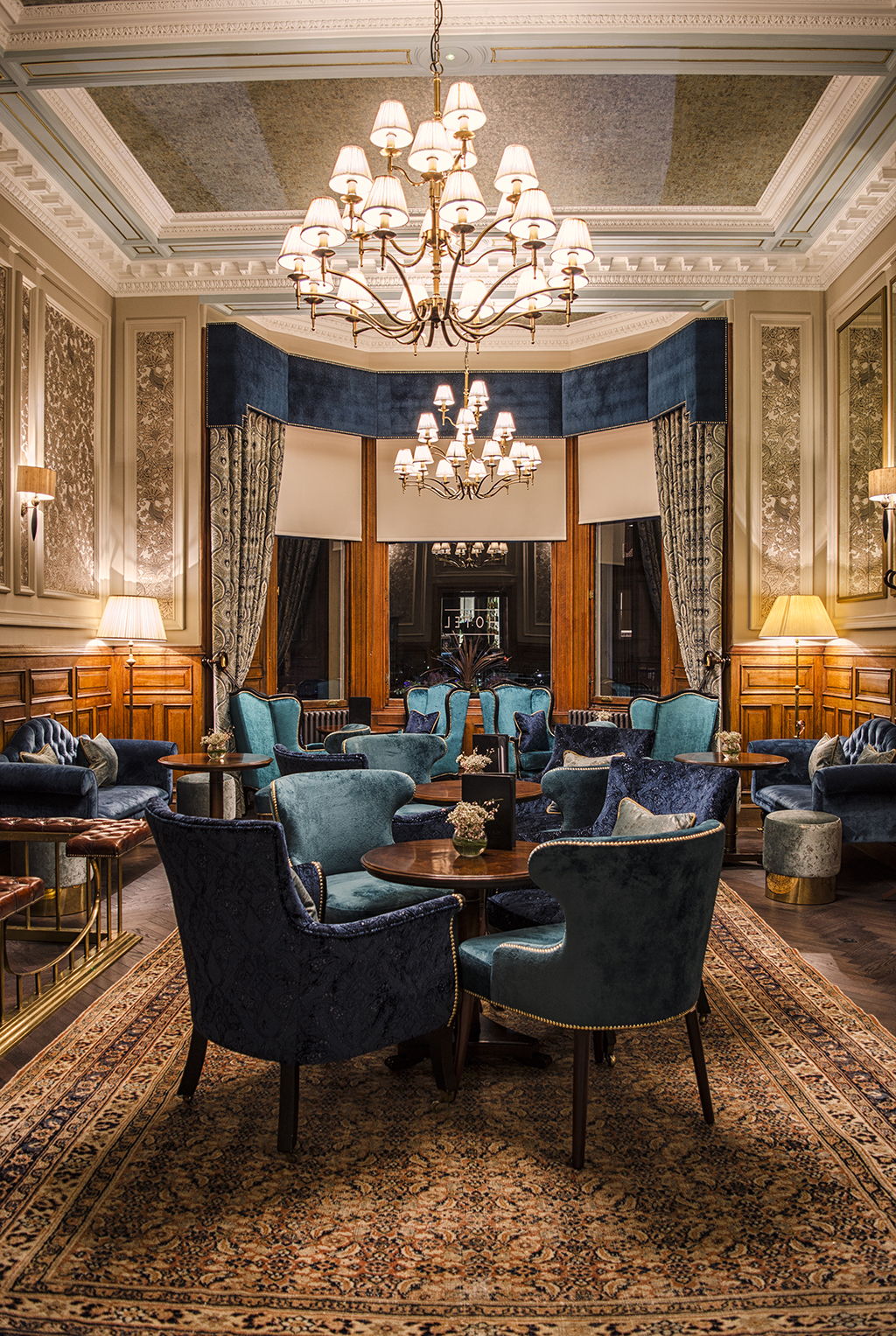 We made our way up to our room, which turned out to be a suite – the Rothesay suite to be precise. It was simply gorgeous. A huge lounge, complete with more beautiful and classic furniture,  this time in deep blue and silver. A lovely table and chairs in the bay window provided the perfect spot for the two of us to enjoy a dram or two of the complimentary whisky in our room. With Classic FM on as we entered, the luxurious and peaceful atmosphere was amplified.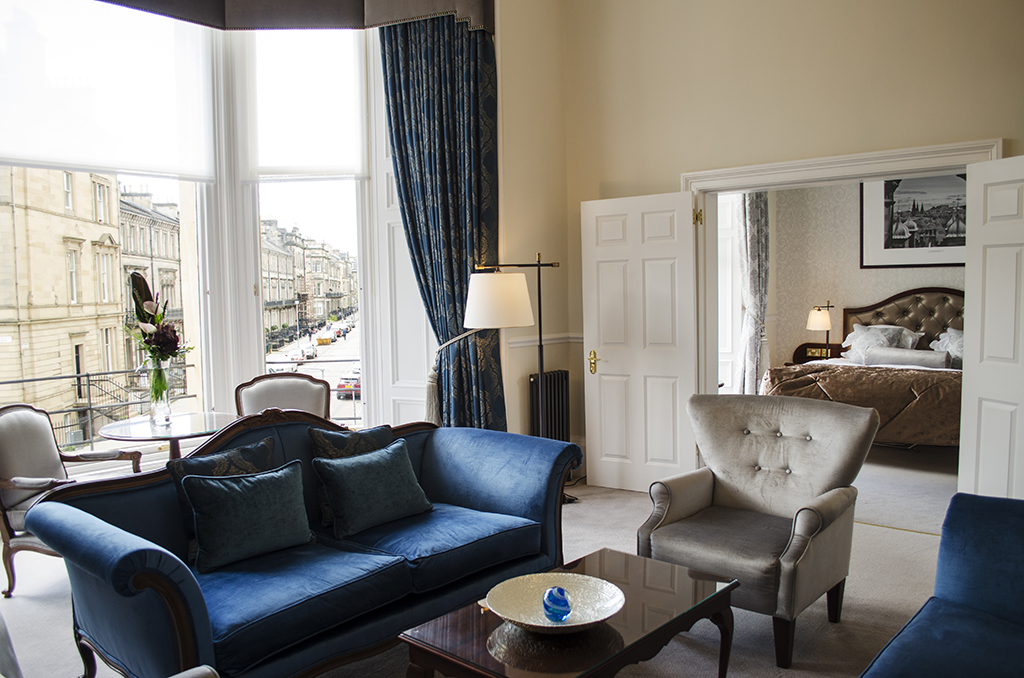 For both of us, one of the most exciting features of the suite was the bath. It didn't take long before I was firmly plonked in the tub with not a care in the world. The fluffy white robes and slippers allowed us to continue our evening in ultimate comfort and we relaxed in the living room with a face mask as we watched some TV. Bed time came and it could have only been a few short minutes between our heads hitting the pillow and falling into a lovely deep slumber.
Morning came and we padded down the carpeted stairs to the restaurant to have breakfast. A lovely continental selection of juices, cereals, meats, cheese and pastries awaited us but we both opted for something hot. I had the scrumptious eggs royale while my partner had the scrambled eggs and smoked salmon.
It was the perfect end to a wonderful night away in our home city.  The Bonham boasts a sense of understated opulence and a level of comfort that's hard to beat.
If I could move in tomorrow, I would.
35 Drumsheugh Gardens
Edinburgh
EH3 7RN
0131 226 6050