New Sheila Fleet jewellery range is set to launch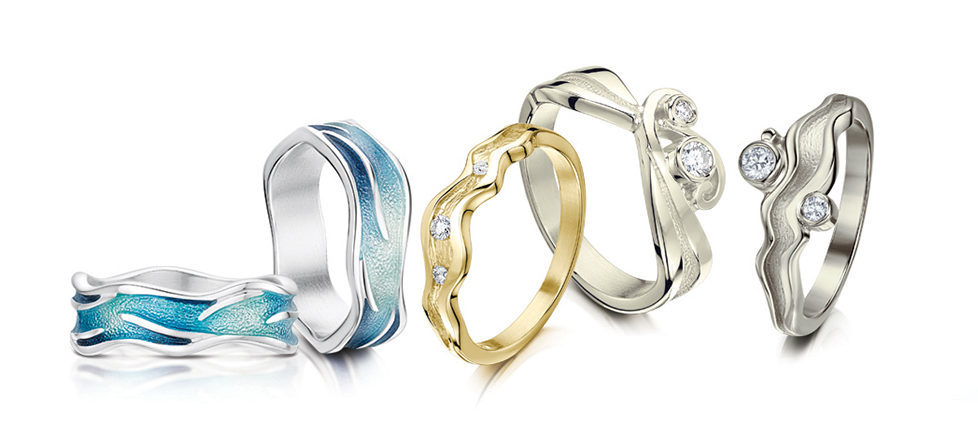 Respected Scottish jewellery creator Sheila Fleet is holding a Meet the Designer day in Edinburgh later this month.
From 25-27 May, Sheila will be on hand in her Edinburgh shop in Stockbridge to launch her new collection, Sea Motion.
New Sea Motion is inspired by the constant movement of the sea, something Sheila finds very calming. Feel the mesmerising effect of rippling waves as you view Sheila's new designs and let your mind wander to warm sands and windswept shores.
This new collection is created in silver and enamel with a choice of two different enamel colours. Sea Motion rings are also available in yellow and white gold and would make a wonderful wedding bands.
Alongside her new Sea Motion rings, Sheila will also be showing some high value rings in different precious metals.
Try a silver, palladium or platinum ring if you like a polished shine, or a yellow, white or rose gold ring if you like the glow of gold.
Visitors can also ask Sheila about Scottish gold. She is one of only two jewellers currently offering engagement rings and wedding bands made in Scottish gold. It's a truly unique, and limited, opportunity to order some very special rings.
All Sheila Fleet jewellery and rings are made in her workshop in the Orkney Islands. Each piece is made to order and each ring is made to measure, with all diamonds and gemstones set by hand.
To celebrate the launch of Sea Motion, Sheila is offering a 10% loyalty discount in her Edinburgh shop in historic Stockbridge during her three-day event.
This offer includes all Sheila's new designs and her extensive range of silver, gold, palladium, platinum and diamond jewellery and rings, excepting only the Charitable Daisies.
Meet the Designer takes place in Sheila Fleet's Edinburgh shop at 18 St Stephen Street, Edinburgh, EH2 2YJ, Friday 25 – Sunday 27 May.
For more information click HERE.