Celebration of the best in gold, silver and jewellery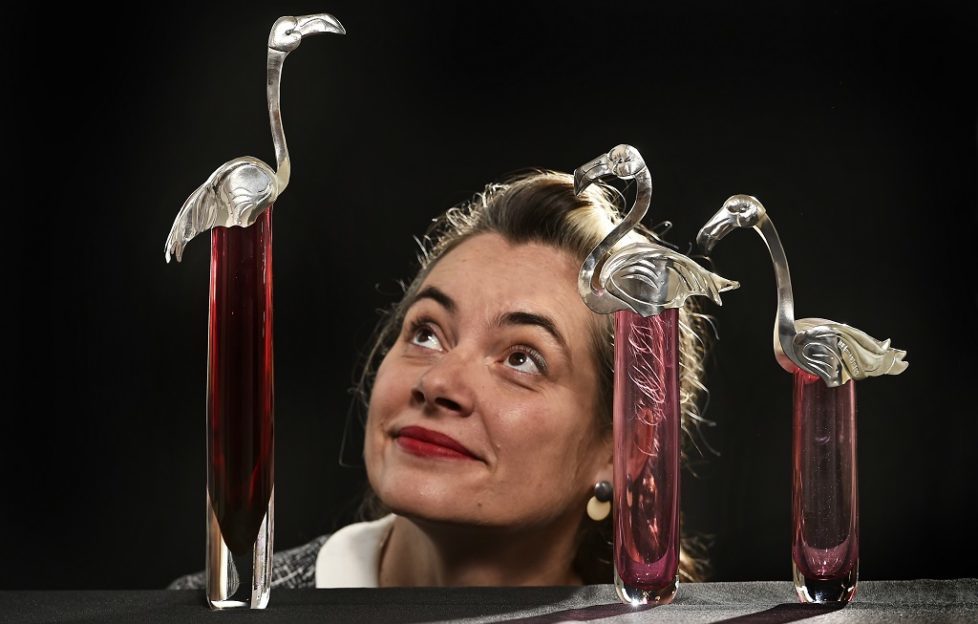 Elements 4, Scotland's sparkling three-day festival of the very best in gold, silver and jewellery is underway in Edinburgh.
Among the highlights is a sneak preview of the forthcoming Seasons collection, made in Scottish gold by Sheila Fleet OBE and inspired by the years of happiness she enjoyed with her husband Rick.
The event, running from today until 21 October at 33 Broughton Place, Edinburgh, will include a sale of high-quality handmade pieces from £50 to £15,000 by 33jewellery makers and 17 silversmiths.
Around half are from Scotland including Heather Woof, Linda Lewin, Misun Won and Bryony Knox, who will be showing her superb pink flamingo glass and silverware. Makers from elsewhere in the UK include Daphne Krinos, Sarah Herriot, and Brett Payne.
Another big attraction is Perspectives – Creating Jewellery for a Fairer Future,an exhibition of work by nearly 40 leading makers and designers distinguished by their use of ethical practices and/or responsibly sourced and fairly traded materials.
Perspectives will show pieces created with gold recovered from old circuit boards and that uses plastic waste washed up on Scottish beaches.
It also includes Sheila Fleet's jewellery, which is responsibly sourced and transparently traded – coming from the country's only commercial mine at Cononish, near Tyndrum.
On show will be what she believes are the first 'triple tint' pieces from Cononish – combining rose, white and golden 18 carat gold.
Sheila, who has been in the jewellery industry for around 50 years, said: 'To finally be able to design and make jewellery from Scottish gold, and at this stage in my career, is simply wonderful. And I think that's something that will also make it very special to customers.'
Elements 4 is organised by The Incorporation of Goldsmiths of the City of Edinburgh and Lyon & Turnbull auctioneers. It takes place at the Lyon & Turnbull auction rooms in a beautiful former church building in Edinburgh's New Town.
Perspectives, is curated by Rachel Sweeney, a founder of the UK-wide group Fair Luxury.
She said: 'When I was a student we could drink Fairtrade coffee but there was no Fairtrade gold yet you couldn't ensure that precious metals or stones were from ethical sources.
'This exhibition shows how much things are changing and points the way ahead. Sustainability should be the third dimension of luxury for jewellery makers, alongside design and craftsmanship. While provenance is hugely important, there is no need to compromise on any aspect of quality.'
The exhibition is part of the Incorporation's wider drive to make Scotland a world-leader in ethical jewellery making and silversmithing.Projects include collaborating with art colleges to educate students about ethical making and providing an online resource for established makers and designers.
Mary Michel, director of The Incorporation, said: 'It's always quite breathtaking to watch as the makers arrive and start putting their pieces on show.
'It's wonderful for Edinburgh to have an annual event where visitors can enjoy so many beautiful, precious and fabulously designed pieces of gold, silver and jewellery.
'Scotland, and the rest of the UK, are rightly renowned throughout the world for the quality of their design and craftsmanship. Elements shows why. And the Perspectives exhibition absolutely underlines that beauty and fairness can go hand in hand.'
Ruth Davis, jewellery specialist at Lyon & Turnbull, added: "We are delighted to welcome Elements back to our saleroom for another year, and can't wait to see the diverse range of design and craftsmanship which will be available.
'One of the real benefits of Elements is that you can talk to the craftspeople who make these fantastic pieces of jewellery and silverware, learning all about the piece you are buying before you take it home; and welcoming Perspectives to the exhibition space this year means we can learn even more about the journey a piece takes from the mine to the wearer.'
The full list of participants can be found here http://www.elementsfestival.co.uk/elements-festival-makers