Express yourself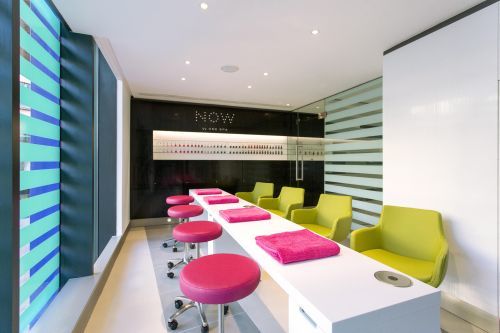 I like my pampering sessions little and often. Well I say that, but if I didn't have a job, two young children, a dog, a cat and an old house that needs constant maintenance then I would probably prefer them long and often. But, for now, NOW is the answer.
NOW by One Spa at the Sheraton Grand in Edinburgh opens to the public on Monday 3rd April, but I was lucky enough to get a sneak preview. The new beauty salon offers a range of affordable, express treatments in stylish surroundings right in the heart of the city. What's even better is that parking is free and NOW is open early and late to fit around even your busiest days.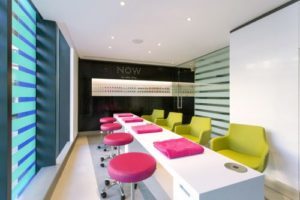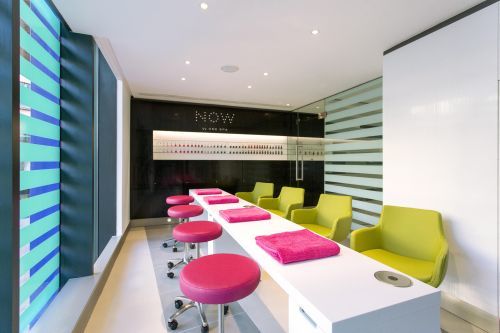 I popped in for an Express Facial with Clarisonic Brush Cleanse and had a divine paraffin wax treatment on my feet at the same time. Imagine sinking your tootsies into a warm melted candle and you're pretty close. NOW has some serious chairage going on and although you might be forgiven for thinking that you are about to come under fire from a barage of questions in a Mastermind style when you first sit down, you must know that you will want to take this chair home with you. It massages your back and heats up to ensure you stay cosy in the air conditioned spa. The foot rest does the same to your feet and although it's a lot to take in at first, you'll soon be comfortable and relaxed enough to enjoy the sensation. I miss it already.
The express facial was a delight, leaving my skin feeling fresh and hydrated. The Clarisonic Brush Cleanse sweeps off any dead skin cells and dirt leaving your face feeling brand new and as clean as a new pin.
Treatments available at NOW include Definition Brows, LVL Lashes, OPI, CACI, waxing and spray tanning. My therapist, Danielle was friendly and professional and I wouldn't hesitate to pop back in my lunch break to treat myself to a little pampering session, or perhaps to just have a nice sit down.
www.sheratonedinburgh.co.uk/nowbyonespa
By Morag Bootland