Pheasant feather artist makes a pleasant card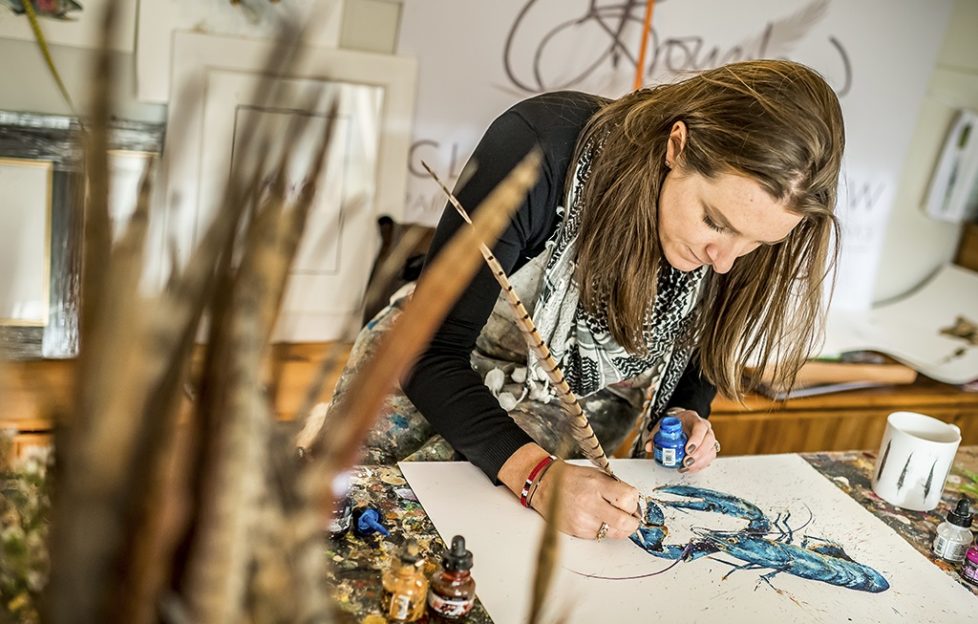 A Scottish-based artist has created the Christmas card for a leading outdoor clothing firm – using a pheasant feather.
This year Schöffel Country have teamed up with esteemed artist Clare Brownlow to create their official Christmas card, which depicts the iconic Oakham fleece gilet.
Clare, who studied art at Edinburgh College of Art and Leith School of Art, has been drawing and painting since she was old enough to hold a pencil and brush and her unique country prints are highly coveted, however this project was a little different to her usual wildlife prints.
She said: 'I'm chuffed to bits to have been asked to paint the Christmas card for Schöffel Country, as it's such a fantastic brand that our family adores! Even our small boys love it.
'It's always great fun to be asked to paint something a little different to what I normally do. I'm such a fan of the inky blue tones and the contrast with the brown trim really sets off how smart and iconic these gilets are.'
Clare first developed her technique of Pheasant Feather Art, when she picked up a feather from her father's stash, dipped it in his fountain pen ink, and started doodling.
She continued: 'Painting with feathers is something that happened purely by accident over 10 years ago and I had no idea that it would become such a success. We are a country sport loving family and it's so important to us that everything that we shoot, we eat. The fact that I can use the tail feathers as an integral tool for creating huge works of art and the basis that is a very successful business is just brilliant.'
Not only is Clare a fantastic artist but she also shares the same vision to preserve the countryside. On how she came to work with pheasant feathers, Clare explained: 'The countryside is everything for me. I live and breathe it. We chose to bring our children up in the Scottish countryside and they have over the years naturally built up a knowledge and respect for our flora and fauna.
'It goes without saying that every day in the countryside is a school day, and we are all learning new things both by experience and from other country people around us. I am happiest when in the country whether with my family or with friends (or both!) the shared experiences both expected and unexpected are what it's all about. For me a trip to the West Coast of Scotland is my happy place and I look forward to returning as soon as we leave.'
Clare grew up shooting and has remained passionate for the sport ever since.
She continued: 'I was taught to shoot by my father when I was a small girl and have always adored going out in the field with him. I long for more days with him and the past couple of years have been extra special as our eldest boy Harry has started to shoot. Being out with my father, husband and sons is so very special. Our youngest, Alfred is starting this season and is as keen as anything! To be honest I don't get that many days as I am away a lot with work during the season and have stiff competition for pegs now that the 4 of us in the family shoot!
'Both my husband Charlie and myself own a variety of different colours of the Oakham and Lyndon II gilets, they are a staple piece in our wardrobes! I'm a fan of the navy and grey shades but find myself longing for the lighter brown ones which are new for this season. It's a classic piece of any country person's wardrobe and I'm thrilled to have been asked to paint it. Very different from my usual wildlife but great fun!'
Clare has also designed the front cover for the 25th anniversary of the Scone Game Fair as well as winning the competition for the design of the front cover for the CLA Game Fair 2014. Shortlisted in 2014 for Wildlife Artist of the Year, Clare has worked closely with, and donated paintings to a number of charities including Tusk Trust, Born Free Foundation and GWCT.
Find out more at www.clarebrownlow.co.uk and www.schoffelcountry.com