FRINGE REVIEW: IMA ('Pray')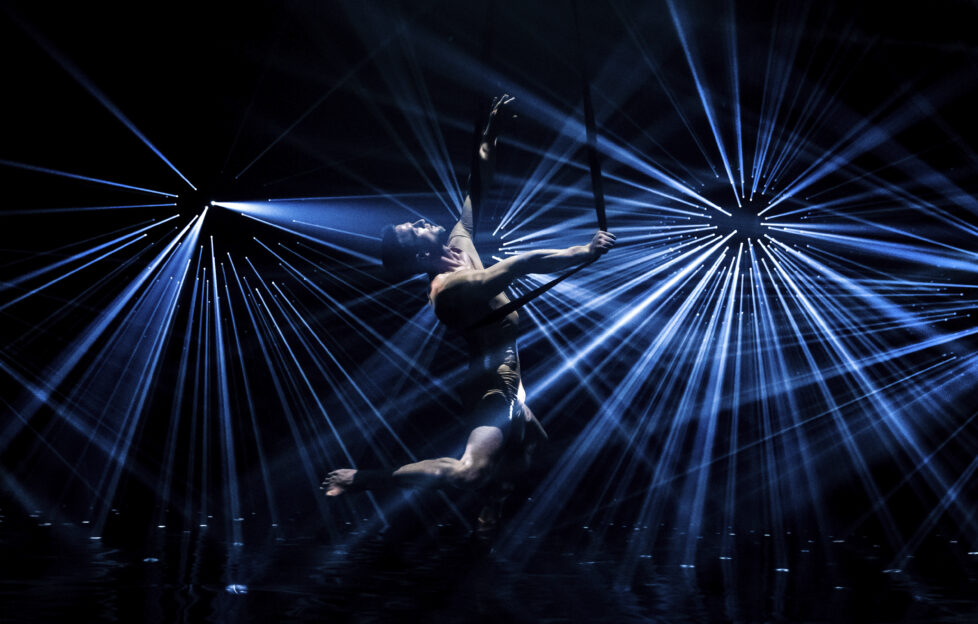 Rosie Morton reviews IMA at the Edinburgh Festival Fringe. 
IMA (the Hungarian word for 'pray') is a spine-tingling circus experience from Budapest's multi-award-winning Recirquel Cirque Danse company.
It is a mixture of contemporary circus, dance and theatre in which a sole aerial performer takes centre stage.
First, you are put into a sensory deprived, blue/grey room and are encouraged to tie a white ribbon to a glimmering wall. The ribbon – a universal symbol of purity and peace – is used for 'sending positive thoughts out into the universe'.
To add to the otherworldly 'zen den' vibes, ethereal music plays in the background and spotlights beam onto benches that remind me of Aslan's Table. Confused? It certainly isn't the technicolour fanfare you might expect of a circus act.
But things begin to make sense as you are beckoned into a star-studded black tent. The beautiful, intimate space – which was created by Bence Vági and his IMA team – is said to evoke the depth of the universe by mimicking the starry sky that stretches over a desert.
One of six alternating performers (in this case, the hugely talented Gábor Zsíros) stands in the centre of the room beneath a glistening veil while audience members take their pew on cushions and stools.
From there, the show begins in earnest. The performer starts with a series of slow, lithe floor movements, just metres from the audience. An emotive orchestral score by composer Edina Mókus accompanies the dancer as they move from the floor to an aerial rope.
To say too much of the narrative and choreography would spoil the surprise, but the show is completely enchanting. The skill, athleticism and discipline of the performer is nothing short of astounding, and the design of the room adds an intensely spiritual feel to the show.
The 40-minute performance takes place in Murrayfield Ice Rink, separate from the main hustle of Festival activity, and this seems entirely deliberate. The short bus ride out of the city centre forces audiences to step away from the noise and embrace an almost temple-like quietude. It is a place for contemplation.
It is impossible not to leave entranced by IMA's visual and aural artistry. An utterly mesmerising feast for the senses.
4 STARS
IMA is on at Assembly @ Murrayfield Ice Rink from 4-27 August. There are four shows per day from Monday-Thursday; and six from Friday-Sunday.
Tickets can be bought HERE.
Read more news on Scottish Field's news pages.
Plus, don't miss the September issue of Scottish Field magazine.