Why Gail Porter's heart still belongs to Portobello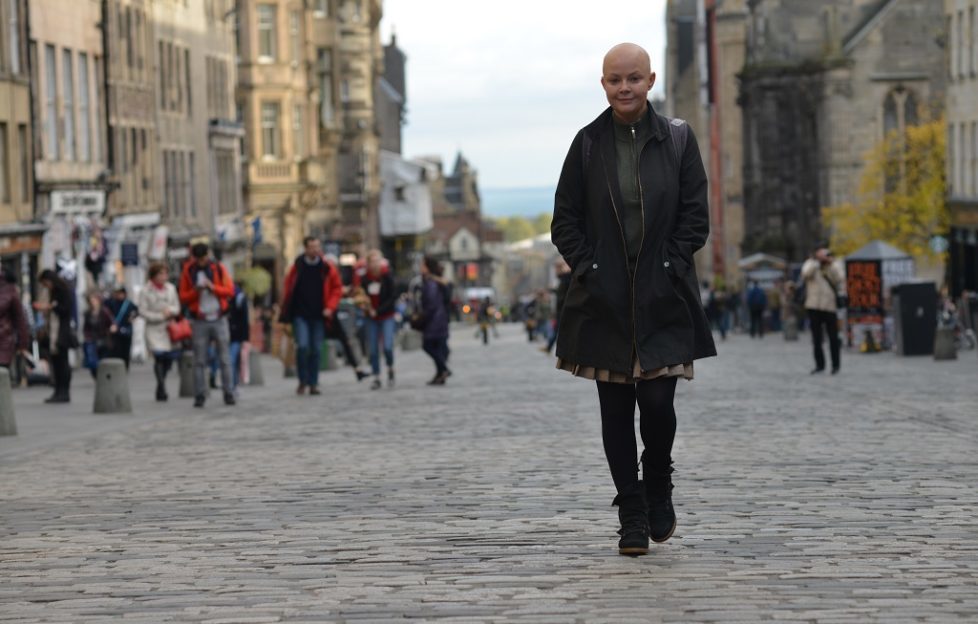 Scottish TV presenter Gail Porter has been in the public eye for well over two decades.
Gail hosted shows including The Movie Chart Show, Top of the Pops, and Fully Booked, as well as becoming a favourite with the 'lads mag' culture of the 1990s, which resulted in a cheeky picture of her being projected on to the Houses of Parliament.
However, in 2005, she developed alopecia totalis, losing her hair, and bravely decided not to wear a hat or wig in order to raise awareness of the condition.
She tells Scottish Field about growing up in Portobello.
My earliest memory of Portobello beach is when I was quite young. My little brother and I were making a sandcastle with a little spade and he hit me on the head with it. I remember crying my eyes out and my mother saying 'oh, just get over it.' I ended up going home from the beach with a massive black eye. My brother did say he was sorry and that he didn't mean it.
We both did martial arts together when we were kids. It was one of the things our mum and dad put us through and I completely enjoyed it, I absolutely loved it. I got three black belts in karate and my brother has seven, he is quite brilliant at it. It's always, good to have a little bit of martial arts behind you, I think some of the kids at school thought 'she knows how to defend herself' so it was kind of nice to have that as a way of making sure you looked after yourself. I did put it towards my daughter, I told her I was a ninja, but she just looked at me and said 'no, I'm not doing that'.
I went to Brunstane Primary School where my nickname was 'snobby Porter'. I was one of those kids that when the teacher says 'does anyone knows this', I would put my hand up, and say 'me, me, me', I was a little bit annoying. I loved that school and the teachers were wonderful, they really make the difference. My favourite teacher was Mrs Nisbet. She was a strict teacher and everyone hated her but I adored her. The fact that she was so strict, I liked that, knowing I would learn more because I was so scared, she was amazing.
My parents were lovely but rather strict so we were not really allowed to wander off, but we were happy. My mother would take us down to the arcade at the end of Portobello beach on the left hand side. Her favourite game was the one where all the little heads pop up and you had to hit them with a hammer, so we would play that.
Mum also used to take us swimming in the Portobello open air outdoor pool, which sadly is no longer there. I gather the indoor pool at Portobello now has Turkish Baths, a Jacuzzi , sauna and steam room, my mother would be falling over in her grave. She always wanted us to go outdoors, we had to be hardy.
My grandpa, Horatio Walter Stanley Twiddy – he was my mother's father – used to take me to S. Luca Ice Cream in Musselburgh for a Knickerbocker Glory. He was my best friend and the most amazing person. When I got married in 2001 at The Witchery, we had lots of lovely food at the wedding, oysters and another fish dis. My grandpa stood up and said 'can I just get ice-cream?' I said 'Grandpa I love you more than anything in the whole world, so you can have whatever you want.' So I think he had three dishes of Luca's ice-cream: vanilla, chocolate and strawberry. That was his dinner.
Portobello was my life. We were a close-knit family, we stuck together and we weren't that posh. We went to Seaton Sands once, I was so excited, we stayed in a caravan and played scrabble.
My best friend had one of those old music cassette players that you put on your shoulder and we would walk around Seaton Sands playing Madonna thinking we were really cool. I love music and play the piano but I leave that to my daughter now. I bought a 1964 Gibson Hummingbird years ago from the Rolling Stones. It was Ronnie Wood's guitar. I strum it and look at it but leave the playing to my daughter.
English was my best subject and all I wanted to do was read and write. I went to Portobello High School, it was a massive school, it had so many pupils. Mrs Chapman was my English teacher, I got picked on quite a lot, so she looked after me like crazy. I couldn't have got through high school without her. Mrs Chapman always talked me through every single book, we read all the usual things like Shakespeare but my favourite book was Perfume by Patrick Suskind which is a beautiful book.
When I was older my friends and I always went to Portobello beach, all the naughty boys were there and we used to hang out with them. We didn't realise how naughty they were. I always think I had a naughty upbringing but I didn't. I think I thought I was cooler than I was.
On my first ever date, a gentleman invited me to Gordon's Trattoria on Edinburgh's Royal Mile to have diner. The date didn't go that well, the boyfriend went out the window but I met Gordon and we've ended up being best friends ever since. He looks after me. If I come up to Edinburgh and I'm feeling a bit down, he's the person I go to as he makes me feel special and he makes a love heart pizza for me. He doesn't have to but he does, so that's very special. His daughter Daniela is also a good friend now too.
As well as martial arts, I used to go running from Portobello to the ruins of St Anthony's Chapel in Holyrood Park, a distance of around 6 – 7km. On May 1st, my friends and I would run up Arthur's Seat to rub our faces in the morning dew.
I always wanted to write, that was my main thing, but for some reason, I ended up involved in TV. What happened was I babysat for a friend of mine, a TV director, and he said to me 'Kids love you, just go for it and audition'. I couldn't think of anything worse, but I went for the audition and I got the job. Then I ended up working in children's television which was great because I love kids. But I've always loved writing and reading more than anything else.
I had a ghost writer helping me with my first book Laid Bare: my Story of Love, Fame and Survival, but my second I've written myself. It's about mental health and is a little bit dark but not depressing. I want to help people with mental health issues by being a positive role model.
I thought what Theresa May said about tackling the stigma of mental health, particularly for children, is quite nice, but I'm not entirely sure. I've had to deal with this all my life and people say these things but often don't follow through, so it would be nice to see someone take some action.
Although I live in London, I would come home in a second but because my daughter and my ex-husband live down here I can't move.
During the photo shoot for this article, it was lovely to bump into my old friend, Ludovic 'Ludo' at Gordon's Trattoria. We met when I was 15 and we used to go to various clubs together. I miss not seeing my friends, who I speak to every single day, my home and my brother.
What I miss most about Portobello and Edinburgh is everything.
This interview originally appeared in Scottish Field's March 2017 edition.