TV weather report was ship-shape thanks to Carol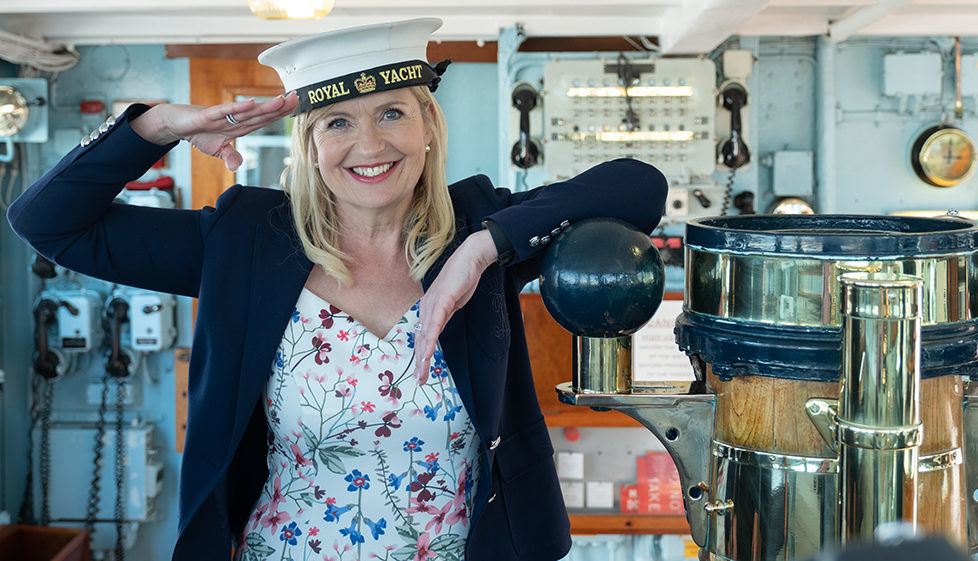 BBC Breakfast's weather forecaster Carol Kirkwood returned home north of the border for live reports this morning.
Carol, originally from Morar in Inverness-shire, brought the nation their weather reports from the decks of the Royal Yacht Britannia in Leith.
She was joined by former Royal Yachtsmen, or 'Yotties', to raise celebratory flags ahead of the Royal wedding on Saturday.
The wedding of Prince Harry and Meghan Markle will take place on Saturday, 19 May and Carol was on hand to visit the Britannia, voted Scotland's Best Visitor Attraction.
The Royal Yacht is significant as it was where Prince Harry spent his childhood summer holidays.
The Yotties have returned to Britannia for their annual working party, Yotties Week.
Visitors will be able to chat to the Yotties, and hear their stories of life aboard in Royal Service and tales of the fun and games the Royal children got up to, from playing on make-shift water slides and helping steer Britannia, to stirring the Christmas pudding, a time-honoured tradition.
The Royal Yacht Britannia is permanently moored in Edinburgh's historic port of Leith, and visitors can discover why this iconic ship played such a significant role in the Queen and the Duke's long marriage.
Not only did the Royal Yacht prove to be the perfect royal residence for glittering state occasions, official receptions and honeymoons, the floating palace was also enjoyed by the Royal couple for family holidays sailing around the Western Isles in Scotland, making many happy memories on board their beloved Britannia.
The Queen famously described Britannia as 'the one place I can truly relax.'
Travelling over a million nautical miles, Britannia called at over 600 ports in 135 countries and generated excitement and admiration throughout the world, a majestic symbol of the Commonwealth and a proud ambassador for Great Britain.
In the words of Prince Philip in BBC documentary Palace at Sea in 1995: 'Britannia is special for a number of reasons. Almost every previous sovereign was responsible for building a church, a castle, a palace or just a house. The only comparable structure in the present reign is Britannia.'
During the weekend of the Royal Wedding, Britannia's Royal Deck Tea Room will be serving a special menu featuring the Royal couple's favourite dishes.