Breathing new life into abandoned old buildings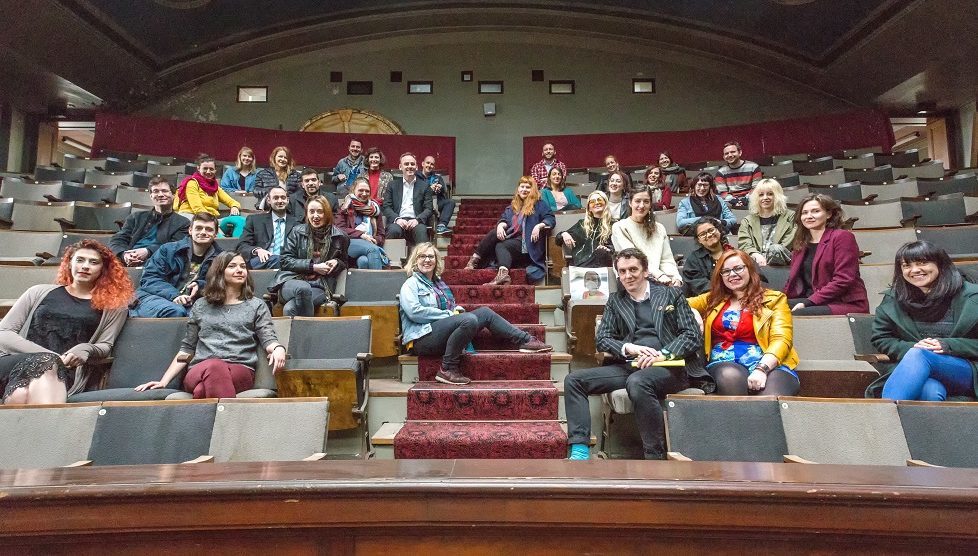 Disused venues in Edinburgh are being given an incredible new lease of life for the Hidden Door festival.
Hidden Door is a not-for-profit volunteer run multi-arts festival funded by ticket sales, sponsorship and fundraising. Their aim is to transform disused spaces in Edinburgh into temporary and exciting arts venues.
The festival is returning to Leith from Friday 25 May to Sunday 3 June and will feature a jam-packed programme full of music, art, theatre, film, dance and spoken word.
Edinburgh is renowned for the scale and variety of its festivals but it lacks in high quality arts and music venues. Hidden Door is tackling this problem by shining a light on Scotland's creative talent, and opening up new creative possibilities.
The festival organisers are determined to temporarily restore spectacular spaces around the city to their former glory and rightful status as vibrant arts and music venues for the local community.
The overwhelming support of their efforts last year has encouraged the festival organisers to launch another crowdfunding campaign on Kickstarter to create an even bigger and better experience for artists and audiences alike. Kickstarter is a global public-benefit crowdfunding platform which helps bring creative projects to life.
The generosity of backers to their 2017 campaign enabled the team to transform the previously neglected Leith Theatre, putting it back on the map after 30 years of disrepair as a temporary arts venue, and they hope for a similar success again this year.
For the first time, the festival is opening up a second venue at the State Cinema in Leith which is an abandoned Art Deco cinema. Organisers are relying on donations from Kickstarter backers to transform this space with lights, music and video projection into a fully-functioning performance venue.
Their campaign launched on 24 April with a goal of £7000, and pledges are already flooding in. Money generated through their Kickstarter campaign will go directly to the temporary reopening of the State Cinema before its redevelopment, and will help support their efforts to make Leith Theatre an even more vibrant venue.
The team's track record in delivering four successful 10 day events expanding each year in size, quality and research has provided all of the organisers with a great amount of skill in events management to ensure this year's festival will be the best yet.
In 2014 they opened up a row of disused vaults to the public and filled them with live performances and art. 2015 and 2016 saw the
team transform an ex-streetlight council depot into an urban festival venue.
Their biggest achievement to date is last year's temporary renovation of the Leith Theatre which gained them recognition from wider audiences and critics who hailed the event a huge success.
This year brings their biggest and boldest challenge yet with the reopening of two venues, but their passionate and enthusiastic volunteers are going the extra mile to ensure the upcoming event is another resounding success.
The volunteers behind the festival have been working tirelessly with backing from the local community to bring the festival together since last summer.
From now until opening night they will be busy cleaning, building and installing equipment in their spare time to bring the buildings back to life in the run up to this year's events.
To manage the amount of work required in restoring the venues after several years of neglect, the organisers are seeking contributions to financially support the project. All of the infrastructure within each of the venues will be built from scratch by the team, including walls, flooring, toilets and bars to ensure that the venues are safe.
The team at Hidden Door are also very passionate about supporting their artists to create something special with them and for them. All acts receive payment for their time and talent which makes up the programme at Hidden Door.
This means that any money received from grants, tickets sales and crowdfunding go directly into the festival and to its creative contributors.
Donations will help fund temporary restoration by way of cleaning up and kitting out each of the venues with high quality lighting and incredible sound and video technology to provide the best experience for the artists and audiences, and to expose them to new creative talent.
To support their hard work, pledges can be made on the Hidden Door Kickstarter page. Contributors to the Hidden Door campaign can choose from rewards upon donation including tote bags, pin badges and prints. £5 will get you a digital message of thanks on the Hidden
Door website, £15 receives you a digital shout out and your name on an origami art installation, a donation of £25 will reward you with an added tote bag, and donations over £50 include anything from backstage bar access to food and drink coupons and meet and greets with the artists and organisers.
Click HERE to find out more or to support the team.