Scottish book shop was at the centre of its own real-life drama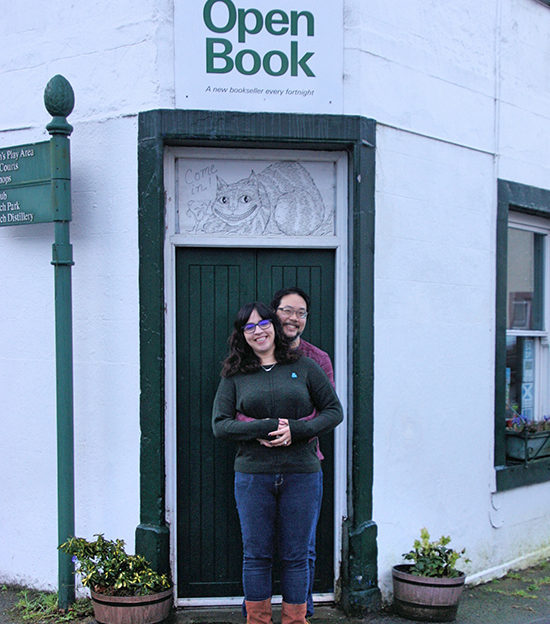 The first-ever marriage proposal in a Scottish bookshop was a touch of drama straight out of a novel.
It was a tale of true romance in Scotland's bookshop holiday destination during Big Bang festival.
The Open Book second-hand bookshop, one of the nation's quirkiest holiday destinations, has become the centre of a real life tale of romance with its first ever marriage proposal.
Bibliophiles from around the world take it in turns to run the shop, in Wigtown, Dumfries and Galloway, as a self-catering holiday experience.
New Yorker Stephanie Mlot (32) thought the break in Scotland's National Book Town was a lovely birthday treat – but it became even more special when her partner Neil Chue Hong (41) went down on one knee behind the counter to ask for her hand in marriage.
Stephanie, a journalist for Geek, said: 'I already loved the idea of spending a week here for my birthday running a bookshop – which is just the coolest job ever. Then when Neil proposed I was so excited, it was so unexpected. I accepted of course.'
Neil, director of the Software Sustainability Institute at the University of Edinburgh, started making his plans last year.
Knowing Stephanie's tastes he bought her a ring mounted with a pearl rather than a diamond. Then he ordered a specially hollowed out book, for keepsakes, to hide it in.
Neil said: 'I'd decided on the right moment, went out to look round the other bookshops and when I returned I told Stephanie that I'd got some she might like. I hid the one with the ring underneath a collection of essays by Hillary Clinton.'
When she opened the book with the ring on it he dropped on one knee.
He added: 'That was the toughest part – finding space between the chairs behind the counter to kneel down and ask.'
The couple, who live in Edinburgh, are lovers of literature and theatre. They met at a book group three years ago and got chatting about the work of Patrick Ness.
Neil is also an aspiring author and playwright, and has had pieces workshopped at theatres in Edinburgh and Glasgow.
Such is their love of books that they are not sure whether they sold more than they bought during their stay at The Open Book.
News of the proposal soon reached the organisers of the Big Bang festival of literature, art and science, being run by the Wigtown Festival Company which also looks after The Open Book.
Jessica Fox, the festival director, said: 'It was wonderful to hear such romantic news – the first marriage proposal at the Open Book, and so close to Valentine's Day, it was perfect.'
According to Jessica the festival, from 2-4 February, was also a tremendous success.
She continued: 'We were delighted with this year's Big Bang Weekend. We had more visitors and more events this year and were so pleased to share this special part of the world with our fabulous speakers.
'The Glasgow Science Centre and the Dumfries and Galloway's Science Festival set up interactive exhibitions for kids that were such big hits that we have already had requests they join us next year.'
Festival talks included:
· Why do robots need common sense? Dr Subramanian Ramamoorthy, University of Edinburgh School of Informatics, on the future of intelligent machines.
· Life and death in Mary Shelley's Frankenstein: Sharon Ruston, Professor of English Literature at Lancaster University, revealed the science behind the novel and the anxiety it spawned.
· Life in the cosmos: Cardiff University astronomer Dr Jane Greaves looked at other worlds and which ones are home to aliens.
· Being alive at very small scales: The University of Edinburgh's Dr Erika Szymanski delved into the world of microscopic life forms – and how Scotland's world-beating studies in synthetic biology can solve our biggest health challenges.
Stuart Kelly, the author, critic and Wigtown Book Festival favourite discussed the life of Dumfries and Galloway's James Clerk Maxwell, one of the world's greatest scientists.
The Open Book, which was set up as part of Wigtown's cultural tourism programme, is now so popular that it is booked up until 2021. It has achieved a worldwide reputation even being featured on the CBS Saturday Morning Show in the USA. This followed appearances on a documentary on South Korean television and on BBC1's BBC Breakfast Show.