New Lanark surprises and delights in equal measure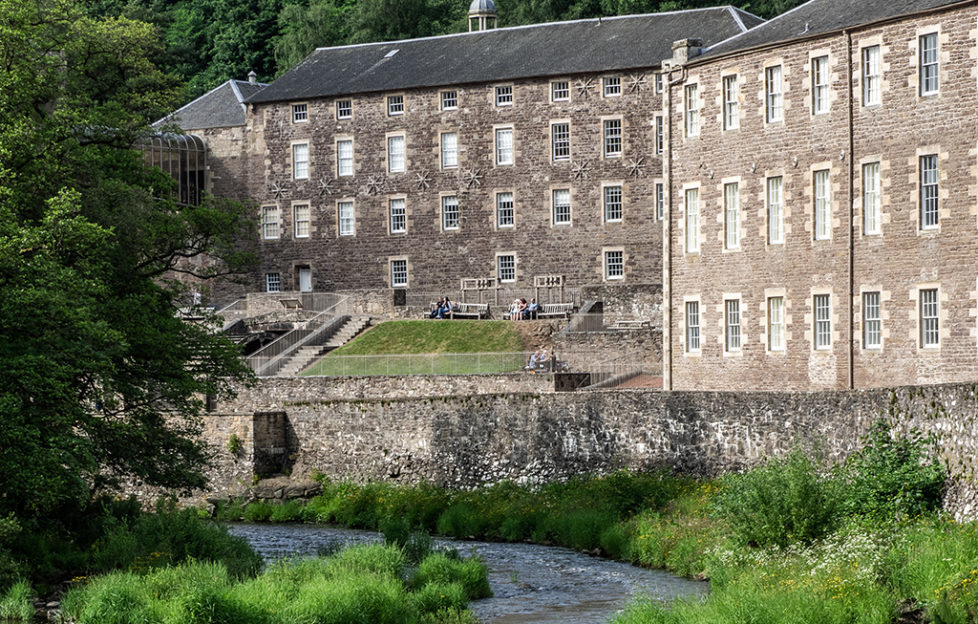 For years I've harboured a longing to go to New Lanark.
It's a foible that has completely baffled my nearest and dearest, whose reaction the first time I suggested a day at enlightened mill owner Robert Owen's settlement was a look of blank incomprehension, followed – once she had realised I wasn't joking – by a firm negative.
She was, for once, wrong, and now admits as much. I recently managed to drag her along to New Lanark for a weekend and she found the experience as riveting as I did.
So, here's my guide to what's hot, and what's not, in this sector of the world of industrial tourism:
WHAT IS NEW LANARK: Founded in 1786 by the achingly picturesque Falls of Clyde, it is a largely Victorian mill village whose socialist owners David Dale and then, more significantly, Robert Owen, believed in treating their workers with dignity and paying them a living wage. The mills stopped working in 1968 and between 1974 and 2006, the whole village was restored and is now one of Scotland's premier tourist attractions (some of the houses are also owned and inhabited).
GETTING THERE: It's surprisingly easy. New Lanark is a 45-minute drive from Glasgow and an hour from Edinburgh. There are two trains an hour to Lanark from Glasgow (except on Sundays) and a direct bus from Buchanan Street bus terminal.
STAYING: Many people go for day trips, but there's also a 38-room hotel (www.newlanarkhotel.co.uk) right at the heart of the village in one of the old cotton mills. The hotel has a gym, small spa, bar and surprisingly good restaurant. Prices at the hotel start from £79 per room, although there are regular offers which can bring the price down to DB&B for £45 per person. There's also a budget self-catering option with the Wee Row Hostel (www.newlanarkhostel.co.uk or 01555 666710) where prices start from £39.00 per room, and self-catering cottages, known as the Waterhouses where prices start from £69.00 per night for a one bedroom Waterhouse.
WHAT'S TO SEE: Plenty, although if you want to do it in a day, that's possible. The village is compact and once you've parked up it's easy to get around the place. There are ostensibly seven main attractions: the 'Annie McLeod Experience' ride which takes you back in time; the roof garden overlooking the river; millworkers' houses as they were in the 1820s and 1930s; Robert Owen's house; the school; village store; the mills. Of those we liked the school the most, but by far the most compelling attraction was the visiting exhibition of the Great Tapestry of Scotland, which took me three hours to get round, and even then I felt as if I'd rushed it. Sadly this has now finished, but there are regular visiting exhibitions that cater for those with an interest in Scottish history and culture.
FOOD & DRINK: Next to the obligatory yet surprisingly tasteful shopping experience (think House of Bruar) there's a very good café (you've just got to try the award-winning New Lanark ice cream), plus a bar and a restaurant in the New Lanark hotel. Prices are sensible for both but there are also facilities for picnicking.
VITAL STATISTICS: The whole thing is surprisingly cheap with a day pass for an adult costing £13.95, children £9.95 (under-3 goes free) and £43.95 for a family. Each ticket includes two daily guided tours, and if you are a UK tax payer you can gift aid the admission price and get a pass that allows you to return as many times as you wish within the following year (although the Christmas events are excluded). Opening times for the Visitor Centre are from 10am – 5pm between April – October, and 10am-4pm between November – March. The Mill shop and café are open 9am-5pm apart from on Sunday, when opening hours are 10am – 5pm.
AND FINALLY: Until 4th November, New Lanark are hosting a remarkable exhibition called "Game Plan: Board Games Rediscovered", which is a touring exhibition from the V&A Museum of Childhood. With over 100 exhibits from around the world and interactive hands-on aspects, this is a really worth a look.
VERDICT: I know the whole thing sounds geeky, but this multi-award-winning tourist attraction is an incredible window back on the way in which people used to live which will enthuse and surprise you in equal measure. The kids would love it, but so do adults on their own.