Year of Coasts and Waters will make a splash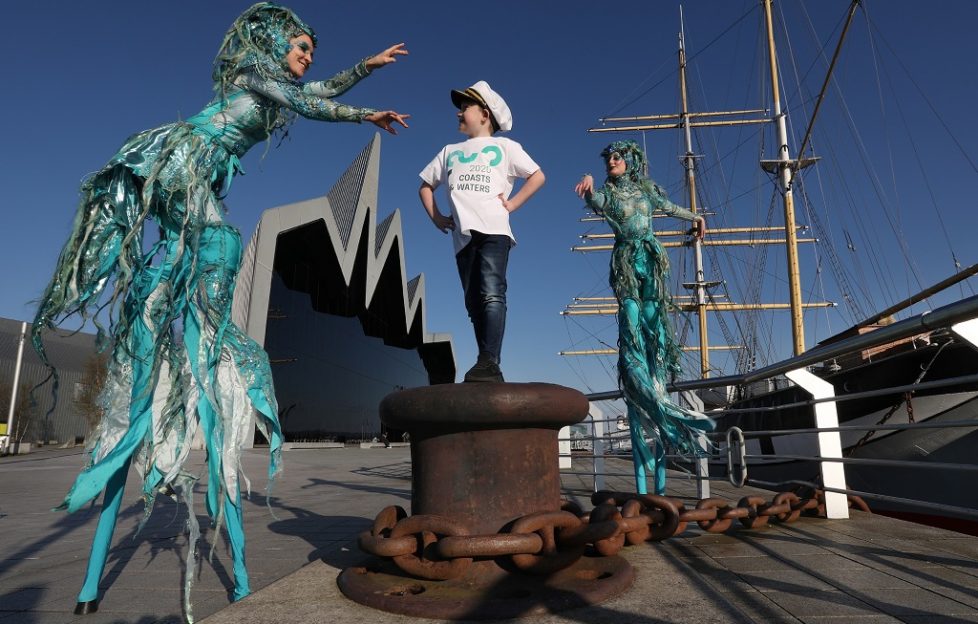 An expanded Clydebuilt Festival, a spectacular new event at Scotland's Boat Show and a celebration of Scotland's waters and the journeys over them from the National Theatre of Scotland will celebrate Scotland's coasts and waters in 2020.
Launched today at VisitScotland Expo – Scotland's premier travel trade show, the Year of Coasts and Waters 2020 will inspire visitors, locals, and the tourism and events sector to get onboard and enjoy everything the year has to offer.
From water inspired myths and legends to historic harbours, sweeping coastlines to the very best in seafood, whisky, wildlife and wellness – Scotland's enviable reputation for unspoiled beaches, rich natural and cultural heritage and thrill-seeking adventure activities will be showcased through a year-long programme of events and activities.
A total of six initial events – designed to 'wet the appetite' for what's in store have been announced today with many more to be revealed later in the year. The six events supported by the Year of Coasts and Waters 2020 Round One Events Fund include:
Ferry Tales from the National Theatre of Scotland – an imaginative and impactful performance and community project, with the support of Caledonian MacBrayne and their ferries, celebrating the waters surrounding Scotland's waters and the journeys over them made by thousands of residents and visitors.
· Edinburgh International Film Festival presents Scotland's Shores – an exciting programme celebrating the country's coasts and waterways through unique events, classic film screenings and a special outdoor coastal experience.
· Clydebuilt Festival – 2020 will be the event's fourth year, the event will significantly expand its existing offering across the festival bringing art, music, crafts, boats, dancing, sea shanties and more to the Riverside Plaza. Castle to Crane – a major component of the festival will also be back bigger than ever in 2020 with opportunities for more participants to get involved.
· The Fife Regatta 2020 – last seen in its home waters off Fairlie in 2013, the regatta will start and finish in Largs, taking in various locations around the Clyde including Holy Loch Marina, Dunoon, Rothesay, Isle of Bute and Tighnabruaich, Argyll for locals and visitors to enjoy.
· River of Light – Scotland's Boat Show and Kip Marina will make a splash in 2020 with a brand-new event that will see Scotland's biggest boat show's programme extended into the evening on 10 October.
· RSPB Scotland's DolphinFest 2020 – DolphinFest 2020 will help Aberdeen become recognised as a must-visit destination for dolphin watching and will provide pop-up activities across the city that will celebrate Aberdeen's dolphins; from interactive games, to conservation talks and citizen science projects.
The funding announcement comes during a significant year for the national tourist board as 2019 marks the organisation's 50th anniversary and the 40th staging of VisitScotland Expo.
The show began as the Scotland's Travel Trade Fair in 1980 before being rebranded in 2001 and continues to attract tour operators and travel agents from across the globe. Expo takes place today and tomorrow at the SEC (Scottish Event Campus) in Glasgow, hosting the highest number of exhibitors in its history with over 330 businesses attending as it celebrates its 40th event.
A number of Scottish travel and tourism exhibitors at VisitScotland Expo 2019 are also making the most of the new longer-lead Themed Years opportunity to showcase their exciting products in advance of the year.
These include Forth Boat Tours who continue to invest in expanding their offering; Forestry and Land Scotland who will be celebrating 100 years of the national forests in 2019; The Majestic Line who are celebrating their 15th year of operation and who will be launching their fourth ship – Glen Shiel; VisitEast Lothian who will be promoting the Go East Lothian Trail – a bikepacking route running from North Berwick to Dunbar; Glenapp Castle who will be offering their Sea Safari on the Glenapp Castle boat and recent National Scottish Thistle Award 18/19 Winners Sweeney's Cruise Co. and Cruise Loch NessForth.
Visit Inverness Loch Ness will also be showcasing their new long-distance trail around Loch Ness – set to become the walkers' equivalent of the NC500.
Malcolm Roughead, chief executive of VisitScotland, said: 'From fishing and textiles, to whisky and wave power, Scotland's waters have shaped our history and influenced our culture, our stories and our way of life.
'Our coasts and waters are host to an amazing array of riches and are greatly valued and cherished by visitors and locals alike, so it's fitting that we have a full-year placing them in the spotlight.
'Scotland's distinctive scenery, landscape and our unique history and culture continue to remain the key motivations that drive visits to the country, so the Year of Coasts and Waters 2020 presents a fantastic opportunity to play to our strengths.'
In addition to a range of new and existing events, the year will also provide the opportunity to promote and celebrate a variety of unique and authentic experiences showcasing Scotland's unrivalled coasts and waters including The Hebridean Whale Trail, the first of its kind in the UK, set to launch later this year; new road trip routes taking in Scotland's winding coastlines and characterful communities including The Coig and the South West Coastal 300, and the TS Queen Mary on the River Clyde which is getting set to be one of the UK's largest interactive maritime and social history exhibits.
The year will also encourage responsible engagement with Scotland's coasts and waters.
Further investment aligned with the year includes a new state of the art visitor centre welcoming cruise ship passengers from across the world in Greenock, which will include a purpose-built gallery celebrating the work of Inverclyde resident artist George Wyllie (1921-2012) and a new restaurant with panoramic views across the Clyde.
A state-of-the-art Johnnie Walker visitor attraction is also set to be the centrepiece of an investment programme from Diageo designed to further boost Scotland's whisky tourism sector. Diageo distilleries spanning Scotland's coastlines will also receive transformational investment to create immersive brand experiences for millions of Scotch fans around the world.
The Scottish Seabird Centre in North Berwick, near Edinburgh, one of the UK's leading marine education and conservation charities has also reopened the doors of its 5-star visitor attraction following completion of the first stage of their refurbishment. They also plan to transform their existing Discovery Centre with new exhibits and interactive displays – opening is set to take place in 2020.
A range of partner activity supported through the VisitScotland Growth Fund will also look to promote the year including Sail Scotland's Must Sea Scotland campaign which is to inspire visitors to get on the water in 2020 to see some of Scotland's amazing places, islands, and experiences from a new perspective.
Additionally, The West Coast Marine Tourism Collaboration which brings together 18 Destination Management Organisations representing over 2000 tourism interests will celebrate the sheer breadth and scale of opportunity available across the west coast of Scotland to get on and in the water during Scotland's Year of Coasts and Waters 2020.
Scotland's Year of Coasts and Waters 2020 will begin on 1 January 2020 and run until 31 December 2020.
For more information, visit visitscotland.com/ycw2020