Scottish Borders train line hailed a success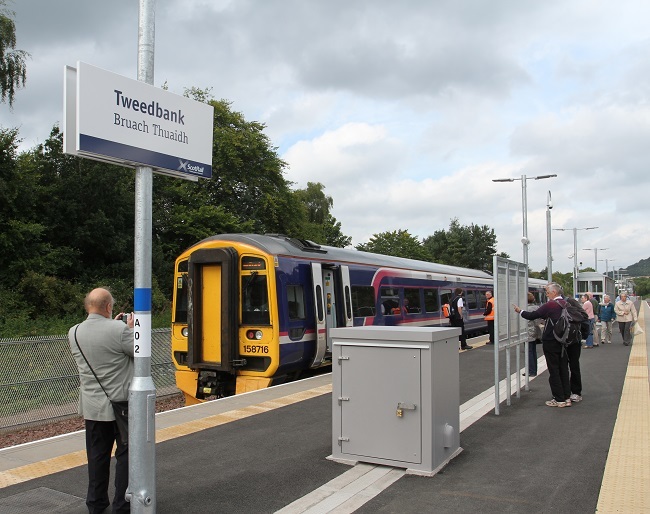 The Scottish Borders Railway is continuing to go from strength to strength, three years after it opened.
The convener of Scottish Borders Council, David Parker, who led the local authority's efforts to reinstate the Borders Railway, has praised the impact the railway is having on the area and the work being undertaken by Abellio ScotRail.
Councillor Parker said: 'Three years after its opening, the Borders Railway is still growing with passenger numbers having topped four million and an improving service delivering education, work and leisure opportunities for Borderers.
'The line is helping deliver the Borders Railway Blueprint programme and strong economic regeneration and it is fantastic to see the preliminary works taking place in Tweedbank for the creation of new business units and to support existing businesses.
'During 2019, full scale construction will commence in Tweedbank on up to four new business developments and the railway is playing an important part in helping drive the Borders economy.
'Passenger number growth since the railway opening in September 2015 has continued to grow and more visitors than ever before are choosing to come to the Scottish Borders.'
Councillor Parker believes that things can only improve as more positive changes are still to come.
He explained: 'Over the next 18 months there will be more and improved rolling stock on the Borders Railway that will provide increased comfort and additional seats.
'Other improvements are planned to enhance the customer journey and I have been very impressed with the team at Abellio ScotRail who have worked very hard to make the Borders Railway a success and are continuing to focus on improvements.
'One of the key strengths is that ScotRail is working well with other stakeholders and partners to take on board their views and to work positively to deliver improvements.
'It is an exciting time for railways in Scotland with the new trains on the Edinburgh to Glasgow line, and the Borders will benefit from this investment because of the cascading down of rolling stock.
'There have been understandable challenges for ScotRail while lines are upgraded and new trains introduced, but the significant investment in Scotland's railways at the moment will see a hugely improved service across the whole of Scotland over the course of the next year and Borders residents can look forward to benefiting from those improvements.'
He added: 'Only three years after the line opened, the Borders Railway is delivering more than expected in terms of economic regeneration and passenger numbers and I am very excited about a number of new investment projects that will be delivered in the Borders over the next three years.
'Transport Scotland and Abellio ScotRail deserve credit for managing the enormous investment that is taking place in Scotland's railways at the moment and for passengers, the benefits of those improvements will be felt very strongly in the year ahead.'