Scots welcome Belgian and Danish tour operators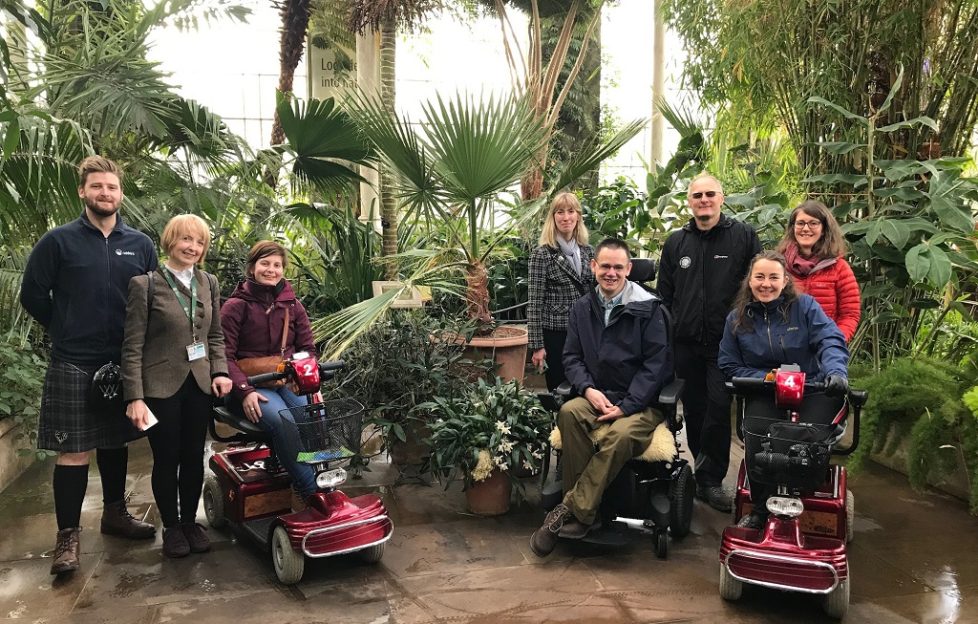 Two of Europe's top accessible tour operators got first-hand experience of Scotland's tourism offering as VisitScotland looked to utilise a market valued at £1.3 billion.
Fenna DeSmet, of WeTravel2 in Belgium, and Christel Stejlborg, of HandiTours in Denmark, took part in the national tourism organisation's first ever inclusive familiarisation trip.
The trip was organised after a VisitScotland Travel Trade Survey revealed that more than half of travel agents reported an increase in request for accessible travel products.
Familiarisation trips are designed for tour operators to enhance their Scotland knowledge and allow them to develop new Scottish products.
Having enjoyed a busy two days at VisitScotland Expo, held at the Scottish Event Campus (SEC) in Glasgow on 10-11 April, the European delegates spent the next three days visiting attractions such as the newly opened Clydeside Distillery, Kelvingrove Art Gallery and Museum, Loch Katrine Experience, Stirling Castle, Royal Yacht Britannia and Beach Wheelchairs North Berwick.
All of the attractions visited provide detailed information around their accessibility and make a conscious effort to ensure visitors with access requirements are able to have a good experience.
The trip included stays at the Novotel Glasgow Centre, Stirling Highland Hotel and DoubleTree by Hilton Edinburgh City Centre, as well as dining experiences at Mharsanta restaurant in Glasgow and the Amber Restaurant within the Scotch Whisky Experience. All of these venues were carefully chosen due to their accessibility.
Fenna and Christel were joined by Paul Ralph of Euan's Guide, a disabled access review website (click HERE to read all about Euan's Guide), at the Edinburgh Royal Botanic Garden on the final day of the trip to discuss their experience and share ideas. The charity is currently working with the national tourism organisation on three accessible intineraries across Scotland which will be launched later this year.
Research shows that one in five people in the UK are disabled. This includes not only wheelchair users, but also people with hearing loss, visual impairments.
In 2015, £1.3 billion was spent in Scotland, on trips where a member of the party had an impairment. This includes day trips, domestic overnight trips and inbound trips.
A survey by Euan's Guide found that 54 per cent of people with access requirements avoid going to new places if they can't find information about accessibility. It is therefore vital that businesses cater for this market by providing up front, essential information about their venue's accessibility.
Marina Di Duca, VisitScotland inclusive tourism manager, said: 'It is our aim to make tourism inclusive and accessible for all, so that every single person can benefit from all that Scotland has to offer. It also represents a huge commercial opportunity for the country with accessible tourism spend valued at £1.3 billion.
'I'm thrilled we were able to welcome Fenna and Christel so they could see Scotland's accessible offering first-hand. The Accessible Market is growing year on year and it's important we do all we can to let the travel trade and visitors with access requirements know they can have a great experience in Scotland.'
Fenna DeSmet, of WeTravel2 in Belgium, said: 'I am impressed by the fact that Scotland doesn't seem that accessible from the first sight, but you do a lot to make buildings, castle and historic sights accessible, not only for wheelchair users but also for people with hearing or visual disability or autism. We are very keen to package Scotland for individual travellers, so we can tailor the tour for their interests and requirements.'
Christel Stejlborg, of HandiTours in Denmark, said: 'This is my first time in Scotland and I'm very impressed we will be including Scotland in our tour programme now that we seen a small part of Scotland and hope I can see more.
'Scotland is a totally new destination for us. I was given the impression that Scotland wasn't accessible but that's totally wrong, I've seen some of the products and I'm happy and I look forward to working with VisitScotland on developing our programme.'
VisitScotland Expo is Scotland's premier business to business event giving tour operators and travel agents from across the globe the chance to meet Scottish tourism businesses and learn about their products and services– all under one roof.
The full list of venues visited were as follows: The Clydeside Distillery; Novotel Glasgow Centre; Mharsanta restaurant; Allied Mobility Accessible Vehicle Hire; Kelvingrove Art Gallery and Museum; Gartmore House, Stirling; Loch Katrine; Stirling Court Hotel; Stirling Highland Hotel; Stirling Castle; Motel One Edinburgh; Royal Yacht Britannia; Beach Wheelchairs North Berwick; DoubleTree by Hilton Hotel Edinburgh City; Royal Botanic Garden Edinburgh; Scotch Whisky Experience.
For more information about Inclusive Tourism, go to www.visitscotland.org/supporting-your-business/marketing-toolkits/accessible-inclusive-tourism
For more information about VisitScotland Expo, go www.visitscotlandexpo.com
For more information about Euan's Guide, go to www.euansguide.com.