Scots photographer Lenny is wild about his new honour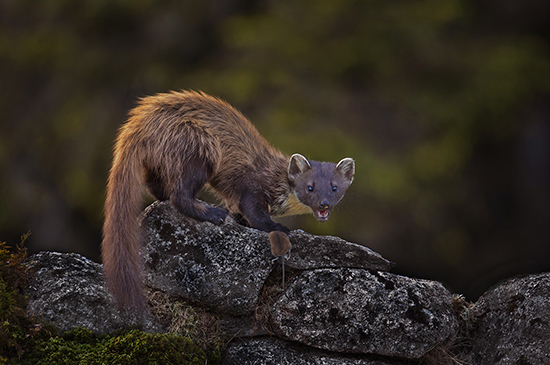 A Scots photographer has taken the top award in a wildlife photography competition.
The Societies of Photographers this week announced the twenty six category winners and the overall winner of their 2017 Photographer of the Year Awards.
The competition is an international success with 8,444 entrants from all four corners of the globe entering via monthly categories from nature, architectural, landscapes, sport, monochrome, to all styles of wedding and portraiture.
Each of the categories from the Society's monthly image competition was put forward for the Gold Award-winning images from 2017.
Paulina Duczman from Northamptonshire was awarded the coveted Photographer of the Year by The Societies during the Awards Dinner at their annual Convention and London Photo Show.
However, it was Scotsman Lenny Smith won the wildlife category with a stunning picture of a pine marten with a mouse taken in the Cairngorms National Park.
The judges felt that this stunning capture of a pine martin is both beautifully lit and composed, showing both great patience and camera skills from the photographer, saying: 'A rare creature showing its true nature, simply spectacular!'
Lenny received the award from Ben Jones, the Societies' news editor. The category was sponsored by The Framed Picture Company and Zenfolio.
The professional photographer from Morayshire told the Daily Mail: 'Although my main genre of photography is wedding photography I am passionate about wildlife and nature.
'I had been trying to get an image of a pine marten for years but never expected to get one as good as this.
'The pose, the lighting, the mouse all came together on that day to create the impact I needed.'
READ MORE NEWS FROM SCOTTISH FIELD BY CLICKING HERE.