Discover the farm in the heart of the city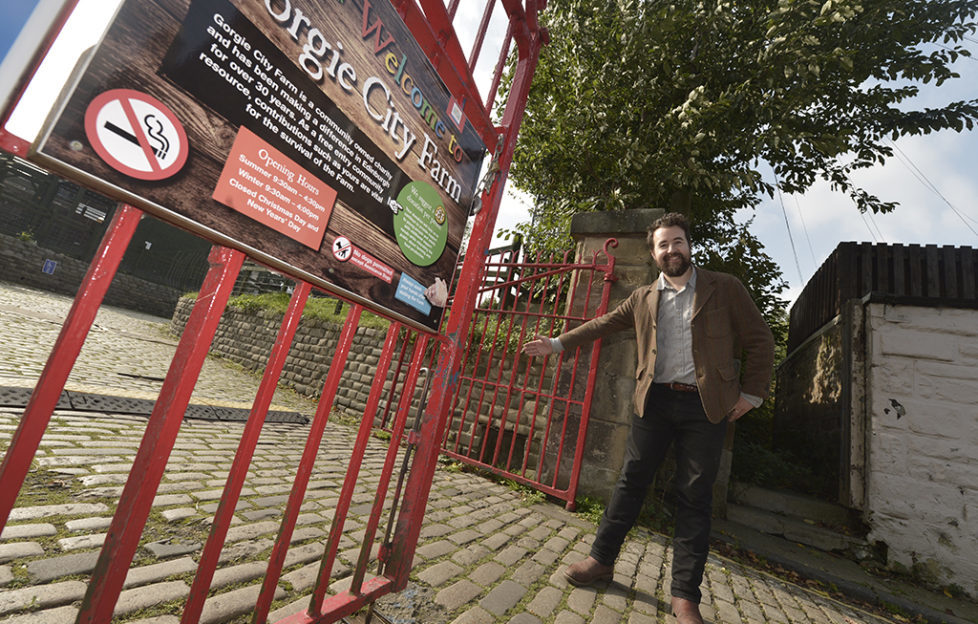 In our minds, farms tend to be large, vast spaces, outside of Scotland's main cities.
That's not the case with Edinburgh's Gorgie City Farm, which is now toasting its 40th birthday, as it's in the heart of Scotland's capital.
Now busy and bustling with animals, visitors and volunteers, it's hard to believe that less than two years ago Gorgie Farm found itself in a dire position and just days away from closing.
The withdrawal of long term funding along with rising costs threw the future of the farm into question.
But rather than shutting up shop, the farm decided to change their fortune and save the decades old community project.
Upon realising their dismal financial position in early 2016, the farm quickly launched a crowd-funding campaign which was met with heart-warming support from the local community and funds began flooding in.
Over £100,000 was raised in just six weeks. Unlike many other crowd-funding campaigns which sees fewer, larger donations, the average donation throughout this campaign was just £11.
Thousands of individuals chose to offer their support, the bulk of whom were from the local area. The quick cash influx bought the farm much needed time to restructure and come up with a more sustainable plan for its future. And it has. Now in its 40th year, things have never looked brighter for the beloved city attraction.
Anyone who grew up in Edinburgh will no doubt remember taking trips to the farm to catch a glimpse of rural life in the heart of the country's capital.
This snap shot of farm life, along with the familiar smell that alerts passers-by on Gorgie Road to the farm's presence, remains unchanged. What has changed is the future outlook of the farm.
Chief executive Josiah Lockhart says: 'We have quite an interesting model now where we mix farming education with working with young people and adults with support needs through our supported volunteering and training program. In addition to this, we are also a visitor attraction with around 220,000 visitors per year.'
Education is a significant part of what the farm does, working with over 2,000 school children every year.
Home to pigs, cows, sheep, chickens, ducks and goats, the farm allows children to experience where food comes from before it arrives in the supermarket.
Josiah explains: 'I've had a child come up to me before to ask if we do boneless chickens on the farm.
'It sounds completely absurd but you can imagine how it could seem to someone who has only ever interacted with the food chain through a supermarket.'
A recent survey conducted by the British Nutrition Foundation revealed the serious lack of knowledge British children have about where their food comes from.
A third of five to seven year olds believe cheese comes from a plant and recent research from Cadbury has stated that a third of British children don't know that milk comes from a cow.
Josiah continued: 'We've had parents and teachers argue with us about weird things like telling us that milk comes from a factory like juice does. But that's why we're here. Educating people about where food comes from allows us to make better choices.'
Arable education is important and visiting school groups help to plant and dig up vegetables from the garden. Recently groups have grown their own wheat which they harvested, ground down to flour and made into pancakes.
The animals from the farm are the main attraction for young visitors but don't merely serve the purpose of getting people through the gate. All the livestock at the farm will eventually make their way into the food chain.
Josiah laughs: 'We do sometimes have children leave saying they're going to become vegetarian, but that's okay as it's a choice made for an educated reason.'
Securing the long term future of the farm is an ongoing priority and the farm has branched out and now includes a pet boarding business that can accommodate everything except cats and dogs. Previous holiday guests have included rats, tortoises and even an owl.
The farm also has a collection of smaller animals used for education and also as part of their volunteering and training programmes. The farm has over 500 volunteers with around 100 contributing per week.
Josiah explains: 'A lot of the people we work with on our programmes come here with emotional or mental health needs and working with a large animal may not be the easiest thing for them when they first come. So we developed this project about seven years ago that is around small domestic animals, like rabbits and guinea pigs.'
As Gorgie Farm turns 40, the staff have been toasting the success of turning around the farm's fortune as well as celebrating four decades of being at the heart of a community. In celebration of the milestone the farm recently held a festival which saw over 7000 visitors come to the farm in a single day.
They also held a dinner, working with two chefs; Fred Berkmiller from L'escargot Bleu and Blanc and Rosario Sartore from Locanda De Gusti who cooked up a five course feast for special guests using one of the farm's goats.
It's clear that things are changing down on the farm and its future has never looked brighter.
For more details click HERE.