Living a wild life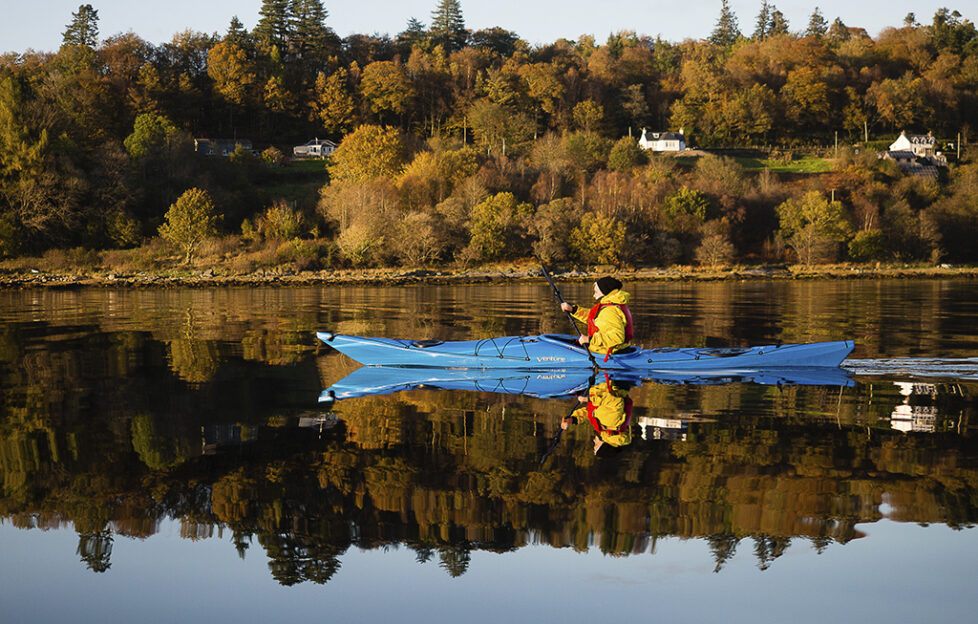 Here in Scotland, and probably in our neighbouring countries, we can be guilty of dreaming of summer.
And I'll hold my hands up and say mea culpa when it comes to this attitude. Hibernation can be a tempting prospect when the outdoors is chilly, but let's face it our weather can change at the drop of a hat whether it's New Year's Day or the Summer Solstice.
So, when I was asked if I'd like to experience just a wee taster of what Wild Scotland and their partners have to offer it really was the boot up the backside that I needed. I'm adventurous at heart you see, not swimming the channel or ultra-marathon running adventurous. I'm more of a micro-adventure kind of a woman. Slow-adventures appeal to me, and I'm mad keen on anything on or in the water, no matter what the time of year.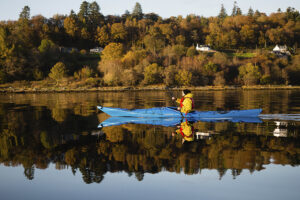 So, my trip started off in Strontian Lochaber, on the banks of Loch Sunart. Here I met Karl and Laura who were to be my hosts at Otterburn B&B. Karl is also the head honcho at Otter Adventures and is as keen on the water as I am. We chat about what I'd like to do and without further ado head for the loch to begin a mini-canoeing adventure. Carrying a hearty packed lunch, we drag the canoe over seaweed down to a sheltered bay. I've done a wee bit of canoeing in the past but am far from confident. But Karl reassures me and with him steering I'm able to relax and enjoy helping to propel us along and the beautiful surroundings. We have barely got into our paddling stride when Karl spots a pair of white-tailed sea eagles circling overhead. I watch the larger of the two eagles soaring on the thermals until my neck muscles force me to take my eyes of the skies. These mighty birds of prey are a stunning sight and Karl tells me that we're lucky to see them this far inland, as they are more commonly spotted further west towards the Sound of Mull.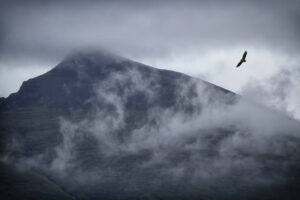 Karl is passionate about this place and its wildlife and as we paddle, he tells me stories about the bird life that resides here, as well as one about some birds which don't. Legend has it that swans will never live on Loch Sunart, and Karl confirms that he has yet to see a resident swan in the five years he's lived by the loch. He tells me the tale of the son of a chieftain who falls for a common girl, much to the horror of his parents. In a fit of rage his mother turns the girl into a swan and curses her to forever swim on the loch with its resident swans. Devastated at the disappearance of his love, the son joins a shooting party hunting for swans. As he fires his first arrow it punctures the heart of a swan, but as the bird dies it returns to its true form, and he cradles his lover as she dies in his arms. Heartbroken, he kills himself so that he can forever be with his love. So cruel was the loss of life that the rest of the swans left the loch, never to return.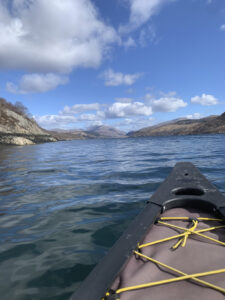 Luckily a wee squall blows down the loch distracting me from the melancholy story of lost love and young life and we paddle past a seal to a sheltered inlet to enjoy our delicious picnic lunch. Karl fires up the ghillie kettle and the hot cups of tea warm our hands as the wind drops and we once again feel the heat of the sun on our faces.
Back in the canoe we spot a herd of red deer grazing on the opposite shore and paddle closer, they are completely unfazed by our presence as we sweep gently by. Karl chats to me about the wildlife and the great cycling, walking and canoeing spots around Strontian as we head back to where we started. I return to shore feeling calm and incredibly chilled-out despite having paddled about 6km. The sun is still shining as we head back to Otterburn to check into my spotless and spacious room for the night. I take a few minutes to sit in the large window of the breakfast room and enjoy the view of the loch. Something inside me has relaxed and slowed down, as it always does when I spend more time in nature.
I wander along to the Strontian Hotel for dinner and am warmly welcomed into the sunny conservatory and shown to a table overlooking the water. I tear my eyes away from the view for long enough to choose the fish and chips and an ice-cold pint of lager. All of that sea air and paddling has seen me work up an appetite and I enjoy my meal as the sun begins to fall low behind the trees.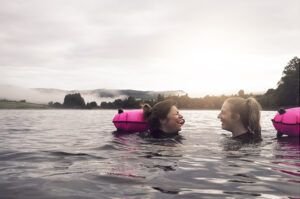 I bump into some Wild Wimmin in the hotel too. As worrying as this might sound, Heather and Jenny are in town to take me on a guided wild swim in the loch in the morning. Chatting to these ladies, who set up Wild Wimmin after they lost their jobs during the pandemic and discovered the many benefits of outdoor swimming, really whets my appetite for a dip. Now, I will admit to being partial to a wee wild swim already, but I don't often get the chance to swim in salt water and I'm looking forward to getting a bit of coaching from these qualified outdoor swim coaches. We chat about all things swimming and how they've created this incredible community of women who swim together and the friendships and mental and physical health benefits that have come from this shared outdoor experience.
I saunter back along to Otterburn stopping on the beach to admire the sunset as the sky turns pink and the light fades. I'm shattered, happy, have a full tummy and am in bonnie Scotland. There's no better feeling than this.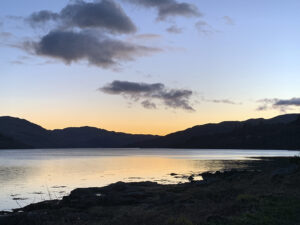 Having slept like a log I enjoy a very special breakfast of smoked salmon and scrambled eggs as I chat to Heather and Jenny about where we should swim. There's a jetty really close to the B&B, but we decide to feel the sand between our toes and pop along to a wee bay that Karl had pointed out to me the day before. The tide is low, but we get changed on the beach and I listen carefully to the safety briefing as I strap on my tow float, essential to help any other water users see me as I swim. The wild wimmin also kindly present me with a branded hat crowned by the biggest bobble I've ever seen, making me pretty hard to miss! The water is crystal clear and I admire the shells beneath my feet as we wade out deep enough to swim. The view down the loch is amazing and I tread water and turn in a circle to admire the snow-capped peaks of the hills that surround us and the huge expanse of blue sky above our heads.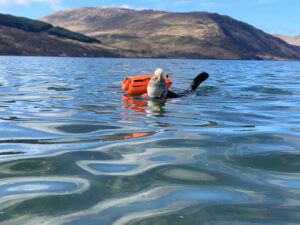 Enjoying the usual sense of euphoria that comes from cold water swimming we wobble around on the sand and wriggle back into our clothes as the Wild Wimmin' chat to me about their plans for upcoming swimming retreats on the Isle of Mull, and at Loch Tay. I'm loving the sound of these trips that include lots of good company, lush accommodation, fine food and discovering stunning new swim spots.
Bidding the Wild Wimmin a fond farewell I hope our paths will cross again soon. After a long hot shower, I'm also saying adieu to Karl and Laura at Otterburn and taking the short drive to Ardgour where I'm meeting Ian MacLeod for a Wild West adventure. Ian has lived in the Highlands for over 30 years and has been a wildlife guide for more than 12 of those. He takes out visitors all year round and I'm delighted to hear that spotting wildlife outside of the summer months can often be easier. It makes sense that once the trees have leaves and the undergrowth grows many animals become harder to see.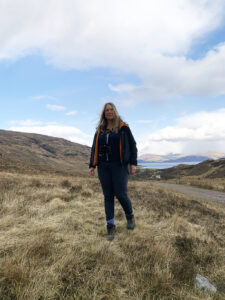 Ian and I start with some common seals, which are actually less common than grey seals! We stop by the road and watch them bask in the sunshine and swim between rocks, their sleek bodies glinting in the sunshine as they leap from the water. The binoculars that Ian gives me are great, but the spotting scope that he sets up allows me to get a real seal's eye view of these beautiful marine mammals.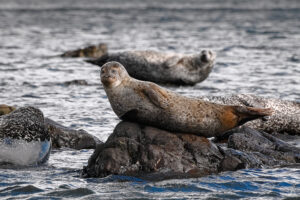 Next, we head for the hills, spotting feral goats and red deer on the craggy rocks on one side of Ian's van and scanning the banks of Loch Linnhe for ever elusive otters on the other. Ian had spotted these alluring mustelids on 10 out of 12 outings in January, but on this glorious March afternoon they were nowhere to be seen. We stop for a hot cuppa and both scan the water (it's easier to see otters when they're in the water than camouflaged against the seaweed on the shore) and Ian teaches me to train my eyes to look for movement, rather than an otter. I'm definitely heading back to see Ian in the height of winter to improve my chances! There are sometimes golden eagle sightings here, but despite meeting a couple who had spotted a 'goldie' earlier in the day we were not to be so lucky.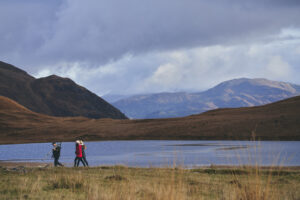 Ian's vast knowledge of this area makes him a great guide and he chats to me about myths and legends and the history of the Highlands, as well as all that he knows about the wildlife and the rewilding of Scotland's countryside. Whether you want to search for the big five, tootle around the hills and shores or learn more about wildlife in the Highlands his passion for guiding and relaxed style makes it a real pleasure. He's also a dab hand with a camera, so if you want a few shots of yourself in the wild then he is definitely your man.
We head back to Ardgour and I reluctantly drive onto the Corran Ferry, homeward bound. But this wee wild break away from the office and the daily routine has been a real tonic. My soul feels nourished by the time spent in nature, the new things I've learned and the wonderful people I've met. If you're feeling overwhelmed by the daily grind then I'd urge you not to wait. Stop dreaming of summer and start planning to explore Scotland's wild places whatever the season.
If you are ready for some serious inspiration then head to www.wild-scotland.co.uk/nurture