Fun, conservation, art and education at Dawyck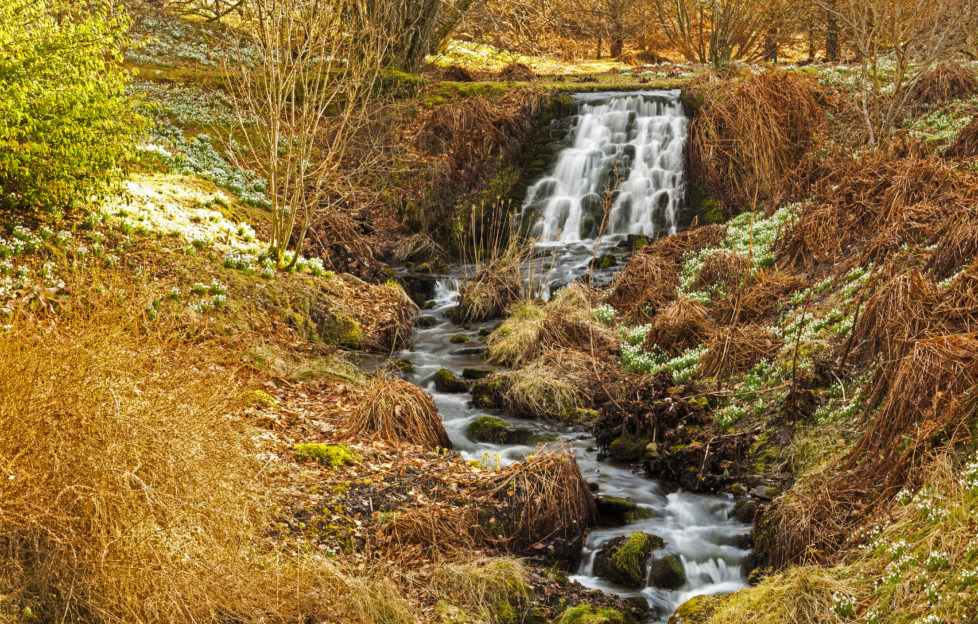 While stormy weather has heralded the start of season for Dawyck Botanic Garden, near Stobo, in the Scottish Borders, the coming months offer an array of events, exhibitions and conservation highlights.
Dawyck is traditionally a key place to visit for the Scottish Snowdrop Festival and this year is no exception with swathes of Galanthus lining the banks of the Scrape Burn, to the delight of all who love the tiny early spring favourite.
In the coming months, a myriad of new plants will be absorbed into the landscape. Notable arrivals include conservation conifers, collected during fieldwork in Nepal.
Also new is a collection of Cicerbita alpina (alpine blue-sow-thistle). Now restricted to just five hard to reach sites in the Cairngorms, this delicate species is part of conservation efforts by Dawyck's parent organisation, the Royal Botanic Garden Edinburgh (RBGE).
The species is part of RBGE's commitment to the Global Strategy for Plant Conservation, Target 8, to research and conserve native flora. RBGE is working in collaboration with Scottish Natural Heritage and landowners counting and monitoring remnant populations. Scientists and horticulturists work together, collecting leaves for genetic analyses and growing plants at RBGE's Nursery for research and conservation translocations back into their natural environment.
Back in the warmth of Dawyck visitor centre, the studio exhibition programme starts in style with Catching Shadows – and garden images. Running until Sunday, April 12, this new exhibition reflects how artist Janet Bone is inspired by shadows. She cuts stencils from both plant and origami shadows to make works on paper and cloth using mixed media.
Also new to the visitor centre is M&J Catering. With a fresh menu, Maureen Thornborrow and Jillian Sneddon bring new dishes to the table and retain many old favourites. As well as a range of snacks and light lunches, traditional afternoon teas are now bookable for the weekends.
In the coming months, as the garden transforms with displays of rhododendrons, Himalayan blue poppies and countless more seasonal delights, there will be more events for all ages.
From April 6, visitors will be invited to undertake a self-guided art trail adventure, discovering pieces of a fragmented puzzle created and displayed in the landscape by artist Anne Gilchrist. A Puzzle in the Garden is a self-guided art trail which offers itself as a walking experience of discovery and blending in with nature
Also in April, RBGE Herbaceous Supervisor Kirsty Wilson will be at Dawyck to offer tips in growing and planting out a variety plants and, in August, conservation horticulturist Martine Borge will be on hand to explain the work being undertaken to conserve Cicerbita alpina. Other activities range from plant sales and yoga to workshops.
Local school children will, again, get special insight into our relationship with the environment in the annual Schools Week, sponsored by players of People's Postcode Lottery, and there is also a special birthday party celebrating the 350th anniversary of the Royal Botanic Garden Edinburgh: from a small plots, the size of a tennis court, near the Palace of Holyroodhouse, to a world-leading centre of excellence across four Gardens around Scotland, working in more than 35 countries.