Nature farm picks up environmental award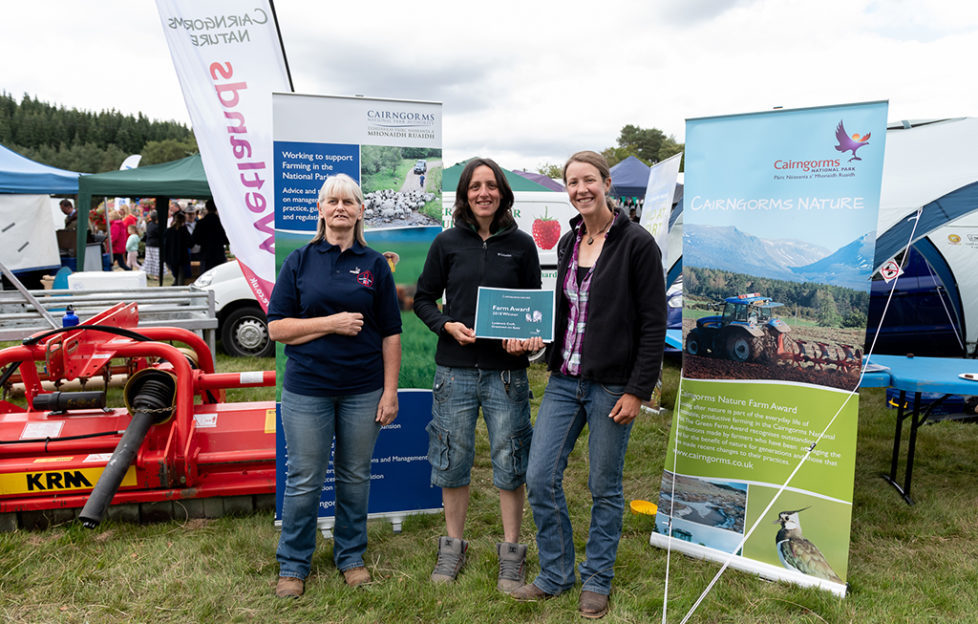 The winner of the Cairngorms Nature Farm Award has been revealed at the Grantown Show.
This special award rewards farmers or crofters who have made a substantial contribution to the natural environment around them.
This year the winner is Lynbreck Croft, near Grantown-on-Spey. The owners received a plaque as recognition for their good work as well as a prize of a night for two, with breakfast, at the Cairngorm Hotel in Aviemore.
The Cairngorms Nature Farm Award was judged by a panel of judges representing both Cairngorms Nature and the farming community.
ynbreck was selected as the winner because of the way the owners have carefully developed a business which specialises in restoring natural ecosystems and habitats on the farm, while producing high welfare beef, pork, lamb and mutton, eggs and honey.
They show an outstanding commitment to producing the highest quality food in an environmentally sustainable way.
CNPA board member Eleanor Mackintosh presented the award to Lynn Cassells and Sandra Baer of Lynbreck Croft.
She said: 'Farmers and Crofters are vital to the species, habitats and landscapes in the Cairngorms National Park.
'Lynn and Sandra have demonstrated that environmental sustainability and food production go hand in hand through their holistic grazing management. I look forward to watching their business grow and develop over the coming years.'
Lynn added: 'We have a background in conservation and so when we started the business it was vital for us to develop a model of farming that would not only improve the health of our land but also enhance the well-being of our animals and produce top quality food.
'It is wonderful to have won this award as it shows that what we are doing, and the way we are doing it, is really making a difference for Cairngorms Nature.'