Natural therapy in the great outdoors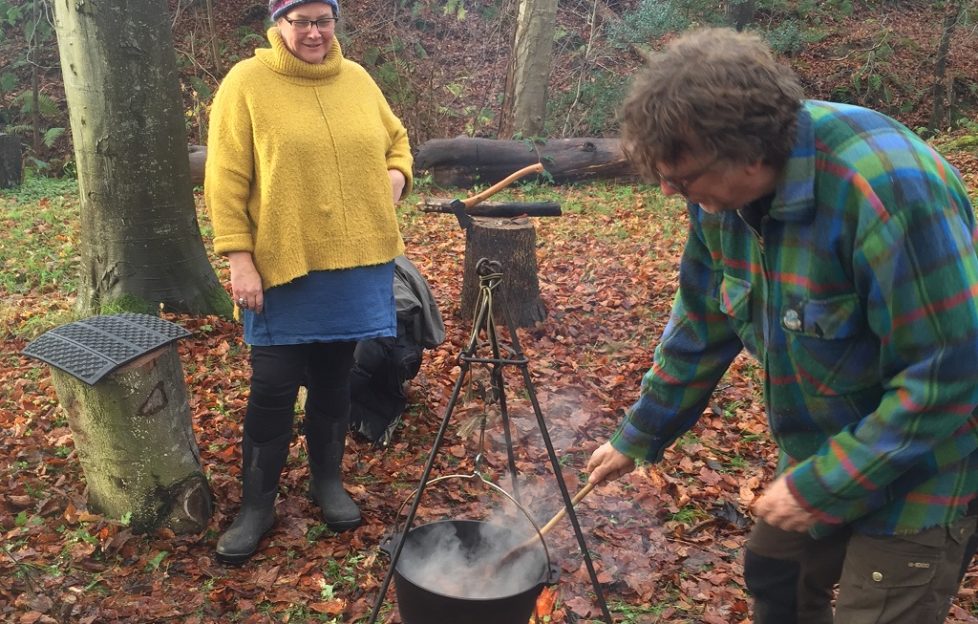 After months stuck indoors, doing a course in foraging and woodcraft reminded Richard Bath of the restorative power of spending time outside with nature.
"Right, it's a sopping wet day. It's raining so all the wood is wet. You're also wet, so you're cold and miserable, which means you desperately need a fire. What do you do?"
We're listening to Dave Crosbie and while we don't have any of the answers, we're pretty sure that, thanks to the guru of foraging standing in front of us asking us questions that we can't answer, we'll make it through the day. We're in the grounds of Winton Castle in East Lothian on a half-day course that takes in a gentle stroll around the policies learning about trees and bushes, followed by a lesson on how to make fire if you find yourself stuck in the great outdoors.
There are very few socially distanced things we can do in these dark days, but if you've been going stir crazy over the past year and are looking for a way to celebrate the end of home-incarceration once the Covid restrictions allow, this is the perfect solution.
Dave's company Tree-ditions specialises in training in woodcraft skills, bushcraft, survival techniques, green woodworking and wildlife tracking skills, but to start off our day we got a crash course in the active bit of his company's name – the trees. Staying at Winton Cottage on the Winton Castle estate, he met us at out door and the first two hours of our course were spent in an amble around the castle's grounds being taught about all the different trees and bushes.
My rule of thumb is that you can tell how absorbing something is not necessarily by how much you learn, but by how quickly time passes. This was clearly a fascinating couple of hours because it felt like no sooner had we started than it was done. But in the interim we had been taught a huge amount about the history, use and identification of the whole gamut of trees on the estate, from maples and oaks to rowan, Scots pine and birch.
Some of the information came into the category of "fascinating facts with which to torture uninterested grandchildren" but I particularly liked some of the sycamore and ash factoids. Did you know, for instance that the sycamore was introduced to Scotland by the Romans and that its sap can be used to make booze? That ash is related to the olive tree and is used to make shinty camans (sticks)? Me neither. I felt my brain expanding like a saturated sponge.
The second part of our tutorial was an introduction to bushcraft, which basically consisted of how to make fire. I must admit that I've done a bit of this before, but for Bea (my better half) this was entirely new territory and she absolutely loved it. I also learned several things that I didn't know (the most effective way of starting a fire is to use the inside of a bull rush cone, which is so fine that it's highly combustible).
Dave was an encouraging, entertaining and knowledgeable guide, and over the next couple of hours we learnt the rudiments. We were taught how to select the best branch, how to chop it using a folding hand-saw, how to de-bark the branch with a knife, how to dissect it so that we cut dry kindling-size pieces of wood from the centre using the same knife, and finally how to shave the wafer-thin slivers of wood which, along with the bull-rush heads, would take a spark from the firelighter Dave taught us to use.
All of which was great, but the finale of the course was the heating and consumption of a glorious venison stew and steaming mugs of coffee, a wonderful way to round off a thoroughly enjoyable four hours. After spending way too much time inside over the past year, I can't recommend this bout of natural therapy highly enough.
Dave Crosbie, 07562 728572; dave@tree-ditions.com; Tree-ditions, 1 Station Yard, East Linton EH40 3DP.