Former firefighter from Perth bags £200,000 supercar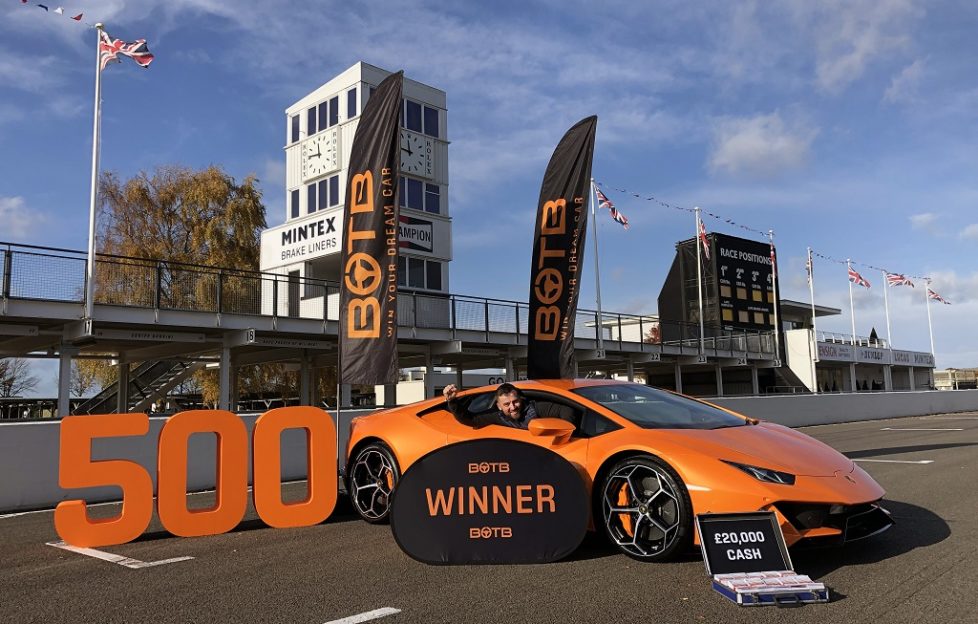 A former Scots firefighter has been burning rubber in his brand new Lamborghini Huracan Evo worth a whopping £200,000 after becoming the 500th winner of dream car competition, BOTB.
Chris Phillips might be more accustomed to driving a fire engine under blue lights on the streets of Perth, but this week he was speeding around a race track in his very own supercar.
Chris knew when he entered BOTB's 500th competition that he would be guaranteed to win a dream supercar, plus £20,000 in cash, if luck was on his side in the draw.
He said: 'I've been playing BOTB for about 12 years – what a week to finally win.'
To celebrate its 500th winner the BOTB team pulled out all the stops and flew Chris from his home in Jerez, in southern Spain, to London where he was put up for a night in a hotel before being taken by helicopter to Goodwood Motor Circuit.
He continued: 'I got the call to say I had won and I was wobbly legged. I just couldn't believe I had won. I didn't know which supercar I had won at that point.
'I was pacing up and down in the hotel room with excitement. When we got in the helicopter we were flown over the Top Gear racetrack before we reached Goodwood and I thought "I'm definitely not going to be driving a reasonably priced car" like they do on the show.'
For its 500th competition the BOTB boss Will Hindmarch wanted to mark the occasion by making sure the winner would get an incredible supercar with the Ferrari F8 Tributo, Aston Martin DBS Superleggera, McLaren 720S, Porsche GT3 RS, Lamborghini Urus, McLaren 600LT Spider, Bentley Continental GT W12 and Lamborghini Huracan Evo all a possible prize.
When Chris arrived at Goodwood the prize car was kept under covers, but the 41-year-old petrolhead knew it was Italian muscle straight away.
Chris said: 'The Lamborghini's have a very distinctive shape, I could see it under the covers.
'It really is the dream car. I've loved Italian race cars for years and this is basically like an F1 car turned into a road car. It's classy, you can smell the leather interior and it's surprisingly comfortable too despite being so close to the ground.
'What an experience it was taking that car around Goodwood. It's a wee bit different from driving around in an 18 tonne fire engine I can tell you. I just didn't want to get back out of the car.'
Originally from Aberdeen, Chris worked as a firefighter in Perth for years before a change of career into the oil and gas industry, and for the last two years he has lived in Spain with his partner Elena.
His first plan is to take a roadtrip across Europe in his very own super stylish Lamborghini.
Chris said: 'You really can't live in a better place to drive than where I do in Jerez. I think I might take the car right along the Spanish coast, up to Monaco and across the French riviera through to Italy where my brother lives – that will be one hell of a road trip.
'As for the £20,000, well I haven't started to look at what upgrades there are yet, but this is a once in a lifetime opportunity to do that and have the ultimate car."
Each week players choose the car they want to win and then put their 'X' on a 'spot the ball' sporting picture.
A team of judges, including referees and even former footballing legend Sol Campbell, are then called upon to decide where they think the centre of the ball should be. The winner is the closest to the judges pick.
BOTB presenter Christian Williams is the man who for the last four years has carried out the surprises, jumping in a car or hopping on a plane every Monday night or Tuesday morning.
He said: 'This was always going to be a big one for us. We've been giving out cars to winners for 20 years and we wanted to celebrate this landmark in a unique way.
'It's fitting that the 500th winner has been a regular player for over a decade – what a week to finally win.'
To see Chris fly over to Goodwood and race around in his brand new supercar visit BOTB.com.
BOTB first opened at Heathrow Airport in 1999.