Master and commander – one man and his whale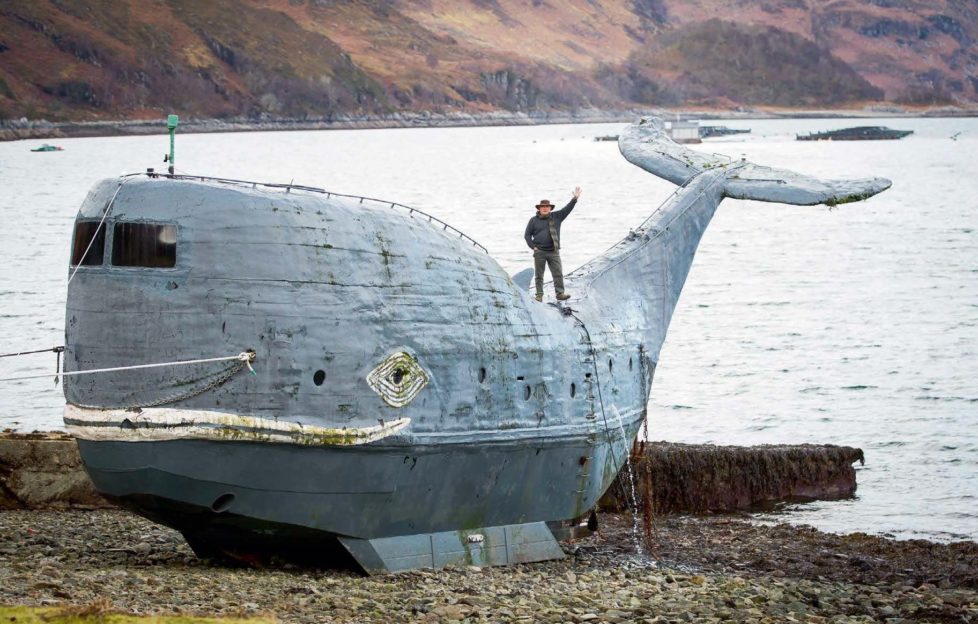 Tom McClean has tamed the high seas, breaking records for his solo transatlantic crossings. Now the lifelong adventurer hopes to go one step further with his home-made whale-shaped craft, Moby.
In 1969, aged just 26, Tom McClean became the first man to row solo, west to east, across the North Atlantic.
Despite having no previous knowledge of sea conditions, he completed the record-breaking ordeal in 70 gruelling days.
It marked the start of a remarkable series of unprecedented feats, daring challenges, and weird and wonderful adventures in McClean's extraordinary life. Now 73, the former SAS trooper lives a quiet life with his wife Jill in the West Highland village of Morar. Quiet, that is, during the down time between the incredible expeditions that continue to punctuate McClean's story.
The next chapter will see the survival expert set out for his sixth transatlantic crossing – this time in a home-made whale-shaped boat named Moby. Currently beached on a remote shore of Loch Nevis, accessible only via boat from Mallaig or a seven-mile hike through the hills, the huge vessel is set to enjoy an adventure of its own.
After sea trials among the dolphins of the Moray Firth followed by a 2,000-mile voyage around Britain, McClean is now working to refit the belly of the beast prior to setting out on the 3,000-mile challenge next year.
'There's quite a lot of work needed to bring it up to scratch, and then we'll do more trials,' says the adventure man, who is currently spending days at a time working on the boat. 'That will be this year, and hopefully next year we'll have it all together so we can plan our voyage.'
Coming from anyone else, the pledge to sail a home-made vessel from Britain to Americawould be implausible at best. But McClean has form for beating the odds and achieving the unachievable. Born to an unmarried Irish mother during the war, he endured a grim upbringing in various orphanages.
Rather than bow to bitterness at his difficult start in life, McClean took the positives and moved on in his own, spectacular way. 'I've been a loner from the beginning,' he admits. 'Being in an orphanage was tough, but I've made use of it, rather than having a chip on my shoulder. I know I'm okay on my own and I've made use of that.'
Leaving the orphanage at 15, McClean spent two years 'going a bit wild' before joining the Parachute Regiment, then the SAS. 'It was the orphanage, then it was the Paras, then is was the Regiment – that was all good training for lone adventures,' he says.
Retiring from the military in the late 1960s, McClean decided he would row across the Atlantic, something that had never been done before. It took him ten weeks. Physically and mentally exhausting though the crossing must have been, with food and water in short supply towards the end, he ploughed on with a pragmatism typical of a natural survivor used to fending for himself.
'It's all in the mind and I manage very well with my own company,' McClean explains. 'A lot of people like the idea, but when it gets a bit rough and tough they start to think, "I could be at home…" But I'm used to having rough moments – it's all part of the game. As long as you're breathing, you're getting through them.'
He crossed the Atlantic for a second time in 1982, setting another record, this time for doing it in the smallest yacht. He'd built his craft, the Giltspur, with Hamish Smith, a local carpenter in Mallaig, in Smith's kipper shed. 'It did the job,' McClean says.
But his triumph, earned after 54 gruelling days battling ferocious conditions, was short-lived. Just three weeks later an American sailor rocked up in a 9ft 1in-long boat, eight inches shorter than Giltspur. Not one to lick his wounds, McClean responded decisively, taking a chainsaw to his trusty sail boat ('I chopped the boat in half, then put a new back on it') before setting off for a return trip.
Despite losing his mast and steerage during a thunderstorm in the Bay of Biscay (a daunting experience which McClean describes in his usual stoic manner: 'A boat like that is like a floating buoy – in a big storm they don't go anywhere, you just bob along,' he says, 'you've got to do as much as you can from a safety point of view, then not worry too much'), he arrived in Oporto, Portugal, the following year to reclaim the record, which still stands today.
McClean offered himself up to the mercy of the North Atlantic once again two years later when, in 1985, he set up home in a 5x4x3ft wooden pod on a ledge of Rockall – a galebattered, wave-lashed rock that protrudes from the sea 200 miles west of North Uist, to reaffirm Britain's mineral and oil rights to the rock. The survival expert stayed on the granite islet for 40 days, before returning to his wife and two young sons, and the comfort of home.
'My family despair a bit of my adventures – there's certainly no encouragement,' he laughs. 'But once they know I'm pretty determined they'll help out.'
It wasn't long before McClean was back on his now well-worn waterway; at the age of 44 he retook the transatlantic rowing record from France in 1987, sprinting from Canada to the Bishop's Rock Lighthouse in 54 days to reclaim the world record, despite his boat capsizing in the middle of the night amid 50ft waves.
Looking to travel in a bit more comfort, but far from ready to hang up his adventurer's boots ('When you do that the spirit has gone out of you,' he insists. 'You may as well pack it in com pletely'), McClean raised eyebrows in 1990 when he sailed from New York to Falmouth in one of the strangest vessels ever to ply the open seas: a self-designed 37ft bottle-shaped boat fitted out with a four-poster bed and a sophisticated navigational system.
But his proposed voyage in Moby, which he and a friend built 20 years ago, is set to surpass even that in the wacky stakes. Fitted with two engines, the 25ft-high vessel is covered with a skin-like foam and can launch water as high as six metres in the air.
'It's exactly the same size and weight as a sperm whale, and we're going to live in the belly of it,' enthuses McClean, who is working on the vessel in a remote bay on Ardintigh, opposite the Knoydart Estate, where he pitched up 48 years ago, living in a tent for 12 months before building the Ardintigh Adventure Centre.
Determined to bring his beloved whale back up to scratch; this time it's personal. 'We built it 20 years ago, but it's enjoying a new lease of life now,' he says. 'I'm hoping that companies will join in to help bring it up to scratch – we can't go anywhere until then – but hopefully we'll be ready to go next year. I couldn't be closer to Moby,' he adds. 'People like their dogs, some like the idea of whales and dolphins, and I'm very close to Moby. I'm part of it, and I'm going to make it work.'
To get involved with Tom's adventure, or for information about sponsorship, visit www.tommcclean.co.uk
(This feature was originally published in 2016)